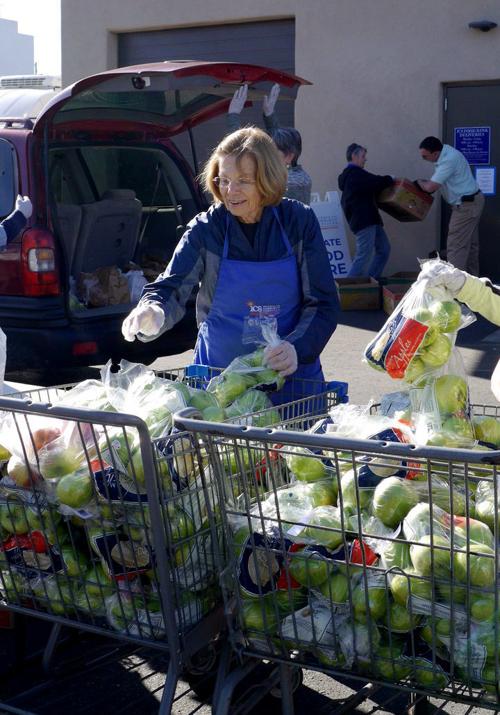 COVID-19 is making life more complicated than ever for both the vulnerable in the community and the nonprofit organizations that serve them.
Among those facing additional challenges due to shortages of basic needs — including household paper products and food staples — are residential facilities such as Emerge! Center Against Domestic Abuse, according to CEO Ed Mercurio-Sakwa.
"This is all brand new to everyone. You think about how your own family is going to try to navigate the shortage of toilet paper and disinfecting wipes, and it is even more difficult to navigate those on the scale of a communal shelter facility, especially when you consider the high risk of spread in communal living conditions," said Mercurio-Sakwa.
He is concerned about the shortfalls facing the 20-plus families housed by Emerge, which served nearly 6,000 survivors of domestic violence and their children last year.
Mercurio-Sakwa emphasized that many of the clients are already vulnerable to public health risks.
"Those who are utilizing our emergency shelter have not always had access to proper health care as a result of abusive behaviors of their partners, so they often have additional health risks that make something like this scarier for them than the average person," he said.
Another complicating factor is the COVID-19 health emergency may prevent those who are living with domestic violence from accessing services. Mercurio-Sakwa said the uncertainties facing society can make it even more difficult for those in abusive situations to make a change.
"Our conversations have been around the right response to try to stem the spread of COVID-19 while trying to make sure people know that our services remain accessible. People have fears of the unknown, and those are greater than ever right now. Our role is to help people get factual information and recognize that we are still here for them," said Mercurio-Sakwa.
At the same time, the economic impact surrounding the virus is a major concern for Emerge and other local nonprofits.
"Globally, let alone locally, we are certainly bracing for a drop in community support as people feel the personal economic impact and donate to other causes that might specifically respond to the spread of the disease. This is really uncharted territory," Mercurio-Sakwa said.
That personal impact has begun to hit home, resulting in both a decrease in donations and a spike in need for services of nonprofits such as Interfaith Community Services, which is dedicated to homelessness prevention.
The nonprofit offers a wide variety of programs, including financial literacy, a job resource center and aid for seniors and disabled individuals, but in response to COVID-19 will focus on essential services such as mobile meals, transportation assistance and food distribution from its food banks locations at 2820 W. Ina Road and at New Spirit Lutheran Church, 8701 E. Old Spanish Trail.
"As an organization, we came together and triaged the programs and services that are essential and have made the decisions to temporarily shut down our workforce development center due to lack of volunteers and the close proximity between volunteers and clients," said Ann Garn, communications and publications coordinator for Interfaith Community Service. "We have moved volunteers and redeployed staff into more essential areas, such a directing people to other resources and food distribution since that is where the greatest need is right now."
Interfaith experienced a sharp increase in visits to food banks last week: During one four-hour period, 360 cans of food were distributed. Garn said the food bank shelves will be bare in a few weeks at this rate and they are asking for help from the public to fill the need through in-kind and monetary donations. Donations of food staples can be made at main food bank locations and at drive-through collection sites at various locations citywide.
"We are basically seeing lines at the food bank every day and we expect increases in people coming to food banks over the next days and weeks ahead. We have already seen people lose jobs and many of these people are in a vulnerable position anyway since they are not making enough money to be self-sufficient. If they lose a job or have their hours cut, it will put an additional strain on their families," Garn said.
While need is on the rise for food, the need for volunteers has remained constant — particularly since many elderly and disabled individuals who utilize shopping assistance are isolating — and Interfaith has seen its volunteer corps reduced, resulting in a call for more volunteers.
"Many of our volunteers are at a susceptible age for COVID-19 and they are declining to volunteer for the safety of themselves and our clients," said Interfaith's event coordinator Mollee Richee.
In spite of the difficulties, Interfaith's chief development officer, Karen Latendresse, said the organization has also seen incredible gestures of generosity.
"We have had a great outpouring from the community and people are asking how they can help. We are working with many of our community partners to provide support to neighbors in need in our Tucson community, with all of us coming together in a 'socially distanced' way," said Latendresse.
Get local news delivered to your inbox!
Subscribe to our Daily Headlines newsletter.