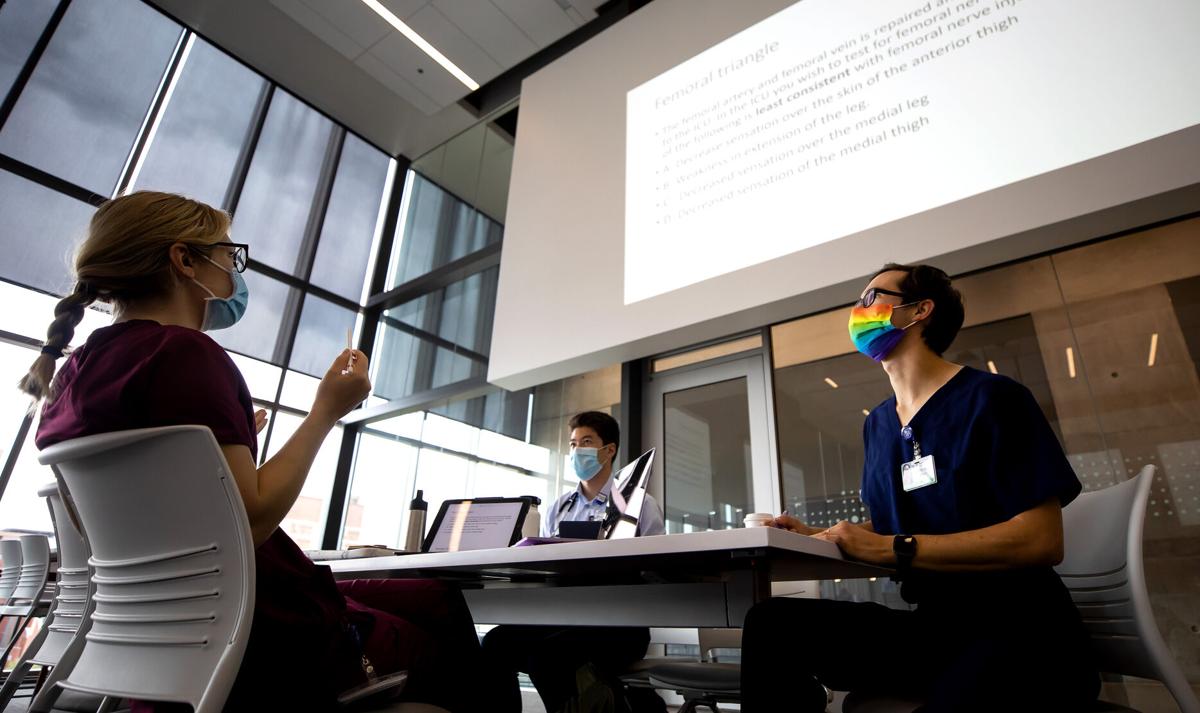 For medical students at the University of Arizona, the COVID-19 pandemic's lasting effects are not only found in the limited interaction they have had with patients but also with each other.
While video appointments and telephone calls with doctors are now often replacing office visits for patients, and while telehealth makes medical care more accessible for people in underserved areas, a downside is that it limits doctors-in-training from being able to connect with their peers.
"Our class has 118 students and, unlike all the classes that came before us, we have never been in the same room together," said April Huckleberry, a second-year student at the UA College of Medicine.
Huckleberry said when it comes to social isolation and stress during the pandemic, medical students are having an especially challenging experience.
During a typical academic year, medical students are exposed to high levels of stress that can bring on mental health challenges, physical ailments, poor academic performance and even a decrease in the ability to empathize.
"All of the tendencies toward any of (mental health) conditions gets a little bit heightened because they are under extreme pressure, and sometimes this is the hardest thing they've ever done in their life," said Dr. Noshene Ranjbar, an assistant professor of psychiatry with the university, of medical students. "A lot of the conditions rise up during the time that they are isolated and sleep-deprived and under pressure with high expectations to succeed."
What has been helpful is that the overall culture of medical school was already changing before COVID-19, faculty say, with students becoming more vocal about their needs, and what they need to succeed.
Ranjbar said students now are increasingly realizing they "don't have to keep these things a secret."
"You can actually have a human connection with someone who cares about you and can help you find the right resources to get you through," said Ranjbar, who has been counseling UA medical students for the past three years.
'Like drinking from a hose'
Students under too much stress often have trouble developing good study habits, might isolate from family and friends, and could potentially lose interest in activities they were once passionate about, said Dr. Violet Siwik, senior assistant dean of student affairs and a medical school faculty member who provides career advising and student counseling to medical students.
One of the most challenging problems brought on by COVID-19 is that they can no longer get large groups together, said Siwik, who serves as an advocate for the well-being of students.
To offset the problem of not being able to gather, the College of Medicine has prioritized hosting online, or virtual, events for students and faculty to encourage relationships among upper level and younger students as well as serving to keep students enrolled at the college.
One event that is held weekly is a UA Health Science webinar series called "Wellness Wednesdays," which is designed to offer academic well-being collaboratives, diversity and inclusion programs, counseling services for medical students and faculty, as well as topics for the public to engage and learn about health and wellness.
Finding the time to participate sometimes can be tricky.
"This is your new job in many ways, and you sometimes have to weigh whether or not you're going to be able to take that hour," Siwik said of medical students. "Those are the things where you do have to make some conscious decisions about what is in your best interest."
For some students, balancing it all is like "drinking from a fire hose," Siwik said: "How are you supposed to get caught up if you can't manage your time?"
Building resilience
In addition to programs and various resources, the UA College of Medicine offers three psychiatrists and two therapists to its students, who can reach out either directly or through a campus health system where they are able to anonymously input their name, year of medical school they are in and what they are struggling with or looking for.
However, the services do not have to be rendered anonymously if the student is comfortable sharing openly.
"It doesn't mean it's going to impact your progress, or someone's going to find out that you have this diagnosis and not let you continue," Ranjbar said.
The psychological pressure faced by medical students — and undergraduates aiming for medical school — is tremendous.
It is in this time of their lives, as students, that hopeful physicians develop critical coping strategies in order to succeed and in order to treat others. Studies on the mental health of aspiring physicians show that stress is prevalent, a byproduct of the demands of work and, for some, an obsession with success.
Building resiliency to that stress is not a theoretical exercise but a life skill that must be taught and practiced in real circumstances, according to the Association of American Medical Colleges.
An elective class here called the Healer's Art, which is taught by Dr. Patricia Lebensohn, professor of family and community medicine, helps doctors-in-training with building resilience. In Lebensohn's class, medical students discuss what it means to be a service provider, how to work through challenges, develop mindfulness and more.
Whatever it takes
Medical schools are moving toward a holistic approach, searching for candidates who not only maintain high grade point averages and Medical College Admission Test scores but who also are adaptable, said Josie Gin-Morgan, the associate director at the A Center for students planning on health fields. The A Center is the university's academic advising center for undeclared students as well as those aiming for health or law professions.
She said the pandemic threw off pre-medical students' plans.
"We were hit with COVID. What are you going to do?" Gin-Morgan said. Students studying medicine came into her office and wanted to know what they could do in the meantime since they could not participate in the typical ways. There were virtual opportunities for students to shadow and interview health care professionals in order to remain connected.
"What we do is give them options. I can tell you what the profile (of a prospective medical student) looks like, but there's always an exception. I've seen students get in with 2.5 up to 4.0, I have a place in my heart for disqualified and probationary students," Gin-Morgan said.
The pandemic has had students "running into the fire," said Gin-Morgan. "You would think it would discourage them, (but) these students were still motivated and really engaged and wanted to find a way."
Sabina Saeed, a first-year medical student, believes that the pandemic has had both positive and negative effects.
"Our school has also done a good job of making our classes hybrid and giving students the opportunity to attend online or in-person," Saeed said. "I really think hands-on learning for this material is imperative."
Saeed, who matriculated after the pandemic, comes from a family of physicians. With an extensive volunteer background before applying, her desire to work with underserved communities has driven her career choices and desire to be a doctor.
Unprecedented factors
In addition to their own struggles as medical students during a pandemic, these students are also facing a distrusting public when they join the workforce.
With enough life experience to understand and respect people from different backgrounds, medical students like Saeed hope to be able to better help communities that have, historically, been neglected.
"I personally like the challenge of connecting with people who seem to be very different," Saeed said. "We can all connect on our humanness."
Amir Kashfi, a first-year UA medical student in Phoenix believes the relationship between a physician and a patient is sacred, a contract of sorts.
"I think that everybody understands there's a social contract between the public and the doctors or the health care providers. There's an expectation that when you go to see your doctor, you will receive qualified, competent, credentialed care," Kashfi said.
"That contract sometimes means subverting our own well-being for the well-being of the public and sometimes, that literally means contracting a deadly communicable disease because that's what we signed up for."
While the community expects a high level of care, doctors are dealing with some people feeling more distrustful of their profession following the COVID-19 pandemic and related debates about vaccinations and wearing masks.
"I think COVID has been a really good exemplifier of the larger situation that we're already having. It's almost like the symptom of a problem, not the problem itself. Misinformation has been a problem for years," said Ajay Bezawada, another first-year medical student at the University of Arizona's College of Medicine in Phoenix.
The current social climate and politicization of public health has placed a strain on physicians in practice but has positively encouraged medical school students to continue their pursuit of medical knowledge.
"I think it's really important to open up that dialogue because there's truthfully no way that we're able to hit herd immunity and vaccinate another 60 million Americans without some sort of more effective communication," Bezawada said.
Austin Sherwood, a first-year UA medical student in Phoenix believes the public's attempt to discredit medicine has further fueled his desire to practice medicine.
"I think part of our job is having those conversations and making the science easy to understand and being able to hold an open dialogue for all viewpoints," Sherwood said.
In order to bridge the communication gap, there needs to be some acknowledgement of how they are feeling, whether sociologically or educationally.
Kashfi said it never has been a physician's job to "judge people based on the decisions they make in their personal health."
"The internet has facilitated the spread of misinformation in a way that's unprecedented," he said. "That's all the more reason for us to be eager to do our jobs right and to educate our patients given the opportunity."