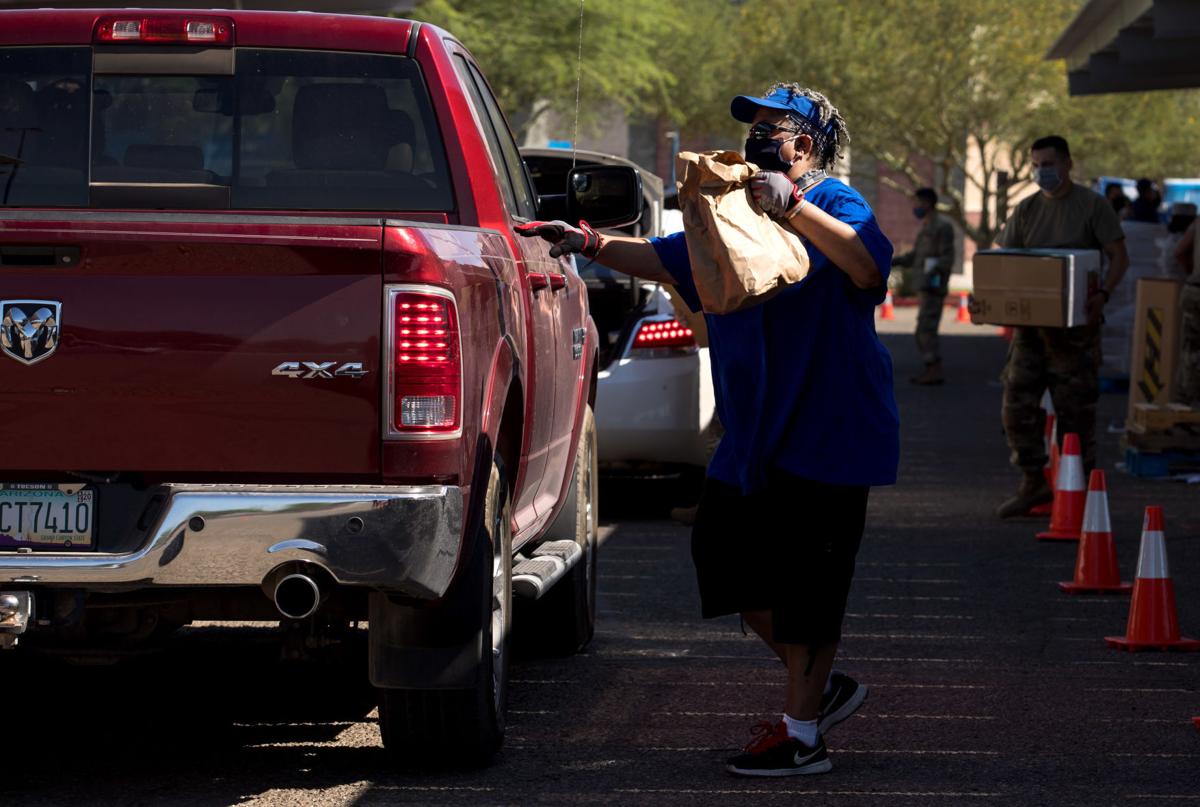 Hunger during the COVID-19 pandemic can look like this: Inconsistent work and not enough money to pay bills and buy food.
Or like this: Elderly, surviving on a fixed income and, due to fear of the virus, totally reliant on others for help.
Or this: Too little available each month to both feed the family and pay the rent.
About a third of Arizona families are currently experiencing what's called food insecurity, a survey of more than 600 households across the state found.
The findings, which focus on what occurred during the first several months of the pandemic, show a 28% increase in food insecurity compared to the year before the pandemic, with Hispanic and low-income households hardest hit.
One of the key factors, not surprisingly, are job disruptions, with 59% of Hispanic households in Arizona reporting lost work compared to 22% of non-Hispanic white households.
And of those experiencing job disruption, low-income households in Arizona fared the worst. Nearly half of those who made less than $25,000 in 2019 lost work once the pandemic took hold.
"No check coming in"
Amber Ferrell and her friend, Scott Hentges, were in the line at 3003 S. Country Club Road, which has been set up for drive-thru pickups on Tuesday, Wednesday and Thursday mornings.
Ferrell has been working on and off at a call center, but it's not steady income. Since the pandemic, her hours fluctuate and, when people get sick, she waits out the quarantine at home.
"When there's no check coming in for two weeks, that's crippling," she said, adding she's behind on rent now and trying to secure help with that.
Hentges has also had trouble with consistent work. He was making money doing home deliveries but then ran into car trouble and didn't have enough for the repair. Luckily, he was able to rely on family for some help.
"I asked for help with bills from my family and looked for other work I could do at that time, but didn't find anything," he said.
He's back to work now, he said, but funds are very tight.
Too much money to qualify
Like Ferrell and Hentges, about 32% of the people in the survey said they typically do not have enough food to last the month, and there was not enough money to get more.
Overall, 31% of the households could not afford food, 25% reported eating less, 23% cut the size of meals or skipped meals, and 21% went hungry.
Hispanic households experienced much higher food insecurity with 38% persistently food insecure and 19% newly food insecure compared to non-Hispanic white households with 15% persistently food insecure and 5% newly food insecure.
And while food assistance programs can be critical for families during emergencies like the pandemic, survey findings did not show an overall increase in people seeking programs like the federal SNAP, which stands for Supplemental Nutrition Assistance Program.
Some of those surveyed said they didn't seek assistance due to personal convictions about being independent, the data shows, as well as thinking they had too much money to qualify.
Instead, about one in seven households, or 14%, bought food using credit cards and 12% borrowed money from friends and family. About 13% turned to food pantries for help.
"Afraid of getting the virus"
Workers at the Food Bank might see as many as 1,500 cars on any given morning, with traffic sometimes backing up onto South Country Club Road.
Mayola Salazar was in line Thursday, but not for herself or her family. She picks up food on behalf of her elderly neighbor.
"She has diabetes and high blood pressure and she doesn't drive so that's why she can't really go to pick up the food," she said. Salazar said her neighbor is "like a grandmother" to Salazar's daughter and she's happy she can help her.
Other seniors, like Elaine Smith, are not visiting the food bank or other pantries. Smith has typically relied on public transportation to get around but she's reluctant to do that during the pandemic.
"I am definitely afraid of getting the virus," said Smith, who instead started getting food delivered to her home through the Pima Council on Aging.
The PCOA has seen a substantial increase in the number of people getting meals since the start of the pandemic, said agency spokeswoman, Adina Wingate.
"We have nearly doubled since the start of the pandemic," Wingate said. "Today, about 1,600 individuals get meals from PCOA on a weekly basis."
Closer than you think
The increased need is reflected in lines for emergency food boxes at the food bank here, where workers and volunteers saw a 100% increase in participation during the early months of the pandemic compared to the year before.
"Hunger was a problem in Southern Arizona before the pandemic," said Norma Cable, spokeswoman for the food bank. "Hunger is out there. It's probably closer than you think."
Need has pingponged throughout the year, she said, as federal unemployment kicked in or stimulus checks arrived, for example.
"This month we're seeing an estimated 10% increase over the same time frame the previous year," said Michael McDonald, the agency's chief executive officer. The food bank serves five counties in Southern Arizona with the help of about 400 partner agencies.
McDonald said March 2020 through March 2021 shows a 25% increase in households served compared to March 2019 through March 2020.
Researchers who conducted the current survey are planning another round that will focus on how people fared between November and the New Year, a period when many supplemental unemployment benefits ended and COVID-19 cases in the state dramatically increased.
"If you lost your job, are you able to run the heat? If you're an elderly household having trouble accessing food, are you also having trouble accessing a secure and safe environment to live?" she said.
"We're talking about food, but if you're not able to access food, you might not be accessing basic life necessities."