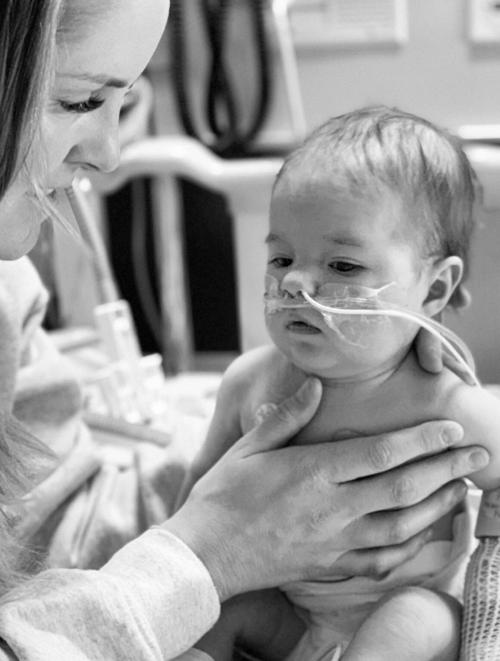 Like other Tucson children with chronic health conditions, 7-month-old Everly Bergren probably can't wait until the COVID-19 crisis passes so that she can receive the care she needs.
And so her parents, James and Breanna Bergren, are with her in shifts at Diamond Children's Medical Center, sleeping when they can and looking forward to bringing her home.
What's different now for families like theirs is the sometimes unbearable isolation that comes with hospitalization. For starters, only one parent or caregiver can be with a child at a time, and no other visitors are allowed.
Due to the COVID-19 restrictions, these families are also doing without a team of volunteer therapists many have come to rely on for support, a massage or help getting a child to sleep.
That's why now, after weeks of not being able to go into the hospital, Integrative Touch for Kids is launching Telehealth Programs, which will provide families and children with online therapy, support and touch-training, as well as friendship connections. Tucson children 10 and older who wish to volunteer will be paired online with a child who has special health or medical needs.
Integrative Touch for Kids also is expanding its services to help medically fragile kids who are isolated at home, as well as medical personnel who need support.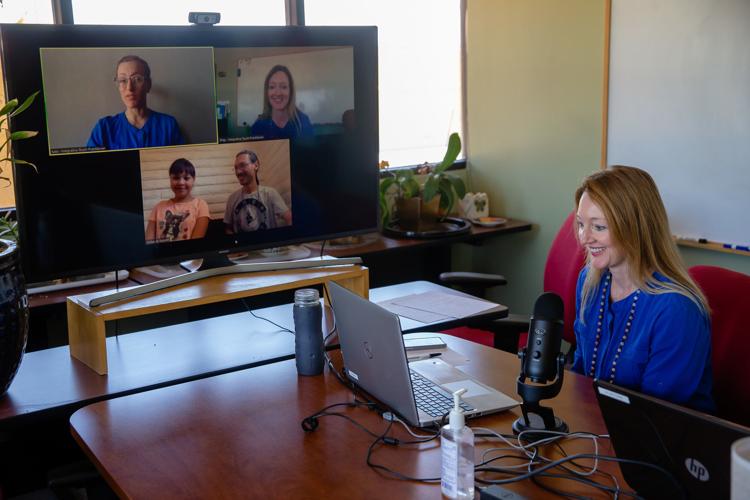 "Respond well to consistency"
During normal times, Integrative Touch for Kids, or ITK, works closely with the child life specialists at the Banner health facility at 1501 N. Campbell Ave.
The objectives of both are to help the children and families cope with medical procedures and hospitalizations, said child life specialist Megan Walker. ITK focuses more on touch and healing, she said, while she and her colleagues focus on play and normalizing hospitalization.
Right now Walker and her four other full-time colleagues are splitting furlough time, with two weeks on and two weeks off.
That's because the patient count at Diamond Children's is lower than normal due to COVID-19, said spokeswoman Rebecca Ruiz Hudman.
"The stay-at-home order has also resulted in no children playing community sports, and with people staying home, traumas and injuries are also reduced because of the lack of car accidents," she said. "Social distancing also can impact illnesses. With less people interacting in large groups, sickness and or hospitalization are less frequent."
Before the pandemic started in March, two or three ITK therapists were available at the hospital three days each week — and have been since 2014. The nonprofit also offers healing retreats, palliative care clinics and community clinics.
Executive Director and founder Shay Beider said the objectives are to reduce stress through a variety of techniques endorsed by Capacitar International, including meditation, breathing work, visualization, energy exercises, acupressure and massage. They often work with the same families repeatedly.
A survey of 1,250 ITK participants showed that after a single intervention, they experienced a 60% reduction in pain, a 62% reduction in anxiety, and a 52% improvement in overall well-being.
For kids and families in hospitals, those interventions are often what makes the difference between a traumatic experience and a more bearable one.
"Kids respond well to consistency and when they are hospitalized that goes right out the door," said Sharyn Chesser, a registered nurse and volunteer on the ITK medical team. "If they can come back to the same team of people, that can help."
Kids who receive frequent medical treatment begin to know there is pain ahead, she said, and so ITK volunteers work to ease that with support, touch and love.
"One heck of a kid"
Everly Bergren was diagnosed at 20 weeks with a congenital heart defect, no spleen and what's called heterotaxy syndrome, meaning she was born with some organs out of place.
As she grew, her heart enlarged and began to crush her left lung, her mother said, and so in February she underwent surgery. It was during that time that Breanna Bergren first met the ITK volunteers.
She received acupuncture for stress relief and a massage to ease the tension caused by sleeping in a chair for what's been, so far, 80 days in a row. They also provided touch therapies for little Everly, including a soft, hands-on healing practice called reiki.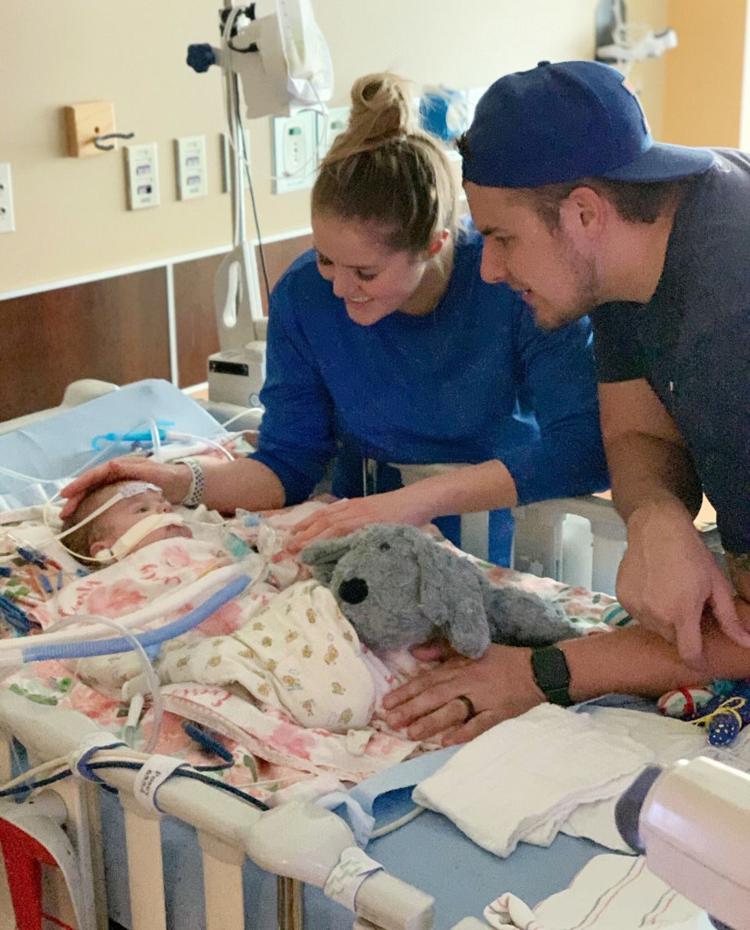 It was so helpful while it lasted, Breanna Bergren said, but then the coronavirus restrictions were imposed.
"We were here just about a month before the madness happened," she said, adding that she's really looking forward to connecting again online with ITK.
"Makes my heart sing"
Nancy Barber first learned about ITK when she joined her husband, former Congressman Ron Barber, at an event supporting the nonprofit. She's been a volunteer for four years now.
Barber, a trained doula and infant massage therapist, said one of her big focuses has been helping parents of babies in the neonatal intensive care unit, or NICU. Moms with NICU babies are especially vulnerable to postpartum depression, she said.
"It's not what they were planning and so it's critical, our coming in there and being able to work with these moms to help them with their stress," she said. "We go in and find out how we can best help them on any given day."
Sometimes the volunteers are helping a child fall asleep, or giving a parent someone to talk to when there's bad news.
"We're there at the end of life," Barber said, "and we're there at the time of a new diagnosis."
On some days, Barber said, she comes home and needs quiet time alone in her backyard, while other days she feels delighted with all they were able to accomplish.
She said it took her some time to learn how to let go of other people's sadness and stress.
"Some days it's way harder than others to let it go, but I could not continue to do this work if I wasn't able to release it and go on with my own life," she said. "I've worked with families my whole life, and to be able to work with families in this way makes my heart sing."
"Helped us relax"
Yvette Rabago's daughter Jesai has lived a stay-at-home life for all of her 11 years.
Jesai was born with a heart condition and other complex medical challenges that her mother said make her vulnerable to "just about everything." And every time she gets sick, they have to go to the hospital.
"This quarantine stuff is the norm for her," her mother said. "She is by herself a lot."
In March 2019, Jesai had to have one of her lungs removed and that was when mother and daughter got to know the ITK volunteers.
She said her daughter was barely awake when the volunteers first came in and, after asking about her favorite color and favorite music, they dimmed the lights and put on a soothing light show.
"They helped us relax and made the atmosphere a little bit better," she said. "It's been a long journey."
Rabago said the therapists listened to her worries and massaged her neck to help her with stress. She said it's hard to describe how much they helped.
"It's their aura, their voices," she said. "Being in the hospital that much takes a toll mentally, especially for my daughter at her age."
Jesai is home now but mom and daughter have been at the hospital off and on for weeks at a time since last November.
When they returned to Diamond Children's for a recent visit, Jesai asked for the ITK team. She was delighted when they so obviously remembered her, favorite color and all.
"That meant a lot to us," Rabago said. "It really, really meant a lot."
Get local news delivered to your inbox!
Subscribe to our Daily Headlines newsletter.