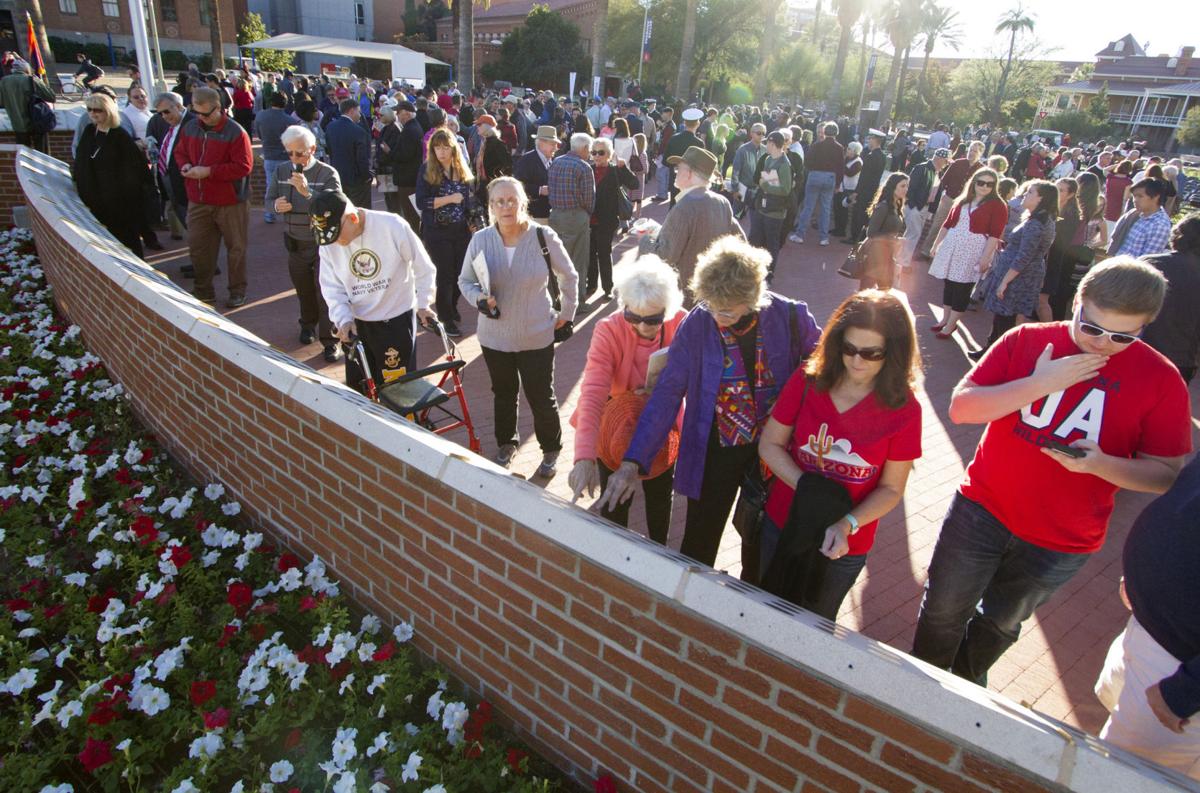 The ship's bell from the USS Arizona will ring across the Mall at the University of Arizona Saturday morning to mark the 78th anniversary of the Pearl Harbor attack.
The university's Navy ROTC unit will host the memorial ceremony, which begins at 9 a.m. with the unveiling of the Coast Guard shield in the memorial rotunda at the Student Union.
The annual Pearl Harbor Remembrance Day observance will follow at 10 a.m. at the USS Arizona Mall Memorial.
After the service, the Navy ROTC hosts a charity 5K run/walk on the Mall, with proceeds to benefit the ROTC and Veterans of Foreign Wars Post 10188.
Registration costs $25 per participant and closes at 11:59 p.m. Friday. Check-in for the race begins at 8 a.m. Saturday.
The events in Tucson will coincide with the annual National Pearl Harbor Remembrance Day Commemoration in Hawaii. Those services will be streamed live online at http://pearlharborevents.com/broadcast/, starting Friday at 7:55 p.m. Tucson time with the USS Utah Memorial Sunset Ceremony.
The live internet broadcast from Pearl Harbor will continue into Saturday and conclude with a 7:30 p.m. (Tucson time) interment ceremony at the USS Arizona for crew member Lauren Bruner, who died Sept. 10 at age 98.
Bruner is expected to be the last Arizona survivor to have his ashes entombed in the sunken battleship.
The USS Arizona Mall Memorial was dedicated in 2016 on the 75th anniversary of the Japanese sneak attack on Pearl Harbor. It features a full-scale outline of the Arizona's deck surrounding a central display of 1,177 medallions, one for each of the U.S. servicemen killed aboard the battleship.
Contact reporter Henry Brean at hbrean@tucson.com or 520-573 4283. On Twitter: @RefriedBrean
Get local news delivered to your inbox!
Subscribe to our Daily Headlines newsletter.