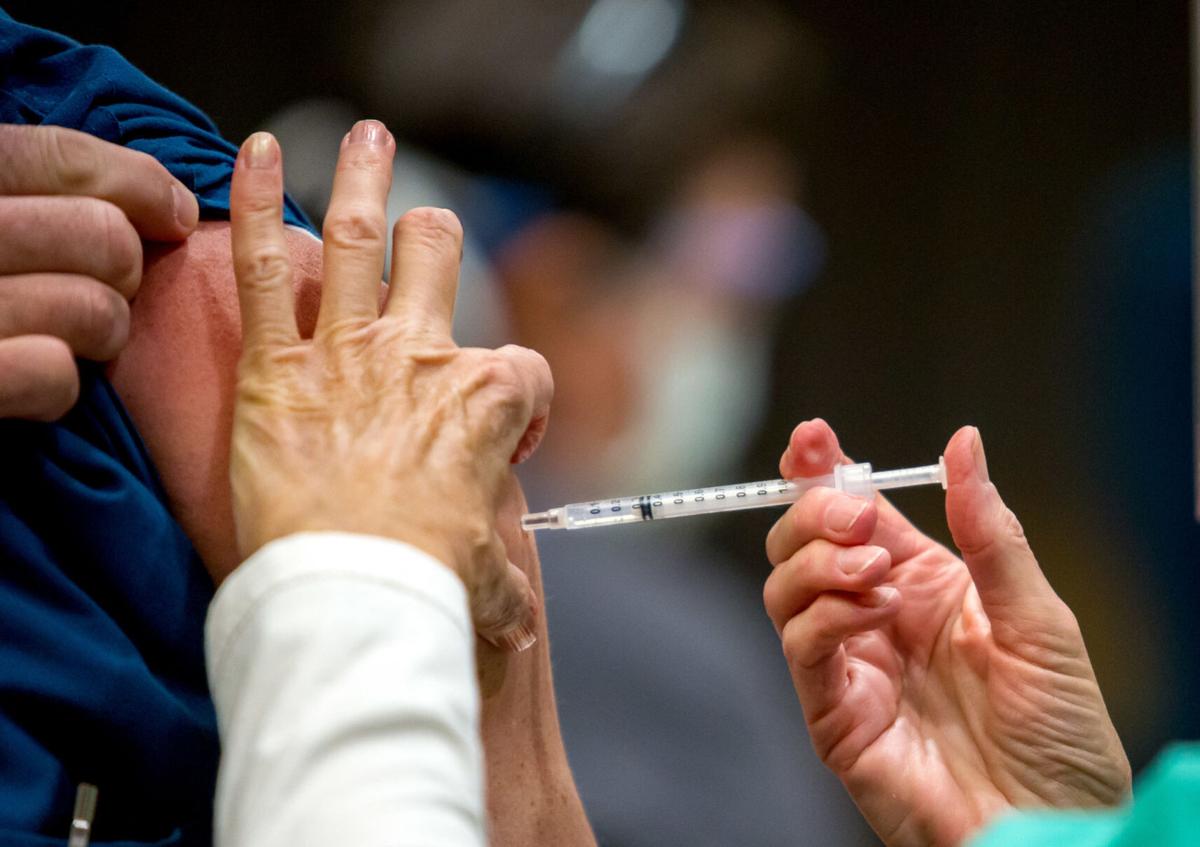 More than 20,000 Pima County residents signed up to get a COVID-19 vaccine Thursday afternoon, filling up all available appointments just hours after the county announced its move to Phase 1B of vaccine distribution.
After anxiously awaiting their turn, thousands of people rushed to register for vaccinations Thursday, showcasing the widespread desire for protection against the virus among the county's most at-risk residents. There are about 150,000 residents who are currently eligible for vaccinations, including people over the age of 75, protective service occupations and education and child-care providers.
With a limited number of vaccines allocated by the state each week, county officials said high registration numbers have already filled all available appointments in the coming days. The county is scheduled to receive another vaccine shipment Tuesday, which will likely open up additional appointments.
Eligible residents are still encouraged to register online and wait to be notified via email about the next available appointment.
"We hope to have our vaccine allotment from the state increased in the coming weeks," said county Public Health Director Dr. Theresa Cullen and county Chief Medical Officer Dr. Francisco Garcia in a joint statement. "In the meantime, we ask for patience as we move forward with this enormous effort to protect everyone in Pima County from this terrible disease."
The county will also open three additional vaccination sites next week in hopes of accelerating the vaccination process. The new sites will include the Kino Sports Complex, the Tucson Convention Center and the University of Arizona. By early February, the county also hopes to open vaccination sites at Rillito Regional Park and in Green Valley.
Since Dec. 17, about 36,000 health-care workers in the county have received at least one dose of the vaccine, and there have been over 200,000 vaccines distributed statewide.
How to register
People over 75 are encouraged to get vaccinated at Banner-University Medical Center, Banner-Kino or Tucson Medical Center.
TMC will begin distributing vaccines to seniors over 75 on Friday, offering both a drive- thru and in-hospital vaccination clinic, and it has the capacity to vaccinate about 2,000 people a day. Banner sites will begin their distribution starting next week.
Seniors who are eligible should register online at www.pima.gov/covid19vaccineregistration or call 222-0119. If registering through TMC, residents should receive an email to book an appointment once they become available. For Banner sites, people will not be able to register until after appointments are available.
Other prioritized groups, such as law enforcement, corrections, firefighters, educators and child-care providers, are also eligible to register online starting Friday, Jan. 15. These groups are advised to check with their employers first.
The Tucson Police Department will begin vaccinating employees on Friday, Jan. 15, at the Tucson Convention Center. Chief Chris Magnus and other personnel, starting with officers and sergeants who respond to 911 calls, will get the Moderna vaccine beginning at 11 a.m., according to a news release from the department.
While those 75 and older are being encouraged to get vaccinated at hospital-based sites, the TCC will serve as the main site for protective service workers, and the UA will serve as the main site for educators and child-care workers.
"Our emphasis at the beginning will be for those 85 and older, because we know that group has the highest mortality rate if infected with COVID-19," said Garcia. "This is just the beginning of a robust county effort to vaccinate everyone in the county who wants to be. We appreciate everyone's patience while we have worked through the enormous logistical complexities of standing up multiple vaccination sites capable of dispensing thousands of shots per day."
Those being vaccinated will need to present a photo ID to verify name and age. Those in law enforcement, child care and education will also need to present proof of employment.