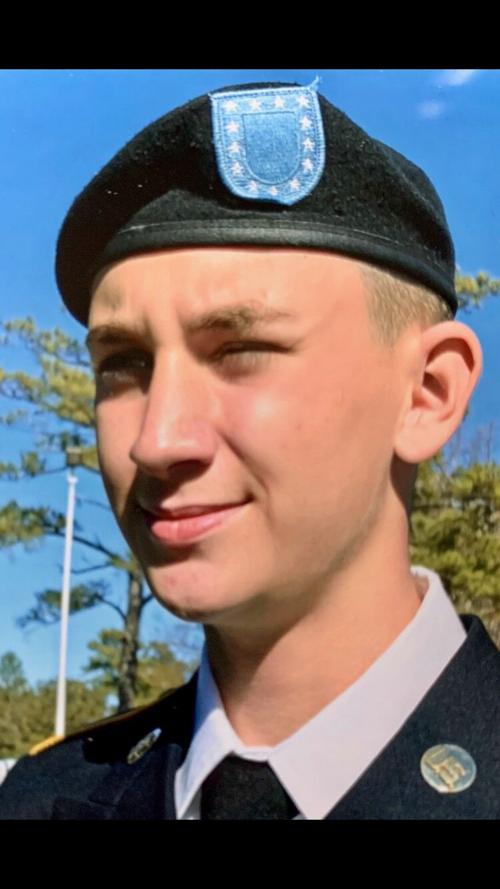 A Pima County sheriff's deputy will not be prosecuted for killing an unarmed 19-year-old man whose key fob was mistaken for a gun, the county's top prosecutor said.
Deputy Gilbert Caudillo, a 20-year veteran of law enforcement, was cleared of criminal wrongdoing after two investigations into the death of Bradley "Alex" Lewis, a recent U.S. Army recruit who was shot Jan. 20 in front of his grandparents' house north of Tucson.
"It was decided that no charges could or should be sought," Pima County Attorney Laura Conover said in a statement to the Arizona Daily Star.
Pima County Sheriff Chris Nanos declined to comment because his department's internal investigation of the incident is still progress.
Caudillo was back on patrol duty within days of the shooting — nearly a month before he was cleared by the county attorney's office.
"Per our department procedure deputies are only on administrative leave for three days following the incident, and then return to work," said Deputy Marissa Hernandez, a sheriff's spokeswoman.
Conover's April 7 decision letter said she personally oversaw an in-depth second investigation of the case before reaching a final conclusion because Rick Unklesbay, the now-retired deputy county attorney who conducted the first one, did an "unsatisfactory" job.
Unklesbay conducted his investigation at sheriff's department headquarters instead of the county attorney's office, where he'd already moved out. The findings that resulted contained "speculation," "irrelevant" comments about the deceased and wording that was "needlessly harmful" to Lewis' survivors, the letter said.
Unklesbay's initial decision letter raised, then discarded, the possibility that Lewis' death may have been a case of so-called "suicide by cop," in which suicidal person purposely provokes a fatal confrontation with law enforcement. "That would be attempting to delve into the mind of Mr. Lewis and that is a direction I cannot go," he wrote.
Despite Conover's concerns both investigations eventually reached the same conclusion: That criminal charges were not warranted against the deputy who fired the shot.
"The deputy's actions were justified under the law," Conover said.
Attorney Eduardo Coronado, who represents the Lewis family, questioned the reliability of Conover's findings since there is no body-worn camera footage that could verify what occurred. Unlike the Tucson Police Department, the sheriff's department does not yet have body worn cameras, but an initial purchase is under consideration.
Coronado also questioned why the sheriff waited two weeks to disclose to the public that Lewis was unarmed.
He said the family is contemplating legal action "if that's what it takes to get answers.
"We're not taking their word for it," he said. "How does anyone mistake a key fob for a gun?"
Unklesbay said Lewis was solely to blame for the incident that killed him.
It said deputies had been looking for Lewis for weeks on suspicion he had pointed a gun at someone, and were occasionally driving by his grandparents' home in the Casas Adobes area on the northwest side. That particular morning, he also was a "possible suspect" in a series of attempted car break-ins captured on home video cameras hours earlier in a neighborhood a few miles away.
A sheriff's sergeant noticed Lewis' vehicle parked about 100 yards away from his grandparents' home, and radioed for backup because he "knew" Lewis was likely armed, it said. Lewis sped off into his grandparents' driveway when deputies arrived and when a sheriff's vehicle blocked him in, he tried to escape by putting his vehicle in reverse and "ramming it backwards" into the patrol vehicle, it said.
Caudillo, who had just pulled up and was still in his patrol vehicle, described seeing Lewis leave his vehicle and "race directly at him from only a few feet away" with "dark object" in his hand, it said. At the time, 6:15 a.m., it was "still very dark" outside.
Only after Lewis died on scene did they realize the object was a key fob and lanyard, it said.
"Mr. Lewis was cornered and he knew it. His actions brought about his own death," Unklesbay wrote.
Keith Lewis, a family spokesman and uncle of the deceased, said Bradley Lewis joined the Army in 2019 and was training with a medical battalion at Fort Sam Houston in Texas when he injured a disc in his back and went on medical leave. He said Bradley Lewis was hoping to return to active duty after rehabilitation.
Keith Lewis disputed the sheriff's characterization of his nephew as a seasoned criminal. Online court records reviewed by the Star do not show any criminal convictions for Bradley Lewis.
Keith Lewis said as far as the family knows, his nephew had no convictions, but even if he did, it doesn't excuse what happened.
"He was only 19. The deputy had no right to act as a prosecutor, judge, jury and executioner."
Contact reporter Carol Ann Alaimo at 573-4138 or calaimo@tucson.com. On Twitter: @AZStarConsumer