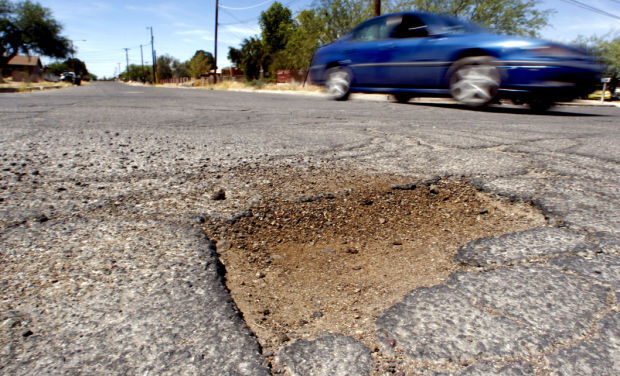 A temporary, half-cent sales-tax increase designed to generate $887 million in new revenue to fix roads in Pima County is expected to fail on Tuesday.
The proposed 10-year tax hike will be shot down at the Pima County Board of Supervisors meeting by two politicians who've made fixing the crumbling roads in Southern Arizona their top political priority — Ally Miller and Steve Christy.
Since entering county politics as candidates — Miller roughly six years ago and Christy more than two years ago — the Republicans have both made road repair a cornerstone of their political identities.
It is a white-hot political topic that polls incredibly well, maybe even better than when John McCain said he wanted to "complete the danged (border) fence."
Their votes on Tuesday are vital, as the measure only passes if all of the supervisors sign off on it. Under state law, anything less than a unanimous vote and the proposal fails. No excused absences, no one can abstain.
Pima County Administrator Chuck Huckelberry may have offered a last-minute out, outlining another way to fix roads in Pima County without having to raise sales taxes.
He told the supervisors late last week he could raise $860 million with property taxes without having to raise rates by keeping those rates at the same level for the next decade.
Christy says he wants to vote for the sales tax. For one thing, it captures a much broader base regarding taxpayers than homeowners. Those passing through any part of Pima County would pay into the system, whether they are filling up at the pump, grabbing a Polar Pop or sampling food unique to Southern Arizona.
The retired businessman has floated his plan to fix roads — the aptly named "just fix the roads plan" — that largely mirrors what is going before the supervisors.
But the devil is in the details for Christy, who says the county's version contains more than one poison pill.
One is a practical objection. Supervisor Richard Elías has written a companion ordinance that would increase the amount of money going into social-safety-net programs — about $3 million from the county's general fund to start — if the half-cent sales taxes were to be adopted.
Elías is concerned that the half-cent sales tax increase is regressive and hurts the working poor, and he wants the millions set aside to go into county programs aimed at those in need.
Christy says he can't stomach tying the road-repair vote to an increase in spending on safety-net programs offered by the county.
Christy voted against Pima County's annual budget last year for similar reasons and said he will do it again on Tuesday.
He concedes the safety-net money is a fraction of the overall budget, but it goes against his core principles on how taxpayer money should be spent.
The second reason is more pragmatic. Christy says he believes the hundreds of millions of dollars should be overseen by the Regional Transportation Authority, that the outside planning agency would do a better job than county employees.
To be fair, both the sales-tax plan and its cousin, a bond backed by primary property taxes, would distribute the money to various agencies based on population.
Hundreds of millions of dollars of the proposed $860 million bond would be split between Tucson, Oro Valley, Marana, Sahuarita and South Tucson.
Miller has publicly balked at the sales-tax proposal, telling a public-radio host in April there was only one way she'd back it — if Huckelberry resigned.
Miller has floated various suggestions for cutting county spending and redirecting funds for road repairs as well as proposing her own road-repair plan, although it has less in common with the one currently under consideration by the supervisors.
Her 2016 proposal reportedly would have generated over a billion dollars for road repairs over two decades.
Those funds would have come from several sources, including extending a half-cent sales tax for the voter-approved Regional Transportation Authority by a decade in 2026 and directing half of the authority's revenues to road repair by 2023; ceasing to issue new voter-approved Highway User Revenue Fund bonds and allocating more of those funds to road repair.
Supervisors Ramón Valadez, Sharon Bronson and Elías have previously offered support for the half-cent sales-tax increase, saying it is the single best attempt to address a billion-dollar backlog of road repairs in Pima County.
Down the Road
On Monday, June 18, Park Avenue just south of Grant Road will be closed in both directions from 5 a.m. to 5 p.m. as work crews remove old water lines.
Continued construction to widen Grant Road between Stone Avenue and Park Avenue will reduce the speed limit to 25 mph and drivers should expect delays while traveling through the area.
The Arizona Department of Transportation is advising drivers to expect delays along Interstate 10 between Dragoon and Johnson roads east of Benson at the Texas Canyon rest areas this week. Eastbound and westbound I-10 will be reduced to a single lane in each direction for striping and guardrail work. Crews are scheduled to work from 6 a.m. to 4 p.m. each day.