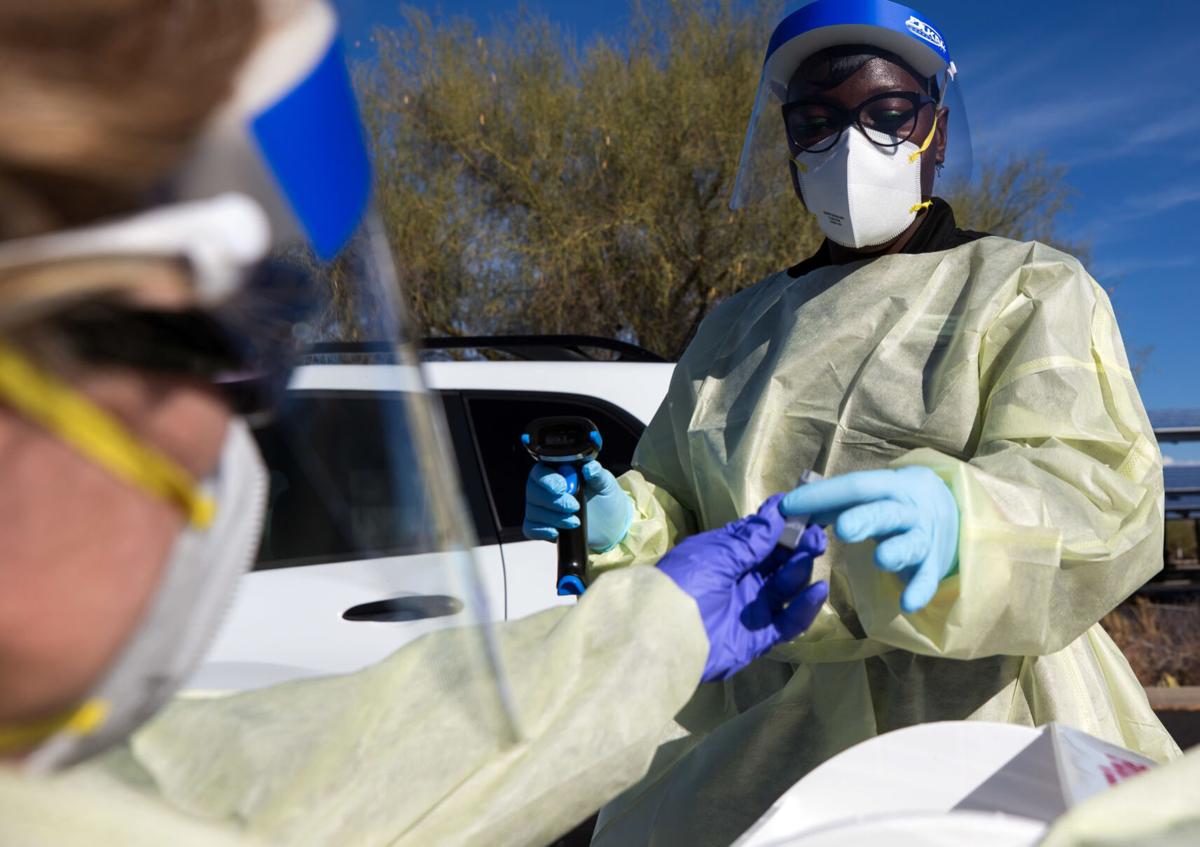 Tucson health-care professionals joined Pima County officials in pleading once again for people to do their part in the battle against the spread of COVID-19, citing record-breaking transmission rates and overwhelming hospitalizations across Arizona.
In an open letter Friday, the county Health Department, along with leaders of several local hospitals and fire districts, asked Pima County residents to stay home as much as possible, wear a mask and avoid social gatherings, including during the holidays.
Without significant changes in community behavior, officials said COVID-19 cases will continue to overwhelm the local health-care system and will lead to an increase in deaths of not only COVID-19 patients, but people experiencing other illnesses as well.
"Our acute health-care system is experiencing heavy stress and is near the breaking point," the letter said. "If our community does not take immediate action to slow or stop the spread of COVID-19 in Pima County, the results for the health-care delivery system could be catastrophic."
Pima County recorded 6,290 coronavirus cases last week, nearly doubling the number of infections the week before and shattering all previous case records. The county, like the state, is also experiencing increasing rates of hospitalizations, recording less than 2% ICU availability as of Friday morning.
Arizona's rate of COVID-19 spread was the highest in the nation as of Thursday. A state-by-state analysis looks at what researchers call the "R-naught" number. Anything above 1.0 shows spread. On Thursday, Arizona hit 1.22. That's not only the highest in the nation, but the highest for Arizona since the middle of May.
As hospitals continue to be inundated with patients, shortages of workers and critical supplies are becoming more of a concern. Some local hospitals are already having to turn people away. Eventually, officials said, health-care workers will have to start making important decisions about who receives care first, which lifesaving surgeries to move forward with and other decisions to strategically address the overwhelming number of patients.
"If the proverbial school bus accident were to happen today, and there were many critically injured individuals, many of those individuals would end up being transported out of the county for critical care," said Pima County's Chief Medical Officer Dr. Francisco Garcia. "That's what we mean by the breaking point."
While the state has allocated approximately $85 million to Arizona hospitals to address staffing needs, local hospital officials said money will not do enough to solve the immediate crisis.
"It's not about the money," said Tucson Medical Center President and CEO Judy Rich. "We are spending money to pay for patients who are getting sick instead of doing what we're doing today, which is to talk about how to prevent people from getting sick in the first place. We need to stop trying to fix it on the back end and we need to fix it on the front end. We need to wear masks, we need to stay home and we need to stop the spread of this disease."
Pima County has implemented several prevention measures over the last couple of weeks, including enforcement of the countywide mask mandate and penalties for businesses that do not comply with local COVID-19 requirements. Health officials said now, more than ever, they are pleading with the public to comply with those requirements to protect themselves and other community members.
"Not everyone who gets COVID-19 gets terribly sick," they said. "But many do, and many of them are dying from it. Even though you may think you're healthy and won't be affected by COVID-19, if you get it, you may unintentionally give it to someone else."