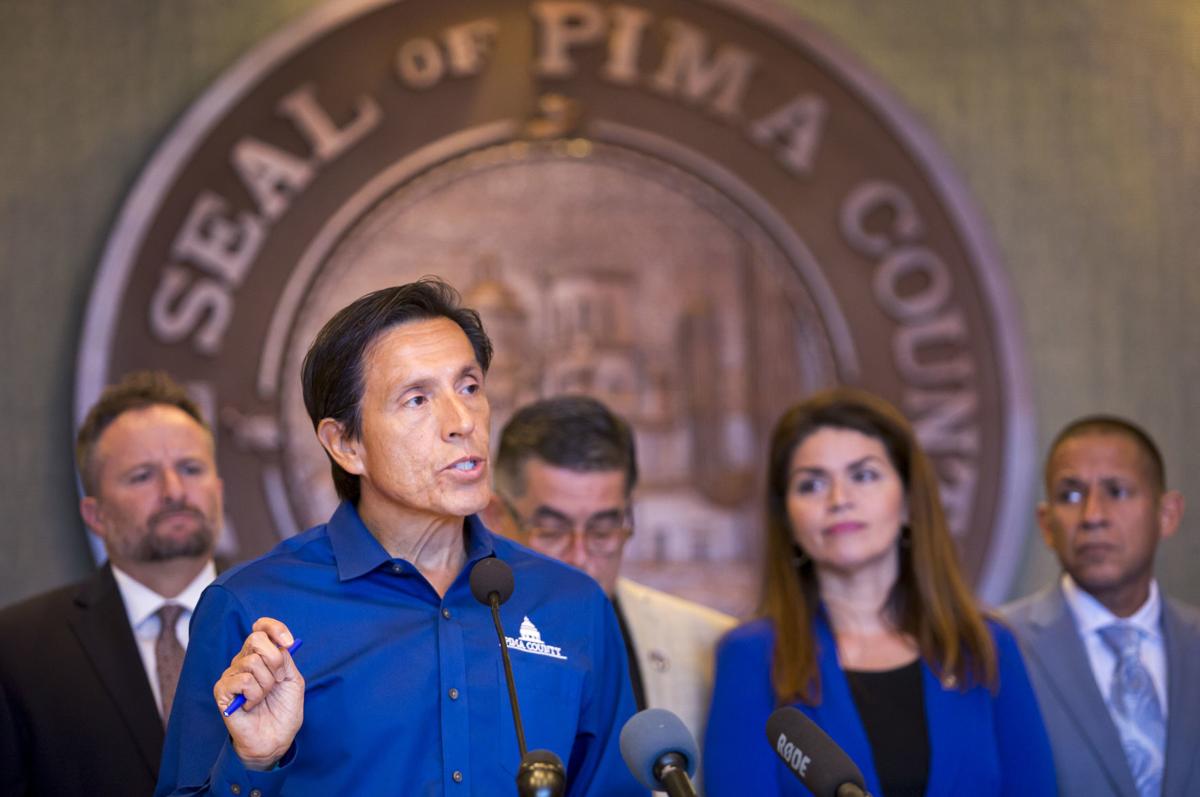 Pima County's chief medical officer Dr. Francisco Garcia is exploring legal avenues for enforcing the county's recently approved mask-wearing ordinance.
"We're having all sorts of conversations with the county attorney about what is it that we are legally able to do and not do," he said.
The county has received more than 100 complaints concerning businesses disregarding the ordinance, he said. And Garcia wants to develop enforcement options to use against businesses should the county's health department identify chronic offenders.
County officials are frustrated by calls they're getting about certain businesses not following the rules laid out in the mask-wearing ordinance, he said. "In some cases, it seems to be really reckless disregard for the provisions that the Board of Supervisors have put into place."
Everything is on the table, including civil and criminal penalties, Garcia said.
"We are not going to go after individuals," he said. "From a population standpoint, that doesn't make sense."
On June 19, the Pima County Board of Supervisors approved an ordinance that mandated all people age 5 and over wear face coverings in public if they can't maintain a continuous distance of at least 6 feet from others. Certain people are exempt.
The ordinance came after Gov. Doug Ducey allowed cities and counties to set their own mask-wearing requirements on June 17.
It superseded a similar mask-wearing requirement instituted by Tucson Mayor Regina Romero on June 18 that had carried a civil penalty of a $50 fine or five hours of community service.
Under the county's ordinance, businesses must provide employees with masks and require employees to wear them. And if customers aren't wearing masks, businesses may ask customers to leave if they can't maintain a distance of at least 6 feet from others.
The supervisors approved the ordinance without enforcement measures.
But the wording of the ordinance lets the county administrator go back to the board to authorize enforcement, Garcia said.
County officials are still exploring what they would ask the board to authorize, he said. "We are looking at options because we have to."
"I get it. It's not an easy thing to comply with," Garcia said, adding that the county needs to try and get people to wear masks, and especially to increase the mask-wearing rates of those who are 15 to 45 years old.
The infection rate is so high among younger people that it puts vulnerable people, like the elderly and those with preexisting conditions, at a lot of risk, he said.
It will take about two or three weeks to start measuring any impacts the county's mask-wearing requirements are having on the pandemic, Garcia said.
Pandemic not improving in Arizona
Countywide, new coronavirus cases are showing a clear trend upwards over the last several weeks.
New confirmed cases in Pima County totaled 1,522 from June 14 to June 20, according to the county's health Department. This is a 468% increase since the week after Ducey let his stay-at-home order expire on May 16.
Cases statewide totaled 19,313 for the same week ending on June 20, according to data published Saturday by the Arizona Department of Health Services. This is a 531% increase since the week after May 16.
Over the same period, statewide diagnostic testing increased by 145%, a much slower rate.
The pandemic is still not improving in Arizona, said Dr. Joe Gerald, an associate professor with the University of Arizona's Zuckerman College of Public Health. "Cases are increasing. Everything's trending the wrong direction. Action is still warranted."
Gerald's analysis of hospital-capacity data shows Arizona reaching zero available general-ward and ICU beds at the end of July, he said.
Arizona has more beds available through its surge plan, but Gerald cautions that once "normal" capacity is exceeded, the level of care is not equivalent in these surge settings.
Tucson Medical Center, 5301 E. Grant Road, has seen its ICU capacity "constrained" over the last couple of weeks due to more coronavirus hospitalizations, Angela Pittenger, spokeswoman for TMC, wrote in an email.
"Hospital bed capacity continues to be something that we are very, very concerned about," Garcia said.
As of Friday morning, TMC had 43 coronavirus patients and 22 cases pending, Pittenger said.
"If these increases continue then we will reach capacity, it's just a matter of exactly when," Gerald said. "So not much good news this week."
Concerned about COVID-19?
Sign up now to get the most recent coronavirus headlines and other important local and national news sent to your email inbox daily.