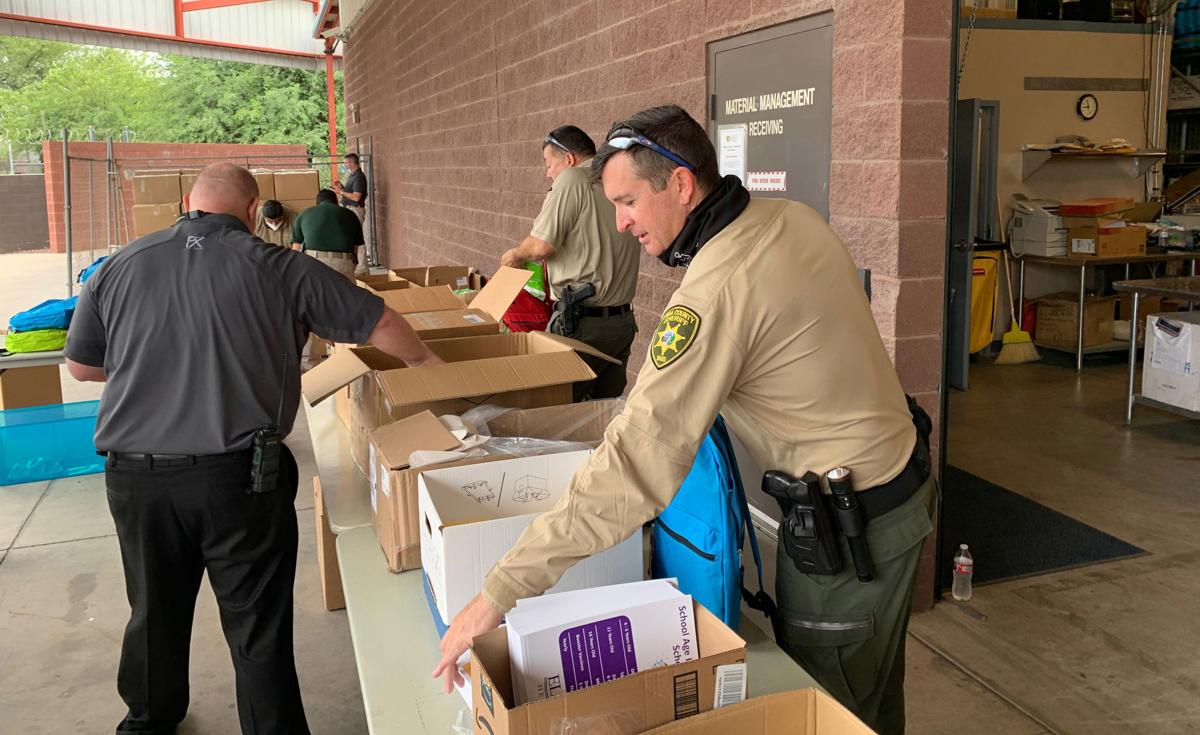 The Pima County Sheriff's Department will be giving away 3,000 backpacks with school supplies during the annual drive-up Badges and Backpacks event on July 24 at 8 a.m. at Pima Community College West Campus, 2202 W. Anklam Road.
The event will also include free books from Bookmans and free bicycle helmets from TMC Healthcare.
There will also be entertainment and activities, which include Animal Encounters with Therapeutic Ranch for Animals & Kids, princesses with Tucson Ever After, the Arizona Ghostbusters, Dusty from the Tucson Roadrunners, Miss Tucson Abby Charles, first responders vehicles, costumed characters and more.
There will be a walk-up station for people arriving without a vehicle. Unvaccinated participants must wear a mask when interacting with volunteers. Each school-aged child who is present can receive one backpack.
Marana receives $20K for STEM
Marana School District received $20,000 in grants to support two programs in science, technology, engineering and math.
The nonprofit Bayer Fund awarded $10,000 each to the Career and Technical Education Agriscience Program at Marana High School and for professional development through the STEMAZing Teacher Leader Program.
Marana High will complete construction of an industry-standard animal housing and teaching facility with the grant money.
"The build out of a fully-functioning animal facility is imperative for the agriscience program to continue," said Principal David Mandel. "MHS is committed to providing a safe space to house animals at our school while teaching students about animal production and veterinary science. This investment will impact current and future agriculture students as well as the countless students from fellow schools and the public who visit the facility."
The teacher leadership program trains educators in science and engineering practices, improving STEM teaching and learning in all Marana schools, across grade levels and sites, a news release said. For the last two school years, the program has trained hundreds of teachers, reaching thousands of students.
CDO teacher up for $100K prize
An automotive teacher at Canyon del Oro High School is among 61 finalists for the 2021 Harbor Freight Tools for Schools Prize for Teaching Excellence.
Jeremy Tarbet, in the Amphitheater School District, is a graduate of Canyon del Oro High and has taught there for nine years. His students restore classic cars while researching restoration techniques, applying mathematics in the fabrication process and working collaboratively to problem solve, a news release said. He also teaches a dual enrollment class with Pima Community College.
Tarbet's students have earned more than 22 state medals at competitions held by SkillsUSA, a national nonprofit association of trades students. Tarbet was also a 2020 SkillsUSA advisor of the year and a finalist for both the 2019 and 2020 Prize for Teaching Excellence.
Tarbet was selected as a finalist out of more than 700 skilled trades teachers who applied for the prize. The 61 finalists are from 30 states and specialize in trades including advanced manufacturing, welding, construction, automotive and agriculture mechanics.
Three grand prize winners will receive $100,000 each, with $70,000 going to their high school skilled trades program and $30,000 going directly to the individual skilled trades teacher. Fifteen additional winners will each win $50,000, with $35,000 going to the high school program and $15,000 going to the teacher.
"Despite the dramatic need for a new generation of workers, research has shown that most U.S. high school students do not have access to high-quality skilled trades programs," said Danny Corwin, executive director of Harbor Freight Tools for Schools. "The goal of the prize is to highlight some of the most outstanding programs nationwide and to celebrate teachers who are making a big difference in the lives of students."
The winners will be announced in October.