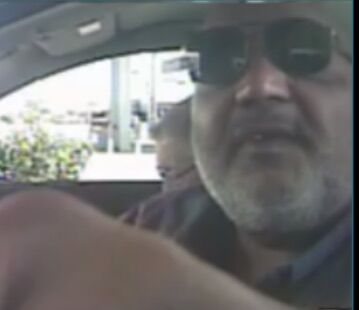 A man with a flashy wristwatch and a diamond-studded pinky ring is being sought for questioning in an elder fraud case, authorities said.
The Pima County Sheriff's Department released photos of a "person of interest" and are seeking public help to identify an unknown man who made bank tellers so uneasy they reported him to law enforcement.
Staffers at BBVA Bank, 81 W. Esperanza Blvd., made the call Aug. 11 around 11:30 a.m. when an elderly male customer came in with the unknown man at his side and tried to cash a check from his own account that was made out to "cash," which "made bank staff suspicious," the sheriff's department said.
When bank employees started questioning the unknown man, "he became defensive and left the bank," the sheriff said.
When deputies questioned the elderly customer, he told them he'd met the unknown man months earlier when the man approached him at home, and said he'd given the man money several times.
The person of interest is described as in his 40s with a heavy build, a buzz haircut and a clean-trimmed goatee.
He was last seen wearing dark prescription glasses, a silver-and-gold watch on his left wrist, and on his left hand, "a large gold pinky ring with a clear square diamond on top."
The unknown man was seen getting into an older, silver or blue, four-door Mercedes sedan with a female driver, the sheriff said.
Anyone with information is asked to call 911 or call 88-CRIME to submit a tip anonymously.
Get local news delivered to your inbox!
Subscribe to our Daily Headlines newsletter.