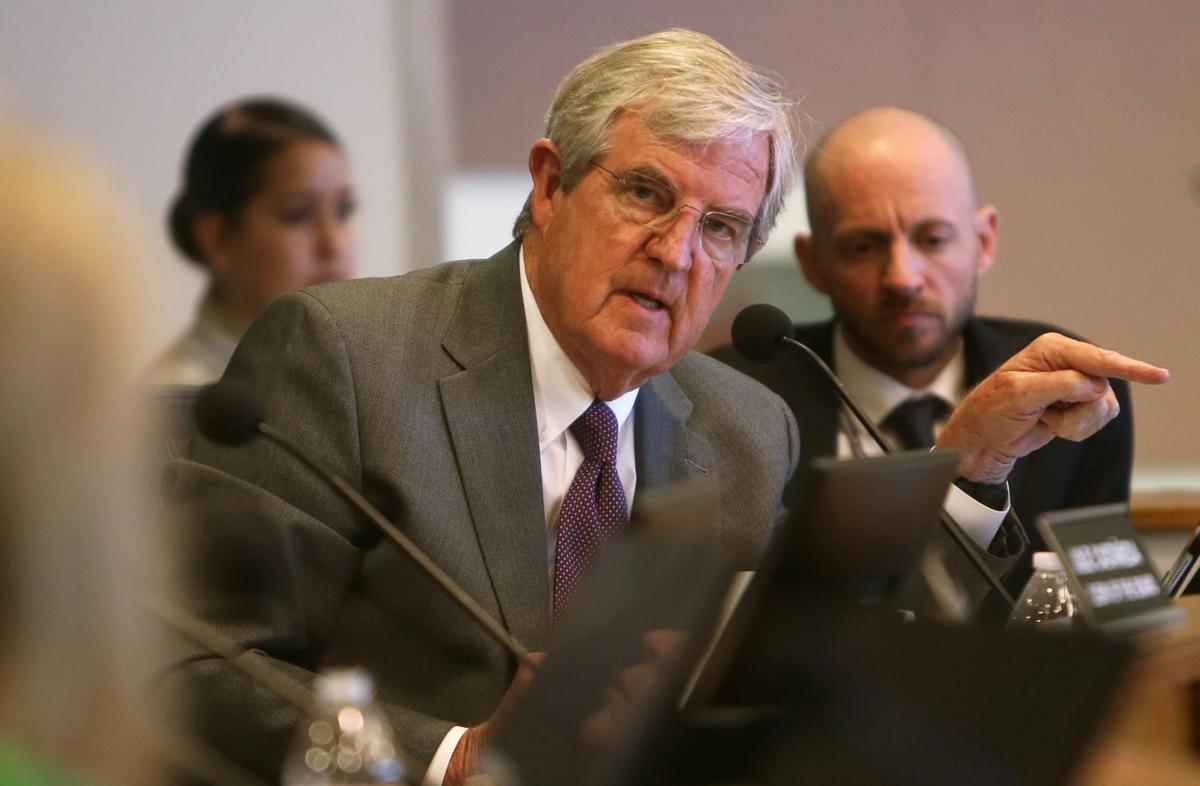 The Pima County Board of Supervisors considered taking several COVID-19-related actions at its meeting Tuesday, including mandating vaccines for county employees, requiring masks in schools and redeclaring an emergency.
None of those proposals passed.
COVID-19 cases in Pima County more than quadrupled from the first week of July to the first week of August, according to data from the Arizona Department of Health Services.
Concerned about rising cases of the highly contagious delta variant, Supervisor Matt Heinz, who is also a physician at Tucson Medical Center, brought two of the motions before the board, which voted them down.
County Administrator Chuck Huckelberry recommended the board require COVID-19 vaccinations for county employees as a condition of employment. However, he said a state law prohibiting local jurisdictions from mandating vaccines, which passed with the Legislature's annual budget in June, "would appear to try and preclude us from doing so."
In response, Supervisor Rex Scott made a motion to not require employees to get vaccinated against COVID-19, which passed 4-1 with Heinz dissenting.
While he called the law prohibiting vaccine mandates "a reckless, irresponsible, ignorant decision," Scott said he didn't want to put a mandate in place that's "essentially toothless" because of the state law.
Only about 30% of the county's 6,800 employees have been vaccinated, according to a July 29 report from Cathy Bohland, the county's human resources director.
But the county determines staff vaccination rates by the number of employees who have requested an "I'm vaccinated" badge. After a request, the county verifies the employee's vaccination status by looking at the state's database or a vaccination card. Huckelberry thinks the actual number of vaccinated employees is much higher.
"I have a problem with, in general, governing bodies dictating what you do with your body," Supervisor Adelita Grijalva said. "One of the things that other organizations have done is if you're choosing not to be vaccinated, then they're requiring more regular testing."
Huckelberry said the board could "entertain a testing option" where those refusing a vaccine can submit to regular testing instead. He also suggested creating "financial incentives" for vaccinated employees through insurance plans where the county could consider "not being vaccinated as an unhealthy activity and charge more or take away the premiums that they already received."
Huckelberry will meet with the county attorney to discuss options for requiring testing and increasing insurance premiums, then return with more information at the Board's Aug. 16 meeting.
School masking mandate rejected
Heinz submitted a proposal to mandate masks for all K-12 schools in the county, despite the state law prohibiting school districts from requiring face coverings.
Since July 20, the county Health Department has identified 282 COVID-19 cases within schools, according to Dr. Francisco Garcia, the county's chief medical officer. Of those cases, 113 occurred in children 11 or younger, who are not yet eligible for a vaccine.
Supervisors denied the proposal 3-2, with Heinz and Grijalva voting yes.
Although the state has prohibited schools from mandating masks, some districts, including Tucson Unified, have required masks anyway.
Scott said that decision should be left up to school districts, "who know their communities and their staff much better than we do."
"If we pass it, we are putting school districts and public charter schools in between us and the state," he said.
Emergency not declared
The board also turned down a proposal from Heinz to reinstate the COVID-19 emergency, which was rescinded July 6 by a 3-2 vote.
The move would have given Chair Sharon Bronson the authority to rule by proclamation, which means she doesn't have to take an action to the board to have it ratified while supervisors can meet with only 24 hours' notice.
Although Huckelberry said "the data actually supports reinstating the declaration of emergency," supervisors voted 3-2 to not reinstate it.
"I would implore my colleagues to vote for this," Grijalva said before the vote. "A vote of no for this emergency proclamation could send the message that we're not in a state of emergency, and I think that we are."
When asked why the emergency declaration is necessary, Heinz responded, "The people will understand that we have a state of emergency and will take this more seriously, and hopefully move to get vaccinated."
But Scott voted against the motion, reasoning allowing Bronson to rule by proclamation wasn't enough to encourage more vaccinations.
City wants 'to act quickly'
The Tucson City Council also discussed at its meeting Tuesday the possibility of requiring or incentivizing city employees to get vaccinated.
"We have to do everything we possibly can, especially because Gov. (Doug) Ducey has tied the hands of school districts and cities and counties and towns throughout the state," said Mayor Regina Romero, who reinstated the mask requirement in city buildings amid last month's surge. "We need to act quickly."
City Manager Michael Ortega estimates about 30% of the city's roughly 5,000 employees are not vaccinated, but he said his team has been exploring making vaccines mandatory.
"It's a heavy-handed approach, but one that I'm willing to take based on the importance of moving the needle on this," Ortega said, adding that he's also looked into limiting health-care coverage for unvaccinated employees who would be more likely to contribute to rising overall health-care costs during the pandemic. "There's also some opportunity to provide incentives instead of discipline for someone not taking the vaccine. We've been exploring what that looks like. Is it monetary? Time off?"
The state law barring cities from mandating vaccines and masks doesn't take effect until Sept. 29, which is why some members of the council said they want the council to put any new vaccination strategy in place as soon as possible.
"We've got a meter running because of the governor," Ward 6 Councilman Steve Kozachik said, reminding the council of the new threat posed by the delta variant and emerging lambda variant. He proposed requiring employees to get the first of the two-part vaccine by Aug. 20 and the second by Sept. 27 or risk forfeiting their jobs.
"It's not just a bad flu, and it's totally preventable. That's why I'm ready to move on this," Kozachik said.