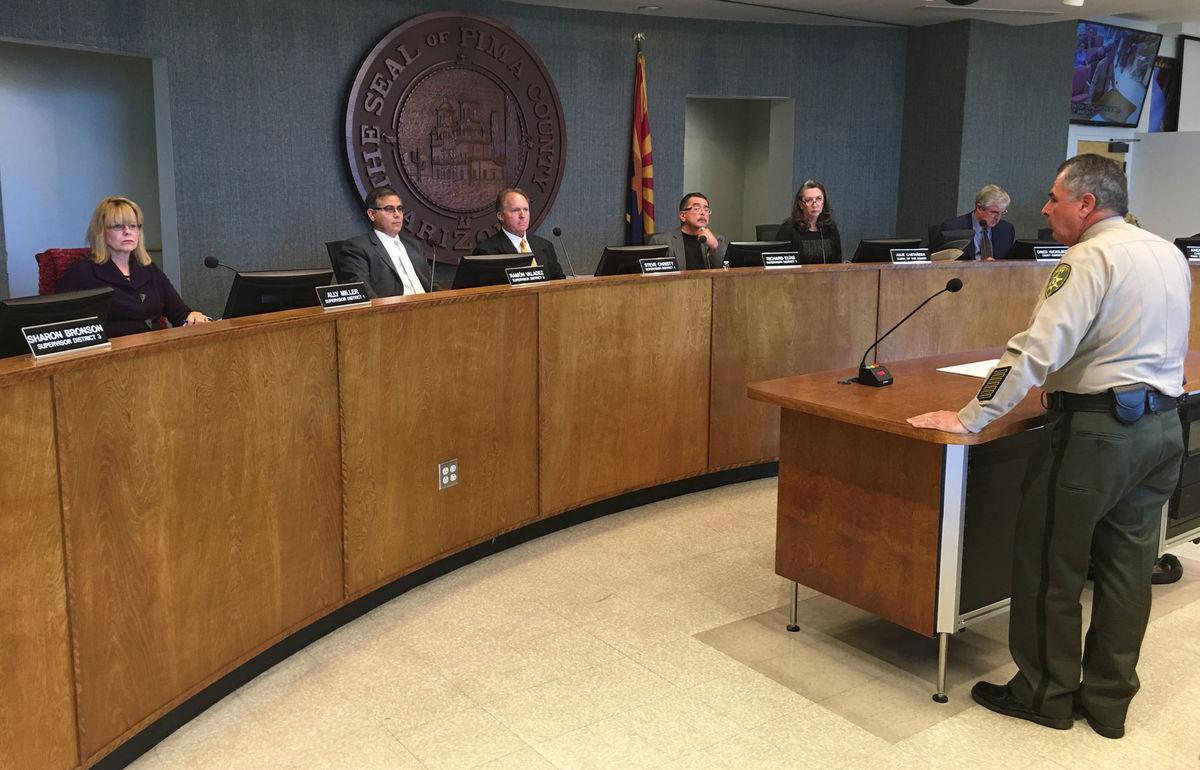 A controversial $1.8 million border security grant supporting cooperation between local law enforcement and border agents was given the green light by county officials Tuesday under the condition that a portion of the funds go to humanitarian aid for asylum seekers.
Sharon Bronson was one of three Pima County Supervisors who voted to accept the federal funds despite voting against it last fall, stipulating certain conditions. Supervisors Ally Miller and Steve Christy also voted to accept the funds as they have in the past.
The conditions stipulated that $200,000 of the roughly $1.8 million Operation Stonegarden funds be designated for humanitarian aid efforts through local, faith-based nonprofit organizations for food, water, hygiene products, medicine, medical supplies, transportation and temporary and permanent housing for migrant families arriving in Pima County.
Supervisor Richard Elías, who voted against Operation Stonegarden, said the county needs approval from a number of local, state and federal agencies before any funds can be reallocated for humanitarian aid purposes. He added that even if the reallocation is approved, the county may not have a say in how or where those dollars are spent.
Elías also said when stipulations were placed on the grant last year, the Sheriff's Department spent half the money before meeting the conditions, which creates murkiness in the current agreement.
Elías was joined by Supervisor Ramón Valadez in rejecting the funds.
The county had been accepting the federal funding through Operation Stonegarden for the past 12 years, receiving about $16 million in funding. The money has been used for border security cooperation between border agents and local law enforcement, paying for overtime, equipment and mileage costs.
However, in the wake of changing border policies, which included family separation, the Board narrowly voted to reject the funding last fall after a community outcry to stop coordination between border agents and local law enforcement.
At the time, the department had already spent roughly $637,000 of the $1.19 million it was awarded, and the remaining $793,000 was reallocated to other law enforcement agencies, many of which function inside Pima County, according to a memo from Pima County Administrator Chuck Huckelberry.
Despite the vote against accepting the funds last year, Pima County Sheriff Mark Napier applied for another round of Stonegarden funding and was awarded close to $1.8 million for overtime, mileage, travel and equipment, according to Arizona Daily Star archives. This new funding included funds for the purchase of license plate readers to be mounted on patrol vehicles, constantly collecting information.
Huckleberry said rejecting the funding could mean returning equipment purchased with the grant and replacing it at an approximate $2.3 million cost to the county.
Local group Justice Alliance: Indivisible Southern Arizona and others who spoke in opposition to Operation Stonegarden say the funds are used to prey on vulnerable immigrant communities and that collaboration between border agents and local law enforcement make residents fearful of reporting crimes.
Another issue the opposition had was that the vehicle-mounted license plate readers will upload information into a database accessible to many public and private agencies. Bronson added declining to purchase the license plate readers as one of the stipulations to accepting the grants.