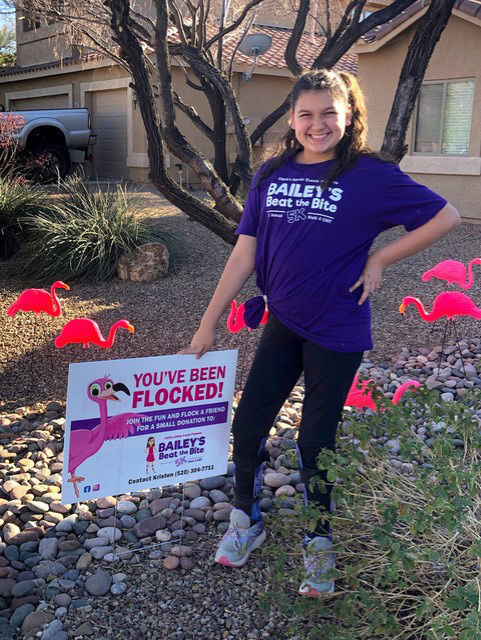 It's almost spring in Tucson and socially distant fundraising walks are in bloom.
This year, you can help raise funds for research into a neurodegenerative disease that impacts one in every 2,500 people through virtually walking or with real-time "flocking" — using pink flamingos.
"You can nominate someone, and for a $15 donation, we sneak in and put a dozen pink plastic flamingos in their yard with a sign that says, 'You have been flocked!' We tell them who flocked them and that they are supporting Bailey's Beat the Bite and the Charcot-Marie-Tooth Association. It is a great way to raise awareness and get small donations, and it's fun, right?" said Kristen Oaxaca, who is spearheading the campaign in conjunction with Bailey's Beat the Bite 5K Virtual Walk 4 CMT, which will take place anytime between March 18 and March 31.
The event is inspired by Oaxaca's niece, Bailey Roestenburg, 11, who was diagnosed with CMT at age 3.
She has battled debilitating pain and muscle atrophy in her arms and legs, undergoing four surgeries in the past four years to reconstruct her feet and guide growth in her ankles and knees. The sixth-grader at Laguna Elementary School continues to wear custom leg braces to help her walk.
To combat the weakness in Bailey's hands, her family has developed solutions such as a pulley system to open the bathtub drain and cake decorating bottles in place of hard-to-squeeze shampoo and lotion bottles.
Through it all, Bailey has become confident and outgoing; she enjoys playing volleyball and other activities, according to her mother, Vanessa Thomas.
"She has learned how to accept CMT and learned that making changes and adaptations in everyday life is OK. She is much more comfortable expressing when she needs help and accepting that at school and at home and to adapting to however her body is behaving that day," said Thomas.
Participating in "flockings" over the past month has been particularly enjoyable for Bailey and the entire family, according to Thomas.
"She really enjoys going into the yards and helping set up the flamingos, then hammering them in and posing for pictures," said Thomas.
When Rose Gonzales returned home to see the neon flamingos in her yard after a morning of shopping in February, she knew immediately what it meant.
"I started laughing and said, 'Oh man, I have been flocked!' " said Gonzales, who has known the Oaxaca family for 25 years and was flocked by her son, Cristobal Candelario.
She said the colorful displays brought fun and buzz to the neighborhood and helped start conversations about CMT.
"The funniest comment was from my neighbor. She said she saw the pink storks in my yard and asked if I had a new granddaughter. I told her they were flamingos and then the chance to tell her about the flocking and about CMT," said Gonzales.
Thomas is happy to bring attention to CMT, which is broken primarily into four types and can be caused by mutations in more than 100 genes. She said that exposure through social media is helping to promote awareness in the medical community and the general public.
"People are excited about the flockings, and we are seeing lots of people asking questions on Facebook, so it is really broadening our audience. We are slowly gaining ground, and people are becoming more familiar with CMT," she said.
The family is hopeful that increased awareness translates into more funds for the nonprofit CMTA, which utilizes an initiative called STAR — Strategy to Accelerate Research — in which scientists collaborate and share ideas and findings to advance research and treatments.
CMTA also offers a database of CMT patients as well as support and resources for those living with CMT and their families.