Two men have been arrested on suspicion of multiple armed robberies where Tucson fast-food restaurants were held-up at gunpoint, police say.
Reuben McClain, 35, and Reginald Scott, 33, are facing 77 total charges for their alleged involvement in the incidents, according to Pima County Superior Court records.
McClain faces 60 felonies for the alleged armed robberies and burglaries, including multiple counts of aggravated assault with a deadly weapon.
Scott faces 17 additional felonies, including aggravated assault with a deadly weapon, kidnapping of a victim under the age of 15 and aggravated robbery, according to court records.
Police said during each of the robberies, a suspect forced occupants to the floor at gunpoint and physically assaulted some of them. The suspect then fled with money from the restaurants.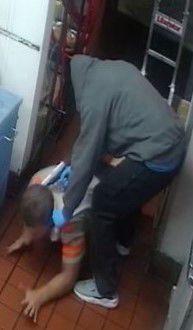 One of the men was allegedly captured on camera at a Domino's Pizza attacking an employee during an armed robbery, according to the Tucson Police Department. The department published the video to its Facebook page on June 6.
Both remain in the Pima County jail.
Warning: This content may be disturbing to some.