The welfare of up to three children believed to live at the house in the 2100 block of East Irene Vista had been a concern for police since a body was found inside during a fire, Sgt. Richard Gradillas, a Tucson police spokesman, said Monday morning.
Gradillas would not say where or when the children were found, nor would he provide any details about them.
Tucson police Monday morning were still working the crime scenes: the house where a body was found and a neighbor was shot to death while trying to help put out the fire when he and firefighters came under fire; a parking lot where two paramedics were shot while in their rig; and a nearby street corner where a police officer critically wounded the suspected attacker in a gunfight.
The same 35-year-old man is suspected in all three attacks.
Details about the gunman or the many victims has not yet been released by police.
Tucson Police Chief Chris Magnus said in a Monday morning Tweet that the TPD officer who ended the rampage after being rammed at shot at by the suspect showed "incredible adeptness and courage."
"Police, fire and EMS personnel can take nothing for granted in today's environment," Magnus said. "Situations can devolve rapidly and too many people are dangerously unpredictable & intent on doing serious harm. I appreciate all our first responders for taking the risks that come w/their jobs."
The Tucson Firefighters Association said in a Monday morning Facebook post that the fire captain who had been shot in the arm was "home resting and doing well."
The post went on to thank TPD for its quick actions in "neutralizing the threat," and asking for prayers for the injured EMTs and civilians.
Ambulance company American Medical Response posted a message on Facebook Sunday night, commenting on the attack on two of its employees.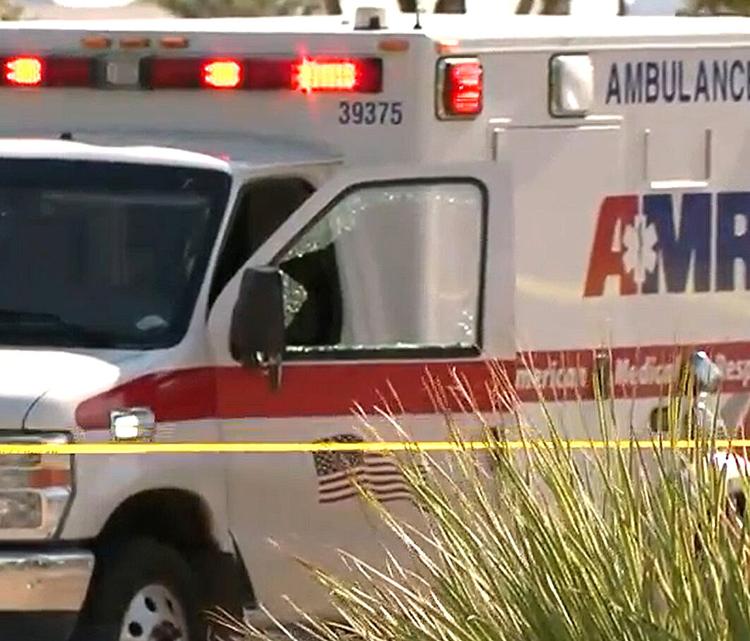 "Earlier today, two of our Tucson EMTs were shot by a gunman as they were posted on an emergency call. At this point, one of them is in ICU with very critical injuries and another is awaiting surgery, with non-life-threatening but serious injuries. Officers, firefighters and civilians were also shot and we understand there are serious injuries and possibly casualties," the post said. "We are still getting details about this terrible situation, and at this point we would like to keep our team members' names private so their families can tend to them. We will share information soon. Please pray with us, for all involved and for our team members who are fighting to recover from this senseless act."
Tucson Mayor Regina Romero took to Twitter Sunday night, calling the incident "a horrific and senseless act of violence."
Romero thanked the first responders and neighbors "who courageously responded to the scene, knowingly putting themselves in danger."
We will be updating this story throughout the day. Sign up for our breaking news newsletter for the latest developments delivered directly to your inbox.