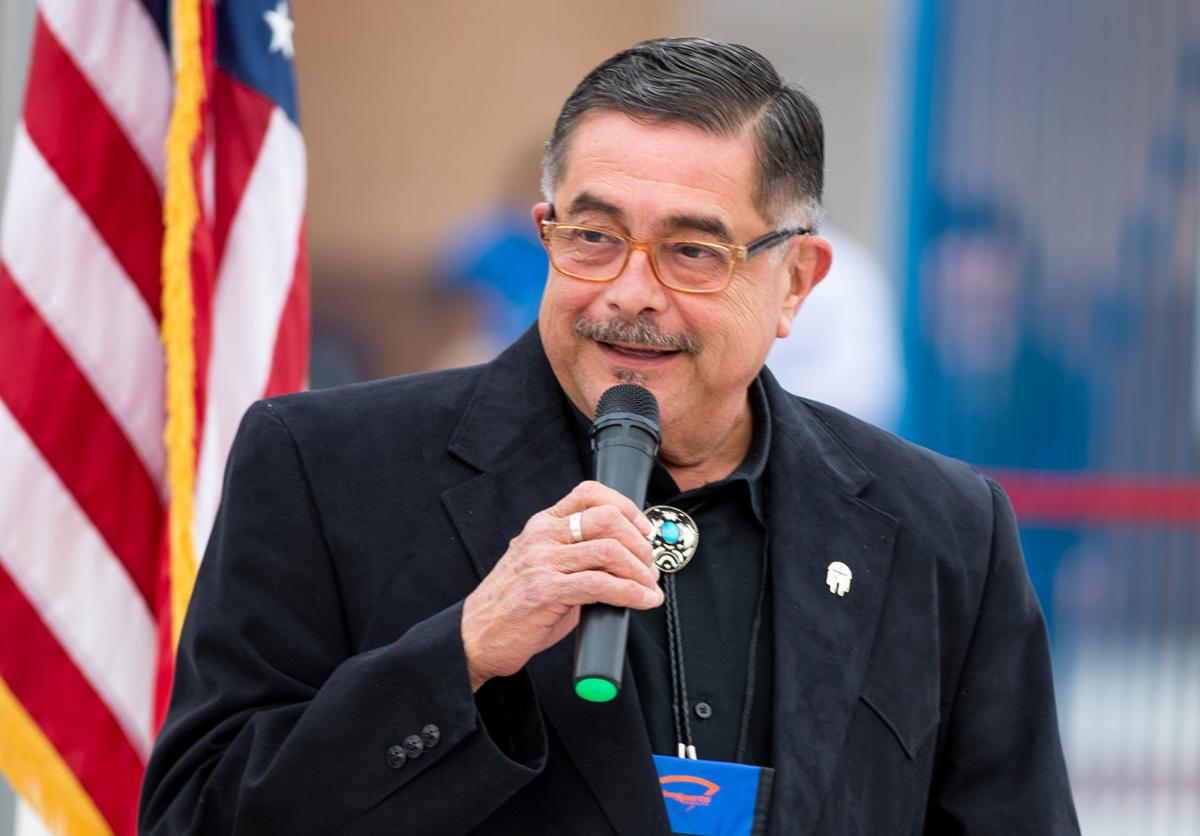 Even after Gov. Doug Ducey issued a stay-at-home order for the state, some Pima County candidates are still going door-to-door to collect signatures as the deadline approaches.
Pima County candidates have until Monday, April 6, at 5 p.m. to collect the number of signatures required to qualify for the ballot. According to Pima County Elections, the deadline will not be extended.
As of Thursday afternoon, over 40% of the county's 70 candidates had not yet submitted signatures.
According to David Eppihimer, chairman of the Pima County Republican Party, the secretary of state has not made electronic filing available for county elections.
"There is no electronic way for petitions to be signed, except for state and federal candidates," he said. "Local and county elections have to submit written signatures."
Meanwhile, some citizen-initiative campaigns are filing a petition with the Arizona Supreme Court asking to be allowed to use the electronic system, saying "gathering hundreds of thousands of signatures on paper, at people's homes, or in public spaces, is impossible to do safely and responsibly during this pandemic."
Two school board members look to replace Elías on county board
Two Tucson school board members are running to replace longtime Pima County Supervisor Richard Elías, who died unexpectedly March 28.
Adelita Grijalva, the longest current member of the Tucson Unified School District governing board, filed to run on March 30, as did one of Sunnyside Unified School District's newest board members, Consuelo Hernandez.
Grijalva said if she wins or is appointed to the District 5 seat, she plans to keep her position on the TUSD board, which isn't up until the end of 2022. County supervisors are expected to appoint someone to fill out the rest of Elías term, with candidates lining up to run in the August primary.
Being a member of the school board is an unpaid position. Grijalva, who works full time as director for the nonprofit Pima County Teen Court, said she would give up that job to take on being a county supervisor, which is a paid position.
Grijalva said she is seeking the county position to carry on Elías' legacy of protecting the community, employee rights and the environment.
"We have so much tourism because of our environment, and we have to protect it," she said.
"So I want to make sure that somebody who is going to be part of this board is focused on that and that there's a majority of board members who are interested in that."
Hernandez, board member for Tucson's second-largest school district and the sister of state Reps. Alma and Daniel Hernandez, had also pulled petitions to run for county recorder.
"In the last several days, I have been talking with supporters about running for the District 5 Supervisor seat here in Pima County. And I am incredibly proud and grateful for their support and encouragement," Hernandez wrote in an emailed statement.
"With that in mind, I will soon be announcing as to my future in public service. To be clear, I know that it will take enormous effort to fill the shoes of Supervisor Elías, and I will ensure that all due diligence is made in this process."
The potential face-off pits two of Tucson's rival political clans against each other. The established Grijalva group, led by U.S. Rep. Raúl Grijalva, has been challenged repeatedly in races by members of or allies of the Hernandez group.
For the two school board members to each collect 199 valid signatures by the close of business Monday, April 6, is a challenge that is only complicated by statewide stay-at-home orders issued in response to the coronavirus epidemic.
Grijalva announced she set up signature collection efforts at the campaign office of her father, U.S. Rep. Raúl Grijalva, who previously held the supervisor seat that Elías occupied.
The Pima County Democratic Party headquarters, at 4639 E. First St., is collecting signatures for all District 5 Democratic candidates.
The headquarters will be open through Saturday from 11 a.m. to 2 p.m. for registered Democrats and independents to drive up and sign while still maintaining social distancing. Voters wishing to sign should bring their own pen.
In addition to Grijalva and Hernandez, Joseph Miller and Steven Washburn are seeking to gather enough signatures to be on the Democratic ballot for the same supervisor seat.
Republican Fernando Gonzales, the only GOP member in the race, turned in his signatures Tuesday.
Challengers for Valadez seat
A primary race is also shaping up for Pima County Supervisor Ramón Valadez's District 2 seat.
Richard Hernandez, who has previously run as an independent, has pulled petitions to run as a Democrat in the primary election.
A new surprise candidate has emerged as well: Former state legislator Dr. Matt Heinz, who previously ran unsuccessfully for the U.S. House of Representatives in Congressional District 2.
Heinz did not return calls seeking comment, but Valadez received copies of a survey apparently sent out on behalf of Heinz's candidacy.
Among the questions: "When thinking about who you might vote for in upcoming elections, if a candidate for office had medical training and experience, would that make you more likely or less likely to vote for that candidate, or would it not make a difference?"
Heinz, who is named in other questions on the survey, works as an emergency-room physician.
Republican Anthony Sizer also plans to run for the seat.
Buckmaster blows off steam after Romero cancellation
Bill Buckmaster, the long-time local political radio show host, broke his typical calm and collected delivery on Friday after a last-minute cancellation by Tucson Mayor Regina Romero.
In a rant he admittedly called "uncharacteristic," he took to the airwaves on Friday just hours before Romero's scheduled appearance on his weekday "Buckmaster Show" on KVOI 1030 AM. He called the move "totally irresponsible" and insinuated the mayor does not want to address her constituents in a time of crisis.
"I've had it. I have tried now three times and these cancellations come on the day of the interview," he said. "OK, Regina, I've invited you, if you wanna come on, the move will be in your court, but I'm done."
Buckmaster later on in the day read a message from Romero's office, sincerely apologizing for the cancellation, but acknowledging they were preparing to make a big decision later in the day that required her attention.
And what was that decision? A city-wide closure of essential businesses and the urging of Tucsonans to stay indoors.
Jasmine Demers
Danyelle Khmara
Tim Steller
Justin Sayers
Get local news delivered to your inbox!
Subscribe to our Daily Headlines newsletter.