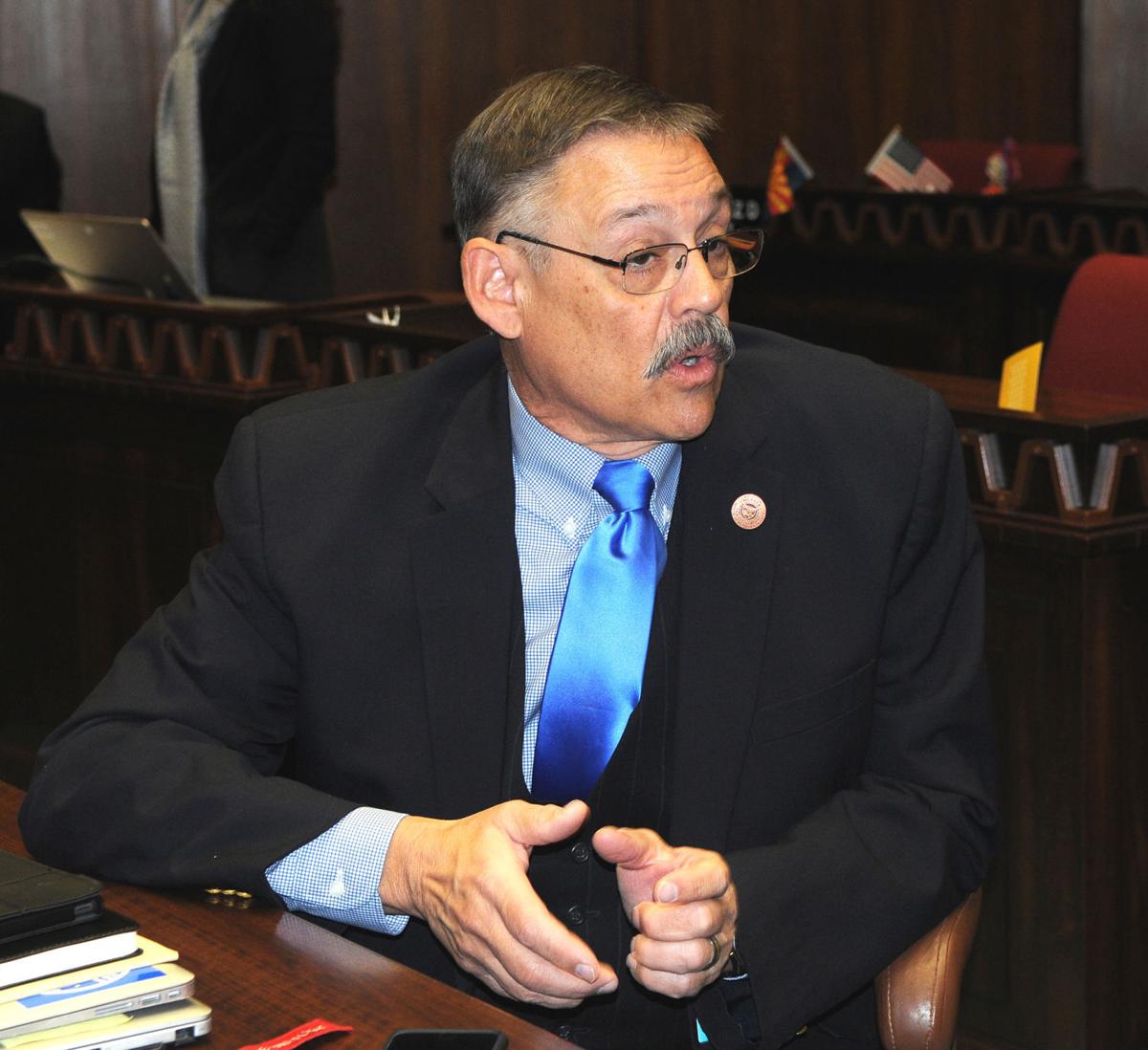 Rep. Mark Finchem is extending his campaign to squelch accusations that he participated in the Jan. 6 insurrection at the U.S. Capitol.
In a May 5 letter to people leading the recall effort against him, Finchem's attorneys demand that members of Rural Arizonans for Accountability cease making "false and defamatory" allegations against him.
The main allegations he says are false are that he "played a role in the January 6th attacks on our nation's Capitol"; has "ties to domestic terror organizations"; and violated his oath to uphold the constitution.
In the letter, Finchem attorneys Alexander Kolodin and George Wentz also demand that the group publish retractions of five related statements on its website and in three newspapers for 30 days, and also destroy campaign material that makes the contested claims about Finchem.
In a response, Rural Arizonans for Accountability said, "Threats won't deter us, and we will keep working every single day to hold Mark Finchem accountable and remove him from office."
The group has been leading the ongoing campaign to recall Finchem, a Republican who is in his fourth and last term as a state representative. The effort must collect 27,000 signatures from registered voters in Legislative District 11 by July 8.
Finchem's participation in the Jan. 6 event in D.C. is what provoked the recall against him. Before Jan. 6, Finchem promoted attendance at the Jan. 6 event, referring participants to a website called wildprotest.com. On Jan. 6, Finchem acknowledged, he attended then-President Donald Trump's speech, then walked to the U.S. Capitol for a speaking engagement.
The speaking engagement was canceled, but he posted two tweets from outside the Capitol, one of them a picture of the crowd outside saying their presence is "What happens when the people feel they have been ignored, and Congress refuses to acknowledge rampant election fraud."
Finchem says he left the Capitol between 2 and 2:30 and didn't learn of the riot until 5 p.m. when he was about to go on a podcast. But he has never publicly accounted for what he did during the interim period.
After a group of Democratic legislators made a complaint to the FBI about Finchem's actions at the Capitol. He responded by saying "Antifa" was responsible for the riot, something investigators have said is completely baseless, and suing fellow state Rep. Charlene Fernandez, a Democrat who made the complaint, for defamation.
Finchem has never served Fernandez with the suit, even though he sits a few seats away from her in the House chamber and they see each other regularly. The lawsuit cannot proceed till it is served. 
The recall campaign is taking full advantage of the cease-and-desist letter. Open any page on the campaign's website, recallfinchem.com, and you'll see a pop-up ad that says "Finchem threatened to sue us. Stand up to Finchem's attempts to silence our campaign by donating today."
A former member of Martha McSally's campaign staff has pleaded guilty to funneling $115,000 in campaign donations to himself.
Anthony Barry, 33, who served as deputy campaign manager and a consultant during McSally's 2018 campaign for U.S. Senate, took the plea on May 7. He admitted he steered to himself more campaign funds than he was owed in salary between Oct. 1, 2018, and June 17, 2019, and put it toward his personal commitments and expenses, including recreational activities.
Campaign regulators repeatedly flagged McSally's campaigns between 2014 and 2018 for apparently violating federal regulations. In 2018, Barry was responsible for responding to the allegations that the campaign repeatedly accepted donations from individuals beyond the mandated limited of $2,700 each.
In 2018, the campaign returned more than $120,000 in excess contributions to donors.
"The McSally campaign has continued to follow the mandated guidelines of the FEC," Barry told an Associated Press reporter in 2019.
Barry is scheduled to be sentenced on July 6. The maximum possible sentence is five years in prison.
Protesters accosted some legislators in a state Capitol parking lot on May 8, 2020, when the Legislature quickly ended their pandemic-shortened session.
One of them, registered nurse Bryan Masche, confronted Sen. Victoria Steele, a Tucson Democrat, as she got into her car. She got out her phone and videotaped him, posting a video on Twitter with the message, "Ambushed in the parking lot. These people are dangerous."
In an ethics complaint filed May 3, Masche claimed she tried to "reverse bully" him by posting online about him confronting her, and by trying to get him fired. As a result, he lost one job, a relationship, a promotion and suffered other consequences, he said.
The Yellow Sheet Report first published news of the complaint.
Steele was briefly replaced by Sen. Rebecca Rios on the Senate ethics committee as it considered a complaint against one of their own. Sen. Sine Kerr dismissed the complaint Wednesday.
January Contreras lost narrowly to incumbent Arizona Attorney General Mark Brnovich in 2018. She announced Thursday that she's not going to try for the office again in 2022.
She said via Facebook that "I have had to accept that the timing is not right for me to take on this race at this time."
That means that for now there are no Democrats planning to run for the office, which Brnovich must vacate because of term limits. Two Republicans have said they plan to run: former congressional candidate and Eloy farmer Tiffany Shedd, and retired Arizona Supreme Court Justice Andrew Gould.
Contact columnist Tim Steller at tsteller@tucson.com or 520-807-7789. On Twitter: @senyorreporter
Contact columnist Tim Steller at tsteller@tucson.com or ​520-807-7789. On Twitter: @senyorreporter