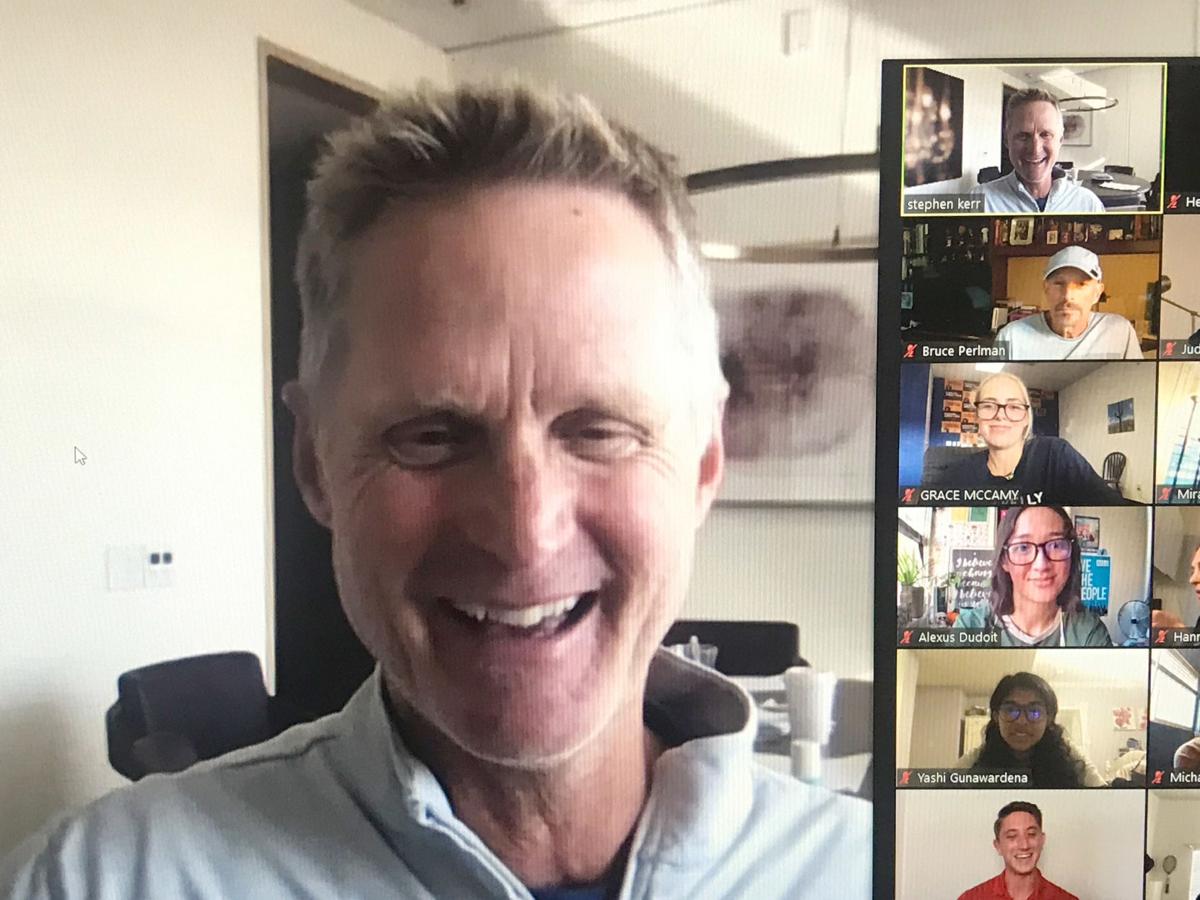 Arizona Wildcat and NBA great Steve Kerr made a career out of draining three pointers with a pure, right-handed stroke, but he spent some time dunking from the left on President Trump in a virtual meeting with Democratic campaign workers in Arizona on Tuesday.
During the National Voter Registration Day event organized by the Biden-Harris campaign, the outspoken head coach of the Golden State Warriors encouraged everyone to pull together to put "a compassionate, thoughtful, smart human being in the White House," flip control of the Senate and find a way to unite a country that is more divided now than he has ever seen it.
"We sort of picked the worst person to be our president," Kerr said of Trump. "Somehow we did, and here we are."
Kerr joined the online meeting to give a pep talk to phone bank volunteers as they prepared to call Arizona residents and encourage them to register and vote in the Nov. 3 election. Oct. 5 is the registration deadline in Arizona.
Kerr's remarks included a shoutout to the late Lute Olson, his former coach at Arizona, who taught him "that leadership is really about values."
Kerr also name-dropped three of his favorite local restaurants — El Charro, Mi Nidito and, from his college days, Sausage Deli. He said even after all these years in California, he still can't find Mexican food as good as what there is in Tucson.
GOP assails, embraces mail-in voting
President Trump has been railing against mail-in voting as a "scam," but state and national Republican organizations are also appealing to GOP voters to use the mail-in system.
In late July, the Arizona Republican Party started an "election integrity fund" to wage legal battles after the election, claiming without any evidence that Democrats are sending out millions of unsolicited ballots.
In early August, the Arizona GOP sent out a mailer asking recipients to "Join President Trump and vote by absentee ballot."
On Saturday, Trump's campaign brought the contradiction into one email with the subject line "stop the scam," in which the campaign again alleged falsely that Democrats are sending out ballots to people who have not requested them.
The campaign's solution to the problem?
"That's why we need YOU to vote the SAFE way by requesting a mail-in ballot, if you can't make it to the polls on Election Day."
Pima County residents have, of course, been voting by mail for decades. More than 90% of ballots cast in the August primary were done so by mail.
The county recently launched a Vote Safe campaign, an effort to encourage ballot-by-mail voting in November and limit the spread of the coronavirus by avoiding crowded polling places on Election Day.
The campaign includes links to find early-voting sites, curbside drop-off locations, and other information in advance of the Oct. 5 voter registration cut-off.
Task force's Birx visits Tucson
Dr. Deborah Birx, the coordinator of the White House's coronavirus task force, visited the University of Arizona last Friday to tour labs where researchers are working to combat COVID-19.
Birx is on a national college tour to see how colleges and universities are responding to the pandemic. After spending the morning at Arizona State University, Birx drove to Tucson and met with UA President Robert C. Robbins and other university leaders.
"She wanted to get out in the community and find out what's working and what's not. And she had some tough questions," Robbins said during a press briefing Monday. "She obviously was very interested in Dr. Ian Pepper's work on wastewater-based epidemiology and some other things we're doing here, and she wanted to see it up close, in person."
Specifically, Birx toured the UA's Health Sciences labs, where researchers are testing antibody and antigen samples, and met with other laboratory scientists who are contributing to COVID-19 research.
Recorder: FieldWorks group not being honest with voters
Pima County Recorder F. Ann Rodriguez was going to her P.O. box when someone approached her and asked if she was registered to vote.
"Who's asking?" Rodriguez replied.
"The Pima County Recorder's Office," the woman said, according to Rodriguez.
Knowing it wasn't true, Rodriguez pressed her and found out she represented a group called FieldWorks, a campaign and petition-circulating consultancy that works primarily for Democrats.
As a result of this and other similar encounters voters have reported, the Pima County Recorder's Office issued a reminder to the public that it does not conduct voter registration outside of its offices
The Recorder's Office has received reports of people with Arizona voter registration forms providing false information, or "using intimidation tactics" to coax people to provide voter information, the office's statement said.
Rodriguez urged anybody who is approached to walk away.
"The Recorder's Office does NOT do registrations outside of our office. Individuals in the plaza or sidewalk with registration forms do not work for our office," Rodriguez said in the statement.
Individuals can check their own voter registration by calling 724-4330, or at the recorder's website.
Star reporters Justin Sayers, Tim Steller, Henry Brean and Jasmine Demers contributed to this story. Contact reporter Justin Sayers at jsayers1@tucson.com or 573-4192. Twitter: @_JustinSayers. Facebook: JustinSSayers
Get Election 2020 & Politics updates in your inbox!
Keep up on the latest in national and local politics as Election 2020 comes into focus.