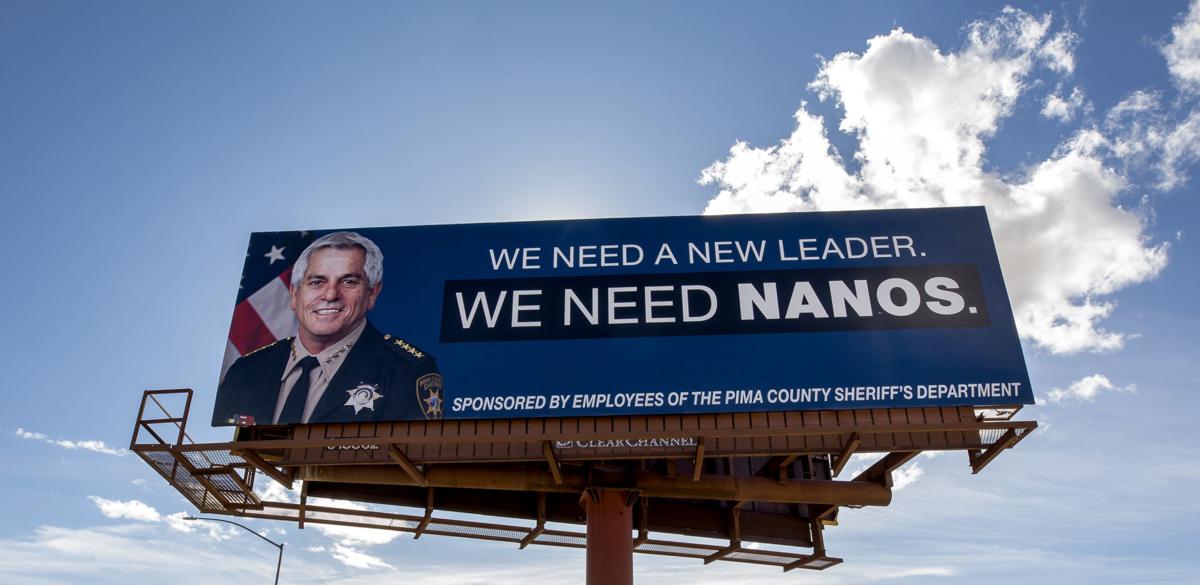 There's a billboard that's popped up just down the street from the Pima County Sheriff's Department headquarters to support the previous top cop in the county.
The problem is former sheriff Chris Nanos has no idea who is behind it. And he hasn't decided whether he'll run for the post.
Nanos, who lost an election bid to Mark Napier in 2016, said he found out about the sign through several text messages and pictures sent to him earlier this week. It's located near the intersection of South Kino Parkway and East Benson Highway and states "We Need A New Leader. We Need Nanos. Sponsored By Employees Of The Pima County Sheriff's Department."
Nanos served a stint as sheriff after the retirement of Clarence Dupnik. Nanos said he was "humbled" by the billboard, but that nobody's fessed up to it yet, adding that it "says a lot that they have to remain anonymous."
He said he has spoken to his wife about running for election next year, and that he'll make a decision soon. The only candidates who have formally submitted statements of interest are Napier; Sheriff Sgt. Kevin Kubitskey, the former vice president and past-president of the Pima County Deputy Sheriff's Association; and Trista DiGenova Chang, who also filed for a Board of Supervisors seat and publicly hints at a potential run for governor.
Nanos said he's been frustrated by "what's going on" in the department under Napier, pointing to an ongoing lawsuit about pay, a no-confidence vote in his leadership and the recent incident involving one of the deputies physically restraining a teen who had no arms or legs during a confrontation at a group home.
Nanos has been retired since losing the election, spending his time traveling, golfing and volunteering, including at the Casa Alitas migrant shelter and Boys & Girls Clubs and through his church. He said he'd only run if he has the support of the department. The billboard was a good start.
"It's kind of a mixed bag of feelings because I do enjoy retirement, but I do enjoy the people at the agency," Nanos said.
A challenger emerges for Miller's seat
Ally Miller surprised many this week when she announced that she would not seek a third term as Pima County supervisor. The picture of who might replace the Republican representative from District 1 is already getting a lot clearer.
Oro Valley Councilwoman Rhonda Pina, a Republican, formally filed her candidacy for the position on Wednesday after months of rumors that she was gearing up to do so. The only other two candidates who had announced they are running for the seat are educators Rex Scott and Jeff Farrell, both Democrats.
Pina, a long-time employee in the banking industry, was first elected to the Oro Valley Town Council in 2016. She's been a critical voice in Oro Valley, where the council has dealt with a number of controversial issues, including the potential closure of the town's three golf courses, the search for a new police chief and a recent push to restructure the town's liaison appointments.
Pina told the Star that she feels her business and political experience would make her a "fiscally responsible" voice for the county.
"Having the experience in the municipal budgeting process, and then also understanding how Oro Valley works in the footprint of Pima County, I feel having that experience would have value to the citizens that I would represent," she said.
Grijalva goes to Spain
U.S. Rep. Raúl Grijalva was one of 15 members of congress to attend the 2019 United Nations Framework Convention in Spain this week to express support for climate action commitments made in the Paris Climate Agreement.
The trip was made in the wake of President Trump beginning the formal withdrawal from agreement last month. The group of Democrats, which was led by House Speaker Nancy Pelosi, met with U.N. Secretary General Antonio Guterres and others, and several international and U.S.-based NGOs actively working in communities around the world to address the climate crisis.
In a statement, Grijalva said the congress members "sought to reassure the global community that Congress and the majority of the American people remain committed" to the agreement and solving the climate crisis.
"The climate crisis is here, and it's already wreaking havoc on communities in the United States and around the world," he said. "Meeting with global climate advocates and governments committed to combating the climate crisis reaffirmed my view that our country must take urgent legislative action to protect our planet for generations to come. Failure to do so is an abdication of our global responsibility to lead and will jeopardize our planet for generations to come."
Now that he's back in the U.S., Grijalva is headed to downtown Tucson on Saturday for a 3 p.m. border wall protest in the city's federal building plaza, 300 W. Congress St. He'll be there alongside newly sworn-in Mayor Regina Romero for the protest, which is organized by the Center for Biological Diversity.
Sinema opens Tucson office
Sen. Kyrsten Sinema has officially opened a permanent office in her birth city. Four full-time staffers moved into the office at 20 E. Ochoa St., in early November. The office can also be reached via phone at 520-639-7080.
The staffers have been working in Tucson since Sinema was sworn in but weren't able to physically open the office until last month. The opening of offices is not controlled by delegates, but rather by the Senate Sergeant of Arms, which needs to clear security and other issues prior to their opening.
"We're thrilled that last month, despite delays from bureaucratic Senate regulations, our Tucson office formally opened," Hannah Hurley, Sinema's spokeswoman, said in a statement. "Tucsonans, like all Arizonans, know they can rely on Kyrsten and our team for high-quality services and the help they need."
Contact reporter Justin Sayers at jsayers1@tucson.com or 573-4192. Twitter: @_JustinSayers. Facebook: JustinSSayers.