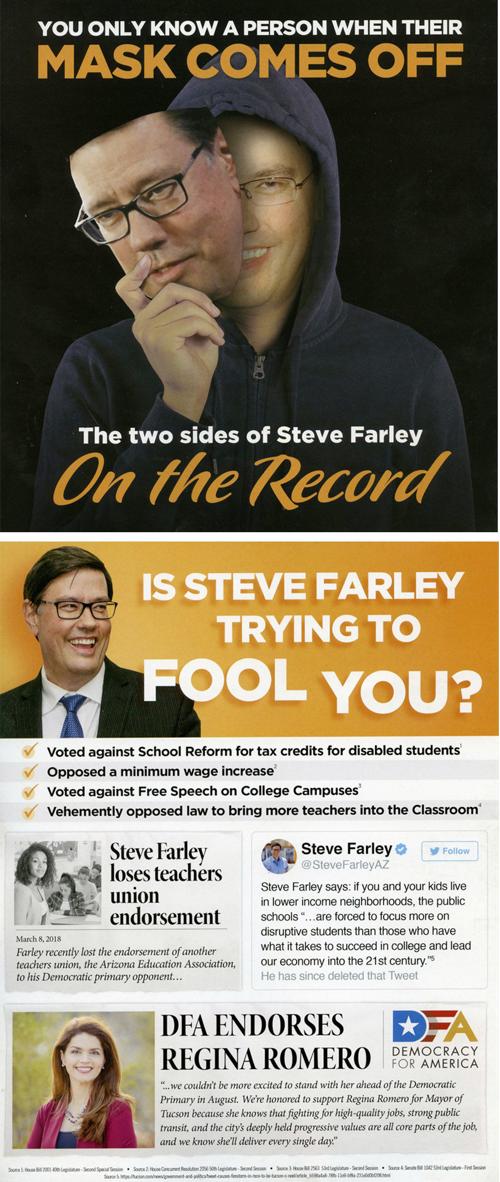 As if she needed the additional help, a shadowy new group has joined the deluge of spending on behalf of Democratic mayoral candidate Regina Romero.
A mailer landed in Tucson-area mailboxes Thursday showing fellow Democratic candidate Steve Farley removing a fake, smiling mask of himself, revealing a more sinister face underneath. The header reads: "You only know a person when their mask comes off."
The mailer comes from a political action committee called Institute for Policy and Politics that registered on Aug. 2. The institute reported spending $19,400 on the mailers.
In a new filing with the city, the institute says its chairman is named Dominick Aleman, and its address is in a residential area near Phoenix Sky Harbor International Airport. Neither a phone call nor an email to the contact information provided were returned late Thursday.
The Farley campaign called the mailer a dirty attack and asked for Romero to denounce it.
"Romero has hidden behind PAC-financed political attacks for weeks, but now it's time for her to come out of hiding and disavow this group," Farley spokeswoman A.J. Flick said in an email.
In text-message exchanges, Romero and her campaign manager, Nate Sigal, noted that Farley's campaign itself -- not an outside group -- had sent out a negative mailer about Romero that hit voters' mailboxes on Saturday. 
"Of course, I hope this campaign returns to the issues. However, I do question where Steve's outrage was when he used his own campaign resources to attack my candidacy."
"To date," she added, "my campaign has used all of the resources within our control to promote our positive vision for the city."
The new mailer represents only a tiny fraction of the outside spending on behalf of Romero so far in the primary campaign. In total, five outside groups that have filed with the City Clerk's Office have reported spending $510,506 to support Romero.
The bulk of that total is from the Chispa AZ Political Action Committee, the Latino outreach arm of the League of Conservation Voters, run by Romero's former chief of staff, Laura Dent. That PAC, which has brought in donations from a variety of other groups supporting Romero, has reported spending $234,535 so far.
However, this accounting does not include spending by at least one other outside group, Mi Familia Vota.
While Romero has been the beneficiary of most of the outside spending, groups supported by Tucson firefighters and police officers have spent money on behalf of Farley. The Tucson Together PAC, for example, has reported spending $26,035.
So far, the Tucson Firefighters PAC has reported spending $29,721 on behalf of Farley and City Council candidate Rob Elias.
Campaign finance complaint filed against Romero
A complaint filed with the Tucson City Clerk's Office on Thursday argues that Romero's mayoral campaign has taken an in-kind contribution for the last few months and failed to report it.
Susan Wachter filed the complaint, arguing Arizona List — which has endorsed both Romero and her Democratic rival Randi Dorman for mayor — has paid an employee to work on the Romero campaign. The complaint includes copies of email invitations to fundraising events which urge those invited to RSVP directly to Arizona List.
Romero says the complaint is baseless and was cooked up by Farley.
"This is the latest in a string of attacks by Farley's campaign against women's empowerment organizations that have endorsed my campaign," Romero told the Star. "The Farley campaign's true intentions with this complaint are revealed by the fact that they only chose to complain about one of the candidates that was endorsed by Arizona List."
Farley responded that the issue is about transparency, not politics.
"Voters expect candidates for public office to be transparent about who is supporting their campaigns. Candidates for public office have a responsibility to fully disclose PAC contributions," Farley said.
Catherine Nichols, speaking on behalf of Arizona List, said the PAC has been supporting women candidates across the state for the last 15 years.
"The claim being made in this case is a complaint about a part-time staffer who advises tens of candidates," she said. "This is the first complaint we have ever had and we have every confidence this charge will be dismissed as baseless and without merit."
Buffet's role in Cochise County controversial
Howard Buffett's role in Cochise County has taken some hits in the news lately. First, the Phoenix New Times published a series of stories suggesting Buffett, who is Warren Buffett's son, had used his money to sway the Sheriff's Department's priorities toward border enforcement. Then the Star ran a column along the same lines.
The Cochise County Board of Supervisors wants Buffett to know they appreciate him. So on Tuesday, the board voted to send a letter to Buffett, who owns properties in the county, thanking him for his many contributions.
"Dear Mr. Buffett," the letter begins, "We want to offer a sincere thank you for the many generous donations you've made to Cochise County throughout the years. Our communities would not be the same without the gracious contributions you've made to improve services in arenas spanning from Training Facilities, Youth Programs, Communications Infrastructure, and Public Safety support."
Tom Borer, the supervisor for District 1, which includes the Sierra Vista area, said the letter was his idea, and that it had nothing to do with the critical articles.
"I thought it was something that was long overdue for the amount of support that the (Howard G. Buffett) Foundation has brought to Cochise County. We were overdue in extending a thank you," he said.
Supervisor Ann English said in a March 2 column that Buffett seemed to be "living a dream" of the Old West through his activities in the county. But she and fellow supervisor Peggy Judd said they thought the letter was a good idea.
"I appreciate him, and I don't know why we didn't do that sooner," Judd said.
20 percent turnout, so far, in the race for mayor
Tucson voters have returned 37,569 ballots — or about 20 percent — of the 188,347 mailed out to registered voters.
The vote-by-mail primary election will decide who will be the Democratic nominees for mayor and for City Council in Ward 1. It will also decide whether Ward 1 Republican write-in candidate Sam Nagy will qualify for the November ballot.
Two other City Council seats, in Wards 2 and 4, do not have any primary challenges.
To put it in perspective, the number of returned ballots is already higher than the number of ballots returned in the 2017 primary that also had one open seat on the council.
In that primary, 16,424 votes were cast. There was no citywide mayoral contest that year.
Registered voters have until Aug. 21 to return their ballot by mail and can drop off their ballots at select city-run election sites on Election Day, Aug. 27.