State Rep. Mark Finchem has been in front of a lot of cameras in recent months — sometimes on purpose, and other times by accident.
Those appearances might be starting to hurt him as he faces a recall effort, though Finchem is trying to use political alchemy to turn criticism into support.
Video that emerged on social media this week shows that Finchem was wrong when he said in January he was no closer than 500 yards to the Capitol during the insurrection on Jan. 6. He was much closer.
Another video that emerged this week shows Finchem echoing QAnon talking points about powerful pedophile networks, something he has not normally talked about in public.
The first video was unearthed by so-called "sedition hunters" online. Using social media accounts, these people have been collaborating to use publicly available video and images to identify people who committed crimes at the Capitol on Jan. 6. More recently stepped up efforts to find Finchem in the video and photos from that day.
In the days after Jan. 6, Finchem said he never entered the Capitol or committed any crimes. In a Jan. 9 text message he said, "The closest I ever got to the Capitol building was about 500 yards away." In later interviews, he said "300 to 500 yards."
The quality of the @GettyImages video was high enough that it allowed me to zoom in and capture these five screenshots of the man who appears to be Arizona lawmaker Mark Finchem as he made his way through the crowd on Jan. 6 at the US Capitol. pic.twitter.com/PRbTMMRGBn

— Nick Martin (@nickmartin) June 1, 2021
But the video, spotted online by a person who goes by the nickname "Common D'Mominator" on Twitter, shows Finchem walking through a crowd roughly 100 yards from the east Capitol steps. He does nothing untoward in the picture and is walking in a direction that would take him away from the Capitol.
At about the same time, protesters were breaching and entering the Capitol building. Also around the same time, text messages previously released by Finchem show that a Stop The Steal event organizer told him, "They are storming the Capitol. I don't think it safe."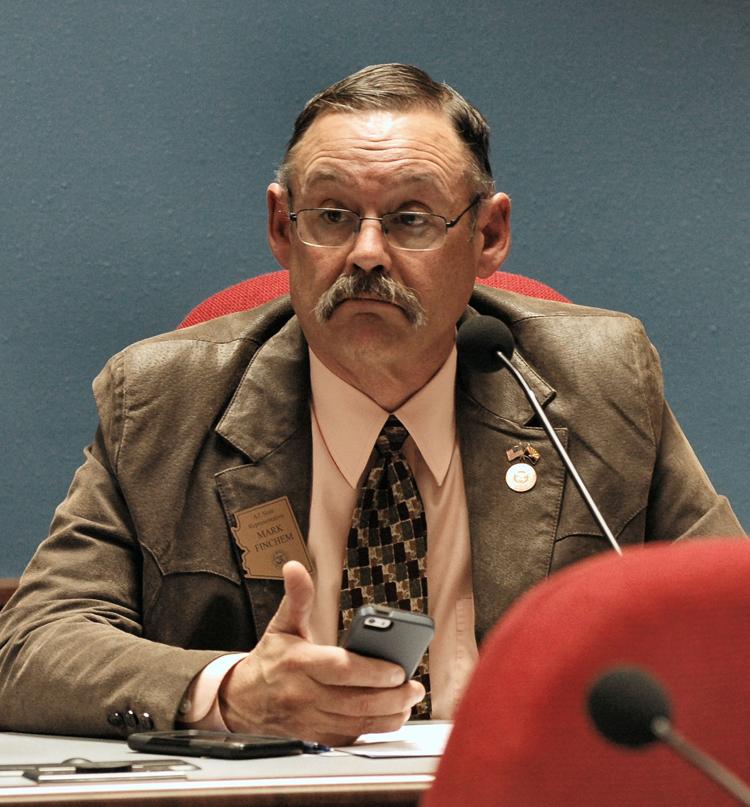 While the Capitol video shows Finchem was closer than he earlier said, an interview he did for the Christian network Victory Channel is perhaps even more revealing. In the March 4 interview, shown by CNN in a story this week, he says this to host Greg Stephens:
"We've got a serious problem in this nation, and that's one of the things that disturbs me so much about our current congressional state of affairs. There's a lot of people involved in a pedophile network and the distribution of children. And that makes me absolutely sick.
"That is the war that we should be fightin', here domestically, rooting that out and finding every single person who's involved in that kind of behavior. Unfortunately there's a whole lot of elected officials that are involved in that."
No matter how much negative attention he receives, though, Finchem tries to use it as material to fire up his supporters in his run for the GOP nomination for Arizona secretary of state. In his latest daily fundraising email, the subject line is "They literally hate my guts".
In it, he says, "The Leftist Media is coming after me because they know I am the single biggest danger to their election-stealing operation."
For the record, there is no evidence of any "leftist media election stealing operation," nor of a "pedophile network" populated by "a whole lot of elected officials."
Finchem opponents are attempting to recall the Oro Valley Republican and must gather 27,000 signatures from registered voters in Legislative District 11 by July 8.
Some harsh words for water group
When Tucson's Citizens' Water Advisory Committee met Wednesday to discuss the City Council proposal to hike water rates for Tucson Water customers outside city limits, it was met with an outburst from a council member who is the proposal's leading advocate.
Councilman Paul Cunningham started off his commentary politely, thanking the members of the committee, known as CWAC, for their service and adding, "I really appreciate all the things you do for the city."
After listing reasons why he believes charging differential water rates to unincorporated Pima County residents would be fair, and why Tucson has been put in an unfair position by Pima County, Cunningham raised his voice.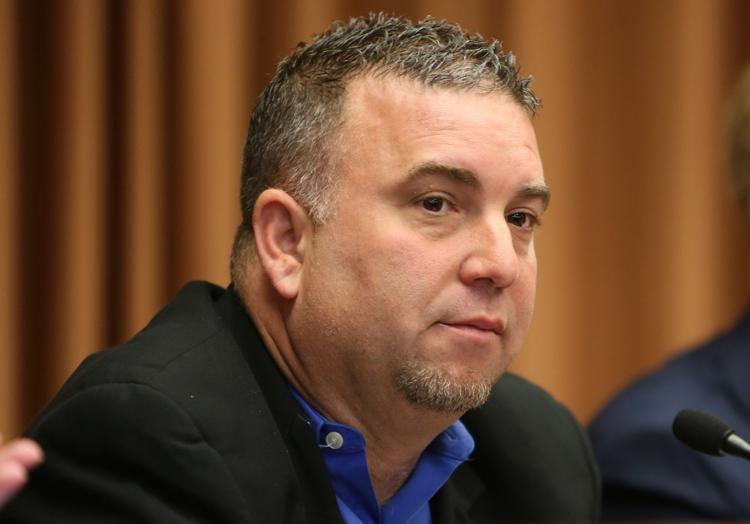 "This is the most unfair situation of all time. We should be charging 50% more, but my proposal was $4.88 a month to try to at least bring some equity into the system," Cunningham said. "The fact that it's been met with members of CWAC, who are supposed to be experts in this, who don't know what the hell I'm talking about, why are you on CWAC then?"
CWAC Vice Chair Alison Jones interjected with an "excuse me," to which Cunningham responded, "No, it's my time to talk. I've listened to this group gripe about me and about this program. And I've been very, very forthcoming and honest about the whole thing."
Later in the meeting, Cunningham apologized, saying, "I'm sorry, I got a little heated. That's on me."
Placido dos Santos, a CWAC member, said Cunningham's candor came across as "quite offensive," but he also called it helpful.
"It demonstrates the profound divisiveness and controversy that surrounds this issue," dos Santos said.
Liberals take swipe at Sinema
Amid a national debate about voting laws, liberal groups and news media personalities are slamming Sen. Kyrsten Sinema, D-Ariz., for saying the filibuster "protects the democracy of our nation" during a visit to Tucson on Tuesday.
Sinema's comments showed up in national news coverage and cable news shows, including the MSNBC show hosted by Joy Reid, who said Wednesday that Sinema spoke "like someone who frankly has the luxury of not being personally impacted by these oppressive laws."
In a less direct swipe at Sinema, a slew of liberal groups, including Progress Arizona, wrote a letter to Senate Majority Leader Chuck Schumer on Thursday calling for the end of the filibuster.
They cited the failure of the Senate to create a commission last Friday to study the Jan. 6 riot at the Capitol, along with efforts by Republican-controlled state legislatures to "attack voting rights and play partisan games with their election laws."
"We call on you and the Senate Democratic caucus to eliminate the filibuster as a weapon that Sen. McConnell can use to block efforts to defend and strengthen our democracy and make our government work for the American people," the letter stated.
Despite a 54-35 vote in favor of creating the commission, the bill failed to get the 60 votes needed to break a filibuster. Sinema was one of 11 senators to miss the vote, of which nine were Republicans. During her visit to Tucson on Tuesday, Sinema said she missed the vote due to a "personal family matter."
The only other Democrat to miss the vote, Sen. Patty Murray from Washington, also said she had to attend to a "personal family matter," the Seattle Times reported.
Both Murray and Sinema publicly supported the creation of the commission. Sinema on May 25 called the commission a "critical step to ensuring our nation never has to endure an attack at the hands of our countrymen again."
The main difference between the two was that Murray issued a statement the day of the vote, while Sinema did not provide an explanation of any kind for missing the vote until a reporter asked her about it during her visit to Tucson.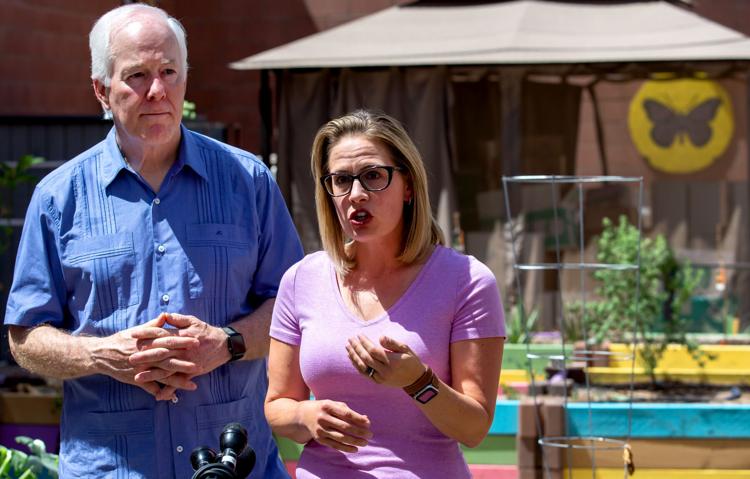 Contact columnist Tim Steller at tsteller@tucson.com or 520-807-7789. On Twitter: @senyorreporter