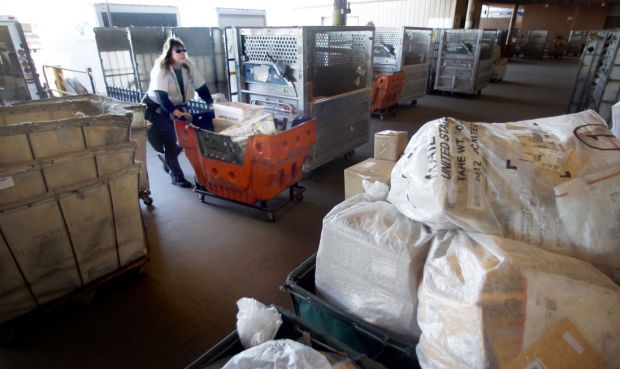 The consolidation of the Tucson Cherrybell postal processing center has been postponed from this summer to next year.
"The Postal Service has extended the timeline for most of the mail processing consolidating activities originally planned for this summer," the U.S. Postal Service said in an email statement. "Planned consolidation activities will resume in 2016."
What was scheduled to happen on July 11 was the second phase of the consolidation, which would move the processing of packages coming to and from Tucson and letters arriving in Tucson to the Phoenix processing facility. When the consolidation finalizes, the only postal functions left at the Tucson facilities would be P.O. boxes and retail services.
Tucson is one of more than 80 sites chosen to be consolidated in the Postal Service's efforts to "implement unprecedented changes to our infrastructure as mail volume declined," according to Peter Hass, a USPS spokesman in the region.
The Tucson consolidation was already postponed to July 11 from the initial April 18 schedule.
"It's good news, but we're not there yet," said Tucson Vice Mayor Richard Fimbres, who has been working with legislators, business owners and community members to stop the consolidation process.
It has been a years-long battle since the Postal Service first announced the plans for its nationwide cost-cutting measure, he said. The postponement is a "positive sign" for him.
"There's lots of opportunities coming to Arizona and we need to make sure we meet their needs," he said. "One of them is having a postal center."
U.S. Rep. Raúl Grijalva, who has sponsored legislation in Congress to stop consolidations for zip codes with high population growth, including Tucson, said he welcomed the news.
"Any delay gives us time to further make the case that the Cherrybell facility is vital to our community, and an unacceptable cut as USPS consolidates across the country," he said in a statement.
U.S. Rep. Martha McSally, who, along with Grijalva, wrote a bipartisan letter to Postmaster General Megan Brennan asking for a moratorium, echoed that sentiment.
"This change is welcome news for Southern Arizonans who depend on this facility, but we still have work to do," she said in a statement.
McSally met with community members, business leaders and state and municipal representatives last month to discuss possible solutions, one of which was to conduct a regionwide survey to gauge the issues Southern Arizonans are facing with the Postal Service.
So far, the survey attracted more than 400 responses, according to Fimbres. The prevailing sentiment from the community, he said, was for representatives to continue to work toward stopping the consolidation.
"We need to continue to move forward," he said.
Contact reporter Yoohyun Jung at 520-573-4224 or yjung@tucson.com. On Twitter: @yoohyun_jung