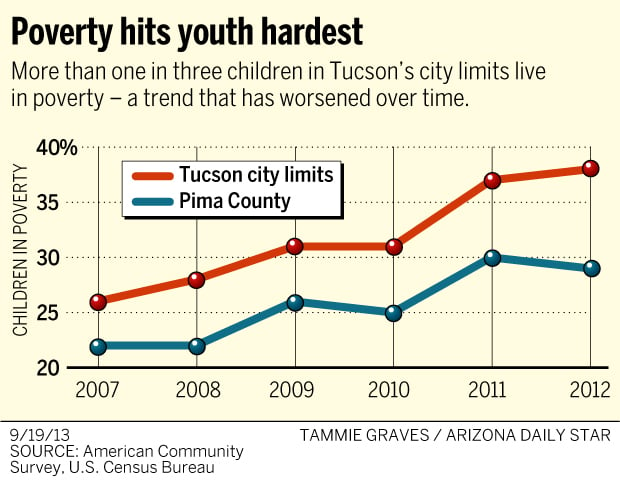 Tucson's poverty rates remained among the nation's highest last year, with 1 in 5 living below the poverty threshold.
Pima County's poverty rate held steady in 2012 at 20 percent, compared with 20.4 percent the year before, said the American Community Survey, released today. The survey is an annual report from the U.S. Census Bureau including statistics on poverty, education and labor at the local level.
The poverty rate among children in Pima County was 29 percent.
"We can do much better," said state Rep. Victoria Steele, a Democrat representing north and central Tucson. "We need to do so much better."
Within the Tucson city limits, the poverty rate among children worsened by one percentage point last year, reaching 38 percent.
The increase could be tied to the "insidious" impact of cuts to child-care subsidies for poor families, said Eric Schindler, president and CEO of Child and Family Resources in Tucson.
Between 2008 and 2011, the amount Arizona allocated for child-care subsidies dropped from $83 million to zero. The rest of program is funded federally. The average number of Arizona children receiving subsidies dropped from nearly 46,000 per month in 2009 to about 26,000 in 2013.
"People don't realize how much the child-care subsidy freeze influences this," Schindler said. "You'll have that many more people who slide into poverty because they can't obtain good quality child care and thus can't get that job" that would help them be self-sufficient.
The Tucson metropolitan statistical area ranks as the eighth most-impoverished large metro area with a population more than 500,000 in 2012 — a slight improvement over the prior year's ranking of sixth, according to an analysis by Allen Barnes of the state's Office of Employment and Population Statistics.
Nationwide, the recent census data show the poverty rate was unchanged at 15 percent and median household income remained about the same, at $51,017, in 2012.
UNEMPLOYMENT DOWN
A local job placement advocate sees a silver lining in improved unemployment figures.
In 2012 the unemployment rate for Pima County was 10.4 percent, down from about 12 percent the year prior.
In the city of Tucson, unemployment dropped to 11.4 percent from 14 percent in 2011.
Veterans searching for jobs are reporting more success in fields ranging from construction to trucking, said Art Burrola, who runs the Kino Veterans' Workforce Center, a job training and placement program.
"The growth has not been as great as we would like to see it. But people — after doing some training, some planning, some serious job searching — they are getting employed here," Burrola said. "Things are moving at a snail's pace, but we'll get there eventually."
The American Community Survey data understate the improvement in unemployment, he said.
In July 2013, unemployment for Pima County was just 7.2 percent, according to preliminary figures from the Arizona Office of Employment and Population Statistics. The figures are not seasonally adjusted.
But still, median household income was stagnant in Pima County, barely budging from $44,112 in 2011 to $44,762 in 2012, the ACS said.
HEALTH COVERAGE
Arizona was the only state with a significant decline in public health insurance coverage between 2010 and 2012, the Census Bureau said. The figure fell from 24.1 percent to 23.2 percent in that period.
The change coincides with an enrollment cap on the state's Medicaid agency, Arizona's Health Care Cost Containment System, or AHCCCS, said Dan Derksen, professor and chair of the public health policy and management section of the University of Arizona's College of Public Health.
Between 125,000 and 150,000 people in Arizona lost their Medicaid coverage when the state froze enrollment in its coverage for childless adults in 2011, Derksen said.
In AHCCCS, "there's fairly frequent turnover, and then people couldn't sign back up," he said.
The loss of coverage had a ripple effect, especially for rural hospitals treating more uninsured patients, he said. For some hospitals, uncompensated care losses skyrocketed after the freeze, he said.
Locally, children lost more insurance coverage than adults, the American Community Survey shows.
While the percentage of uninsured Pima County adults increased slightly from 14.3 percent to 15 percent in 2012, uninsured children grew from 9.5 percent to nearly 12 percent.
And in the city of Tucson, nearly 14 percent of children were uninsured in 2012, compared with 10.7 percent the year before.
The 2010 enrollment freeze in KidsCare, the state's children's health insurance program, likely played a role in the increase, Steele said.
"It's just incredible," she said. "Our biggest asset is our children. They are the most vulnerable among us and this is what we do."
In May 2012, the state opened enrollment in KidsCare II for a limited number of eligible kids. But not all eligible children are signed up, Schindler said.
"Part of the success of getting children enrolled in health care, especially in poor and working-class families, is awareness," he said. "There's a universe of people who are potentially eligible for care and don't know about it."