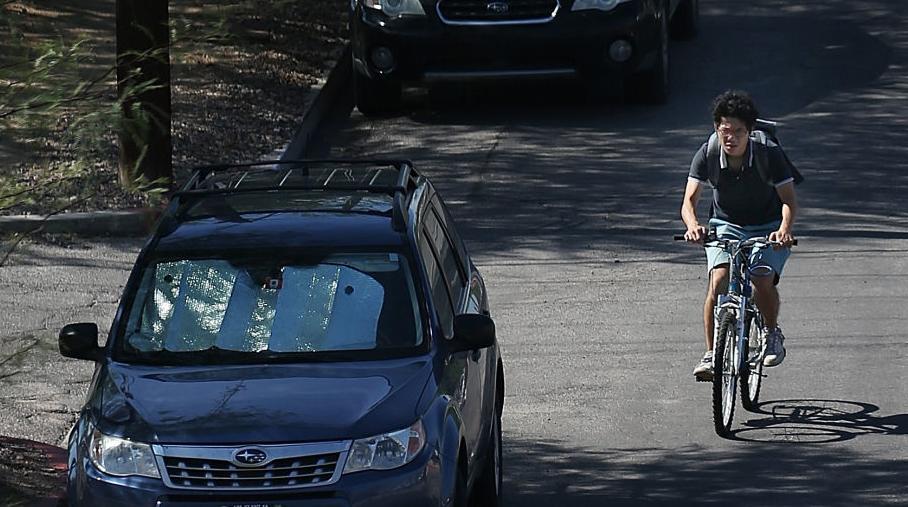 A new app-based service is seeking to upend the tight grip that the University of Arizona and Park Tucson have on campus-area parking by encouraging homeowners to "rent" spots to students.
The company Air Garage is new to Tucson but has been operating around Arizona State University for the last 18 months. It matches students with people willing to rent out their parking spots.
Space rentals start as low as $20 a month.
By comparison, a reserved spot inside a University of Arizona parking garage exceeds $2,000 a year.
Available spaces listed late last week were all priced from $35 to $75 a month.
Proximity to the campus usually dictates the price.
"If you got a spot close to campus, it will go for twice the amount for something a few blocks away," said Scott Fitsimones, co-founder of Air Garage.
The prices are set by the homeowners and businesses that list their parking spaces with Air Garage.
There have been people who have tried to game the system by listing alleys and public street spaces.
Those listing a parking space are required to submit personal information to the company before the parking space appears on Air Garage. The company uses a third party to do some verification of the property records to protect students.
Parking spaces can be as simple as a dirt lot with access either from a street or an alley.
There are some ground rules for the students as well. Most importantly, most of the rented parking spaces are designed to be used only during specific hours.
Parking the car in someone's driveway before pulling an all-nighter at, say, the library, could lead to a student's car being towed.
Fitsimones, however, says that has not been an issue.
Air Garage usually acts as an intermediary between students and homeowners whenever a problem arises.
"We've had to call a couple of students to tell them that they were late and not to do it again," Fitsimones said.
Air Garage bills itself as a service, introducing homeowners to students, and doesn't offer any liability protection for either party.
"Both parties would be waiving liability to each other," Fitsimones explained.
Edmund Marquez, a local insurance agent with Allstate, said while he isn't familiar with the Air Garage contracts, he said in general these agreements have their limitations.
A homeowner's insurance would, for example, cover damage if the student accidentally drove into the home or business.
Air Garage makes its money by charging an additional fee to students for the monthly service, based on the price of the parking space.
Property owners listing their parking spaces keep nearly the full amount they list the spaces for, minus processing fees for the monthly payments.
"The homeowner will walk away with 97 percent of their list price," Fitsimones said.
The service can be used as an app or as a web-based service.
Road Runner, however, had more success using airgara.ge, the company's website.
Down the Road
Motorists on West Ajo Way near the Santa Cruz River should expect overnight lane and shoulder closures this week, which will reduce traffic to a single lane in each direction.
Starting Sunday night, crews planned to remove the existing sidewalk, curb and gutter on the north side of West Ajo Way between South Holiday Boulevard and the Santa Cruz River.
The removal work is scheduled through Thursday between 9 p.m. and 7 a.m.
Additionally, the Arizona Department of Transportation will be alternating overnight lane closures on Ajo Way between Interstate 19 and Holiday Isle from 11 p.m. to 5 a.m. starting Monday.