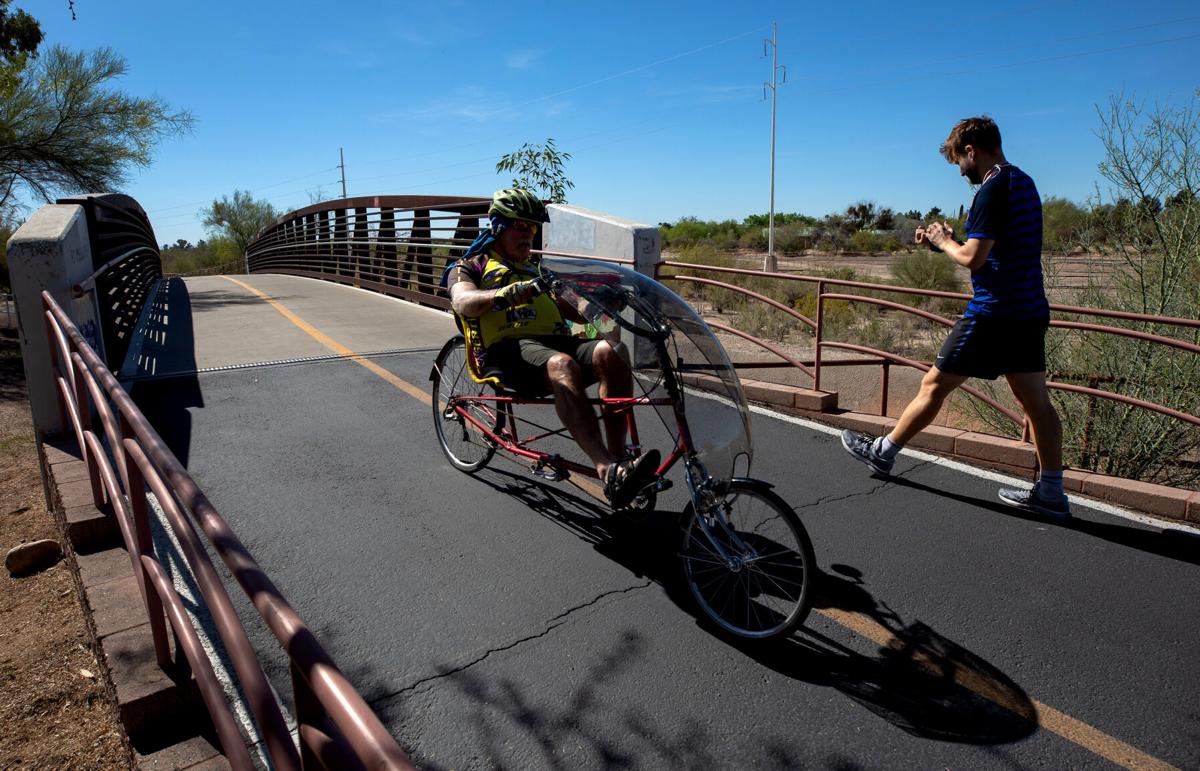 On a Saturday morning hiking a narrow cactus-lined trail, you're headed uphill and a couple of mountain bicyclists are headed down. Who passes first?
You're sauntering along The Loop listening to your favorite tunes through your earbuds when you are startled as a bicyclist zips by your left side. How can that situation be avoided?
Knowing and practicing proper outdoor etiquette can help avoid confusion and conflict, and can help maintain the integrity of natural resource areas.
Trail usage has increased since last spring, when the COVID-19 pandemic restrictions tamped down indoor activities, says Sue Clark, who has served as president of Pima Trails Association since 2001.
Many on the trails are newbies, she says. Clark estimates there are 2,000 miles of trails in eastern Pima County.
Some first-time users lack basic knowledge of trail etiquette, says Neil Stitzer, trails program manager with Pima County's Natural Resources, Parks and Recreation department.
"An increased number of users can lead to user conflicts if basic trail etiquette protocols are not respected," he says.
Here are some trail etiquette and safety points to keep in mind.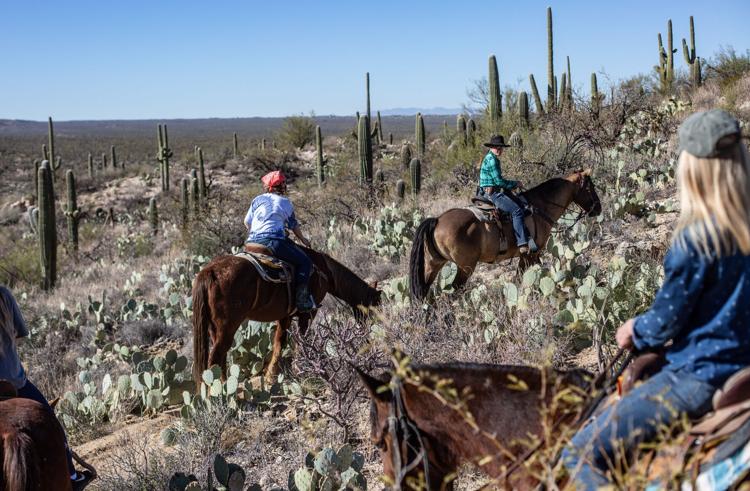 WHO YIELDS TO WHOM
Paths and trails meant for multiple users can get congested, so pay attention to who has the right-of-way and move or pull off to the right as needed.
"All trail users should yield to slower, more vulnerable trail users," says Nancy Ellis, assistant recreation manager for the town of Oro Valley.
Bikes yield to inline skaters;
Bikes/inline skaters yield to runners, pedestrians and horseback riders;
Everyone yields to horses.
For mountain bikers on a single-track trail (a trail that is about the width of a bike) where there is no room to pass on the trail itself, "yielding is not just slowing down," says Stitzer. "It is coming to a complete stop, communicating with other users and stepping completely off the trail to allow the user with the right-of-way to pass safely."
Don't ride off-trail when encountering other users as that can damage natural resources and widen the trail, says Stitzer.
When a trail is built, it is narrow, single-track with one single line for users to travel, he explains. Keeping a trail narrow provides a more natural, primitive experience and keeps the character and difficulty of a trail intact.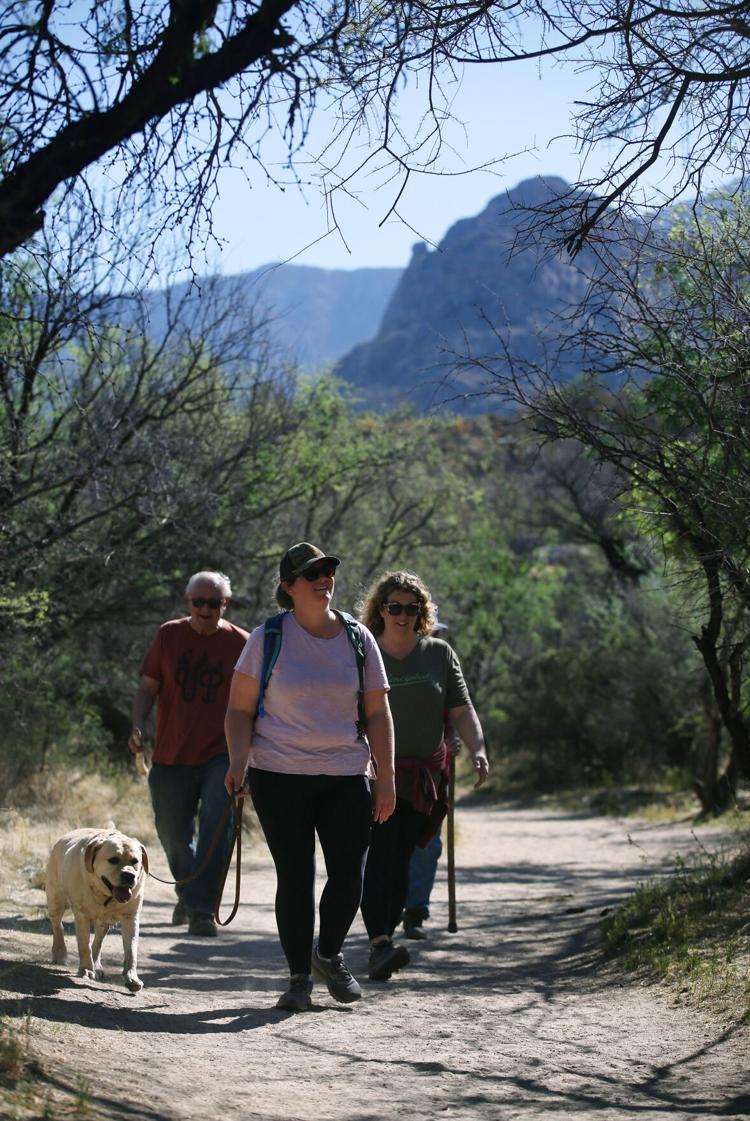 When coming up behind other users, bike riders should announce their presence well ahead of time and/or ring a bell, allowing ample time for others to step aside, says Stitzer.
On paved trails, like the popular shared-use Chuck Huckelberry Loop, cyclists should also announce their presence ahead of reaching other users and/or ring a bell. It's not uncommon to hear bicycle riders shout "on the left" to pedestrians before passing them.
Be friendly, suggests Stitzer. Always give a verbal "thank you" or physical gesture like a thumbs up or wave to thank another user who has stepped off the trail for you or alerted you that they are passing on the left. "A simple 'hello' goes a long way," he says.
"Don't yell at other users — bikes, skaters, runners, equestrians — for passing you if you are not paying attention," says Ellis. If they tell you that they are passing on the left, which is their requirement, then it is incumbent on you to be paying attention and not listening to music, flipping through your phone or chatting with your walking buddy.
Pedestrians — and all other trail users — always yield to equestrians.
"When encountering equestrians, all users should stop completely and ask the riders if/when it is safe to proceed," says Ellis.
If riders come up behind other users, they should announce your presence early, says Stitzer. If you are riding in a group, tell other users that there will be more riders coming behind you so they are prepared.
Riders are also expected to keep their horses under control and to make sure the horse is familiar with other trail users. "Do not bring a 'green' horse out on the trails," Stitzer says.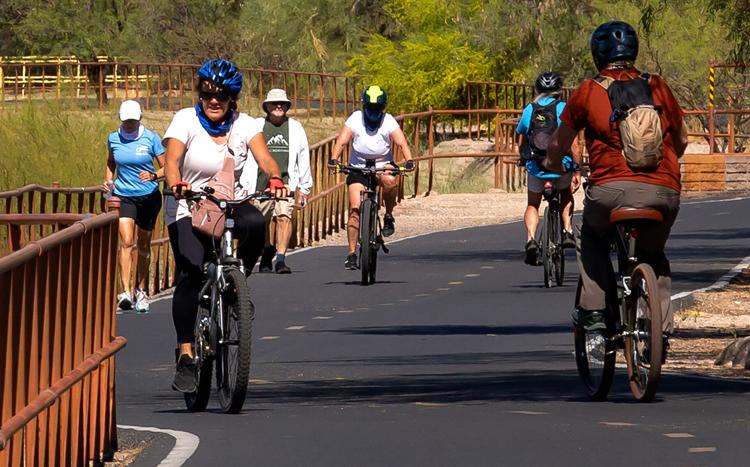 RIGHT OF WAY
When two groups meet on a trail, the right-of-way rules apply. For like users, like two groups of hikers, those traveling downhill yield to users traveling in the uphill direction, says Stitzer.
NO NEED FOR SPEED
Bicyclists/inline skaters should control their speed and pay attention at all times to avoid startling other users and possible collisions.
"Be prepared to stop and move off the trail at any time," says Stitzer.
Take speed training to the road.
"There are plenty of bike routes/shoulders that do not have other users," says Ellis. "Speed is just dangerous for everyone."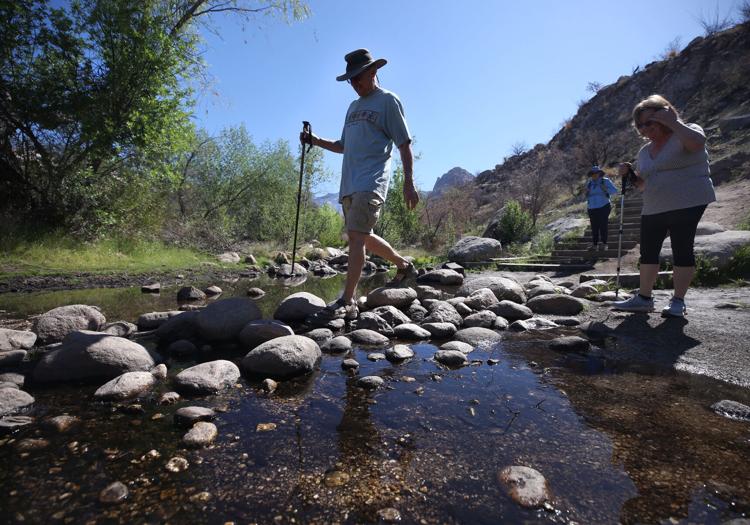 SLOW IS DANGEROUS, TOO
"While it is incumbent on faster users to watch their speed, it is also the responsible thing to be super careful when you are learning to ride a bike and/or you are not as confident as you want to be," says Ellis.
Parents should consider where they are teaching their kids to ride a bike — school parking lots and grass fields may be a more appropriate learning venue, she says.
TAKING IT TO THE STREETS
If you walk, jog or ride along streets without sidewalks, Lynanne Dellerman-Silverthorn, recreation cultural services manager for Oro Valley Parks and Recreation, reminds all that pedestrians should walk facing oncoming traffic. Don't walk with your back to traffic.
Bicyclists, which are considered vehicles, ride on the right in the same direction as automobile traffic.
LISTEN UP
If you're wearing earbuds or headphones and you cannot hear what is going on around you, you're not being courteous or safe, says Stitzer.
Putting in only one earbud allows you to hear if someone is about to pass you or come up behind you. You can also hear wildlife — like a rattlesnake — warnings.
Don't amplify music. Blaring music detracts from others' experience and can have a negative impact on wildlife, says Stitzer.
Same goes for that loud discussion on your phone. Put the phone in your pocket.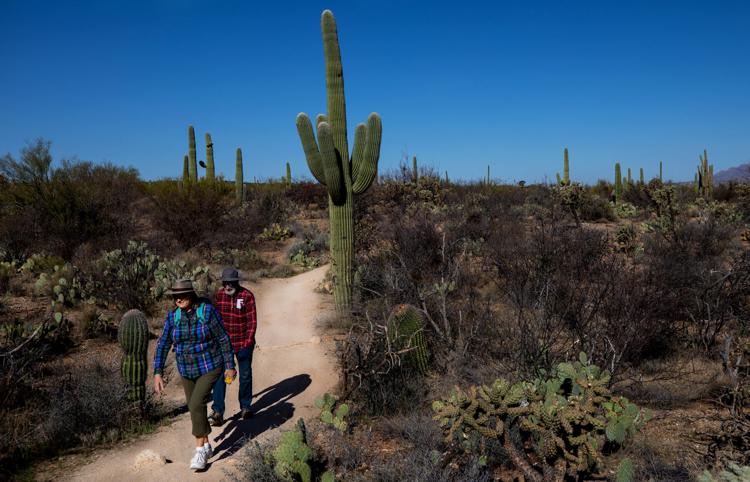 DON'T LITTER
Practice "Leave No Trace" outdoor ethics of minimizing your impact in the outdoors, says Stitzer. "All your trash should leave with you."
"You brought the food/water bottle with you," says Ellis, "It's really not that hard to take the empty wrappers/bottles back to your car or to the nearest trash can."
LEAVE IT AS YOU FOUND IT
Stay on official trails only, says Stitzer. That means do not use unmarked trails, create your own routes or build trail markers with rocks (cairns). It also means not traveling off-trail or taking shortcut trails.
Keep off wet trails. Using wet trails causes damage and leads to unneeded repairs, says Stitzer.
And don't take anything with you: It is illegal to remove or disturb natural or cultural resources.
DON'T CONGREGATE
"No matter what type of travel you are using, if you need to stop to check your phone, talk with friends, wait for a ride, stretch, et cetera, please get off the path," says Ellis.
"There really is no excuse for groups congregating on a path. In most places, there is plenty of dirt shoulder to have a brief meeting."
There was an accident last year where a group of bicyclists took advantage of the shade under one of The Loop bridges, says Ellis.
Many bridges have narrower path sections running under them and a bicyclist traveling under the bridge ran into the stopped riders.
FOLLOW THE RULES
Drones are not allowed in Pima County parks and devices such as electric bicycles, scooters and skateboards are not allowed on nonmotorized trails.
Check trail and park restrictions before heading out with one of these devices.
"Remember to be courteous, yield to whom you are supposed to, and enjoy," says Clark.
Ann Brown is a former Star editor and reporter. Dog-friendly Honey Bee Canyon Park in Oro Valley is one of her favorite places to hike.