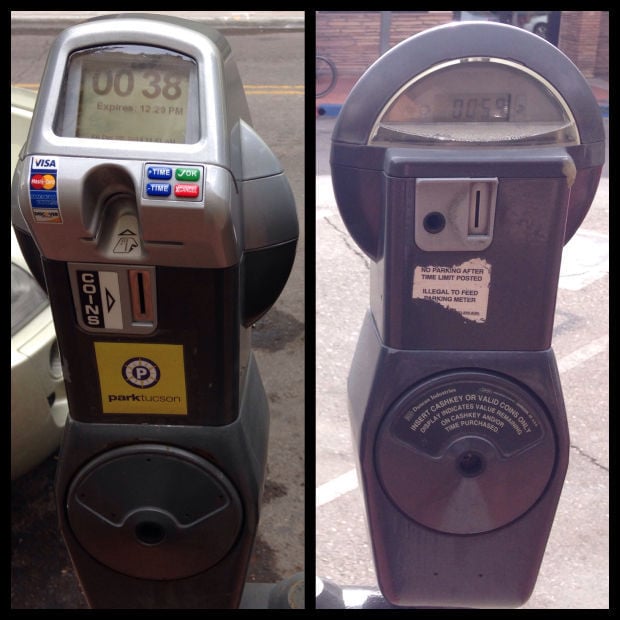 They rattle your pint glass at Borderlands Brewing Co., hold up your commute and if you live close enough, disturb your slumber.
About 50 trains barrel through downtown each day, according to Tucson Transportation Project Manager Thomas Fisher.
Whether the noise is nostalgic or nerve-grinding is subjective, but there's no denying its presence.
Road Runner reader Sue Trinacty lives in the Dunbar Spring Neighborhood. The distance muffles the sound, but she said it would be nice to have a little peace and quiet every once in a while.
Trinacty's simple question: "When will Tucson have quiet railroad crossings downtown?"
It's worth pointing out that the trains don't blow their horns at random. It's a safety measure mandated by the Federal Railroad Administration.
Engineers have to sound their horns at least 15 seconds in advance of each public crossing. Downtown, there's a handful of crossings in a half-mile stretch, which means near constant blaring whenever a train rolls through.
Installing new safety features to four rail crossings would make the area eligible to be a federally approved "quiet zone" where trains wouldn't have to blast their horns.
Flagstaff, Marana and Tempe are among Arizona cities that have quiet zones.
That's one goal of Downtown Links, an $85 million city of Tucson transportation project.
Phase three of Downtown Links, which is set to get underway in 2016, includes upgrades to four railroad crossings downtown at Main Avenue, Fifth Street, Ninth Avenue and Seventh Avenue.
The new crossings will have additional fencing, lighting and sign-age to alert pedestrians and motorists of approaching trains.
Another crossing at Sixth Street will be eliminated completely and replaced with an underpass.
Once the bells and whistles are installed, the city can submit a proposal to the Federal Railroad Administration to have the quiet zone approved. The construction is scheduled to take 24 to 30 months. So it will likely be 2018 before the trains pipe down.
Keep those earplugs at hand.
A new way to pay for parking
The city installed new parking meters on Pennington Street near sixth Avenue earlier this month. The 21, solar-powered, credit-card-accepting meters are the first of about 850 meters scheduled to be installed in December.
An additional 550 new meters will also be put in at Main Gate Square near the University of Arizona and on 4th Avenue.
Correction: An earlier version of this story referred to the neighborhood Trinacty lives in as Dunbar Springs, it has been corrected to Dunbar Spring. 
Contact reporter Mariana Dale at 573-4242 or mdale@tucson.com
On Twitter: @mariana_dale