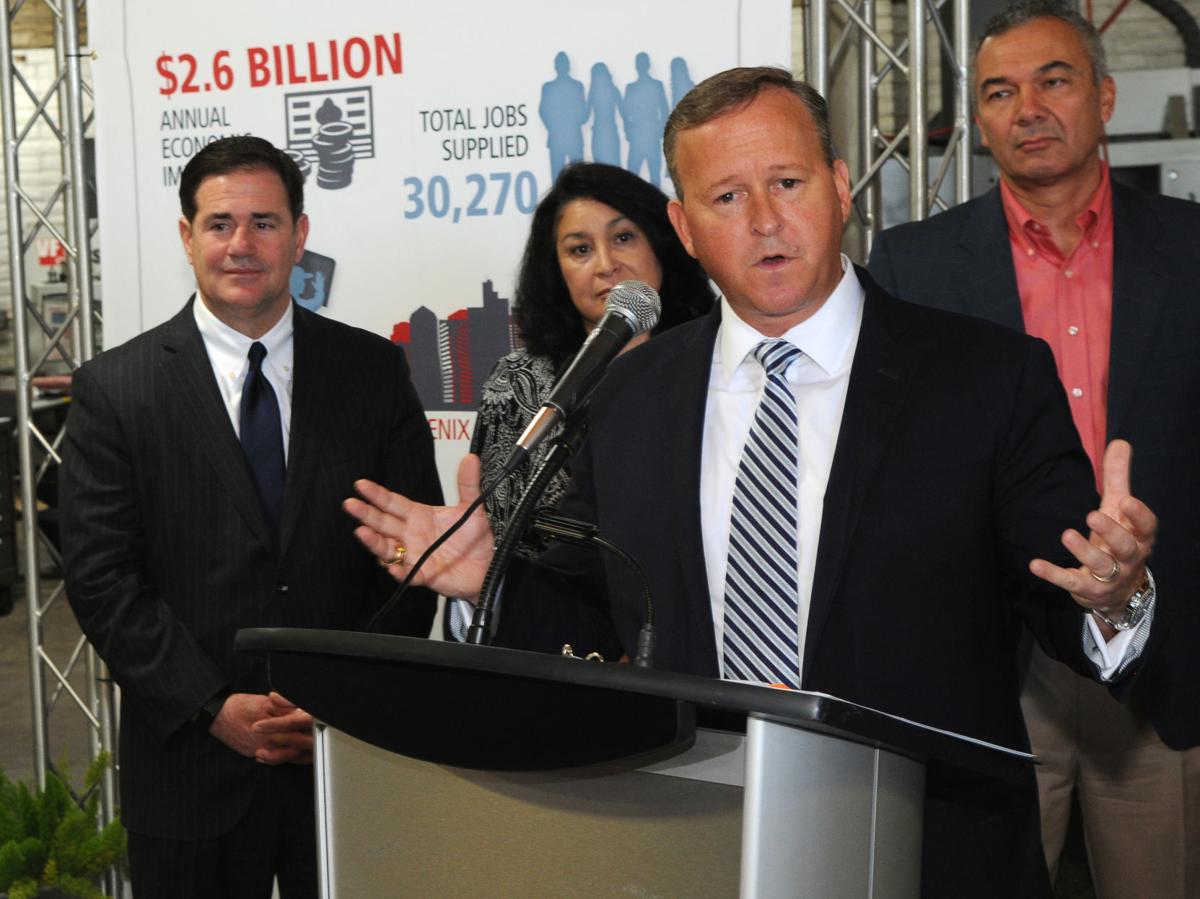 PHOENIX — Raytheon Missile Systems plans to add more than 1,000 workers in Tucson over the next three years as it expands to meet demand for its weapons systems, the company announced Wednesday.
The jobs come on top of 2,000 new jobs and major building expansion at Raytheon's main campus at Tucson International Airport since 2016, and amid a pending merger between Raytheon Co. and United Technologies Corp.
The new jobs will be in areas like engineering, paying in the "six-figure range," said Stephen duMont, a vice president at Tucson-based Raytheon Missile Systems.
They will be in addition to the nearly 13,000 people working for the company in Tucson.
The company's growth shows in the latest study of Raytheon's statewide economic impact.
Raytheon makes a $2.6 billion annual economic impact in Arizona, according to a new study conducted for the company by Arizona State University's Seidman Institute.
The researchers analyzed Raytheon contributions to the state in the form of wages, taxes, suppliers and other key indicators. The company has 500 suppliers statewide.
The study says Raytheon's annual impact across Arizona has grown by more than $500 million in the last three years.
Increased sales, new hiring and additional infrastructure have helped to fuel the increase, the study found.
In 2018, Raytheon executives along with federal, state and local leaders formally dedicated six new buildings at the company's Tucson plant. The company has since completed infrastructure expansion announced in 2016 and has hired more than 2,000 new workers.
In addition to its hiring plans, Raytheon plans investments and improvements in manufacturing, engineering technology and facilities infrastructure in order to meet growing customer demand.
"Raytheon is one of our state's most valuable assets," said Gov. Doug Ducey, who was on hand with Raytheon executives for Wednesday's announcement in Phoenix at Pivot Manufacturing, a supplier to Raytheon.
The growth of Raytheon, the largest private employer in Southern Arizona, is part of a pronounced increase in manufacturing employment in the state.
Figures produced by the state's Office of Economic Opportunity show the state added 9,200 manufacturing jobs in the past 12 months, a 5.4% growth rate, compared with just 1% nationally.
Ducey said that means manufacturing employment now exceeds construction employment in Arizona.
The construction industry was particularly hard hit during the recession, shedding more than half of the 244,300 jobs it had at its peak. But it is now recovering with high demand, particularly for housing, bringing construction employment up to 175,000.
Manufacturing also was hit during the recession, though nowhere near as hard. Prior to the recession, manufacturing employment was at 212,400, dropping to 148,000 in 2010. It is now back to 180,200.
"The global demand for our product continues to increase," duMont said. "And that's driving hiring at an unprecedented rate of new employees into Raytheon."
DuMont declined to say, when asked by a Capitol Media Services reporter, how much of the company's Arizona business involves selling missiles to Saudi Arabia, which is involved in a war with Yemen.
"But I will say ... about a third of our business is international," he said. "The rest is in the U.S."
"We're a global company, as you know," duMont said. "We sell products and technologies around the world. But we do it under the direct guidance, following the rules and regulations of the U.S. government."
Get local news delivered to your inbox!
Subscribe to our Daily Headlines newsletter.