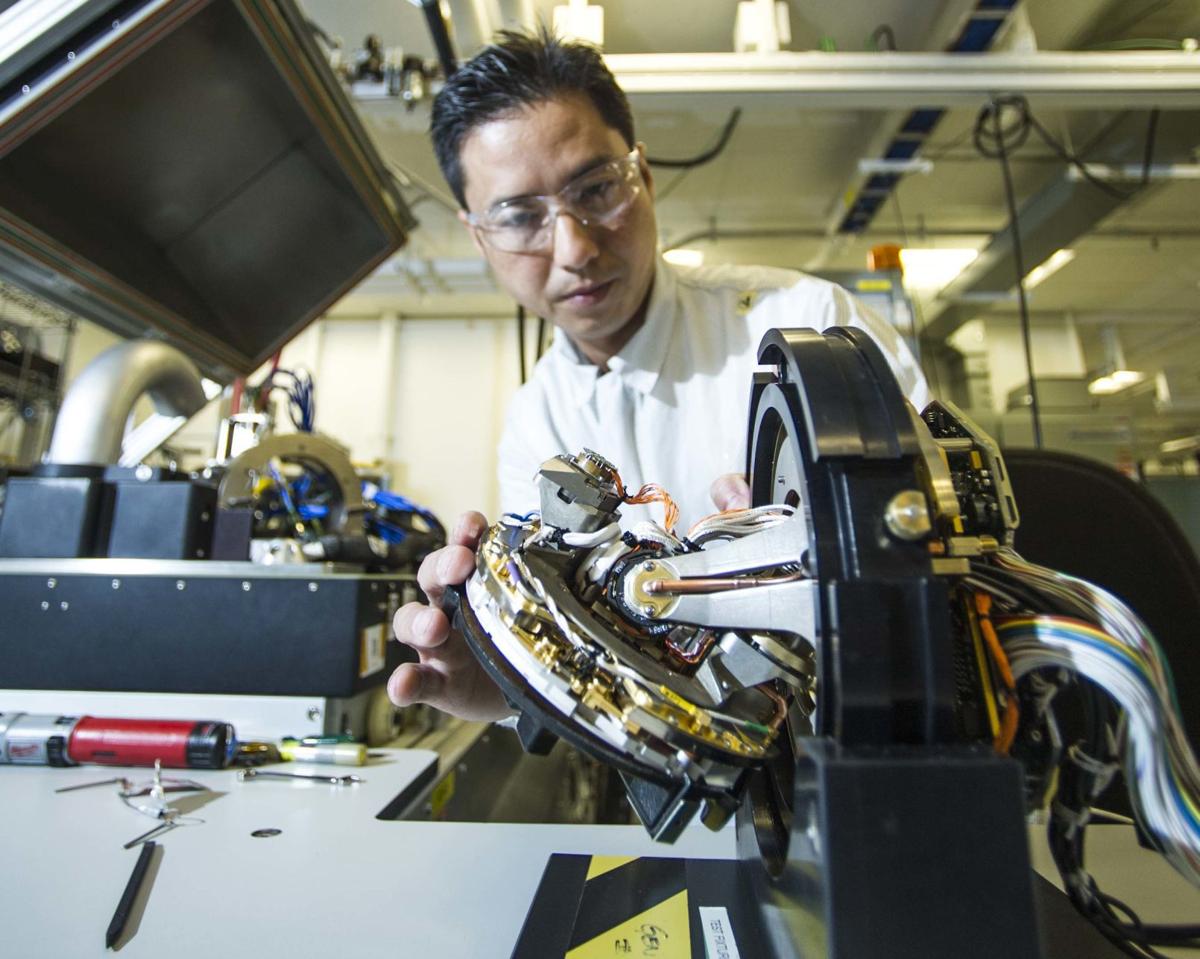 Raytheon is merging with United Technologies, creating an aerospace and defense giant, but the change isn't expected to have any immediate effect on the local operations of Tucson-based Raytheon Missile Systems, the region's biggest employer.
Longer-term, the deal will create thousands of new jobs and save customers, including the Pentagon, hundreds of millions of dollars annually, United Technologies' CEO said Monday.
The companies on Sunday announced a "merger of equals" to create Raytheon Technologies Corp., with annual revenues of $74 billion, second only to Boeing in the industry.
Raytheon, based near Boston in Waltham, Massachusetts, is a major supplier of defense electronics and radars and precision-guided weapons systems such as the Tomahawk cruise missile. Missile Systems alone had sales of $8.3 billion in 2018 and employs about 12,500 workers in Tucson.
Connecticut-based United Technologies is a major provider of both commercial and military jet engines under its Pratt & Whitney subsidiary and offers a wide range of aerospace systems including power, control and sensing systems under Collins Aerospace, which was formed after United Technologies acquired Rockwell Collins last fall.
The all-stock deal is expected to close in the first half of 2020, after United Technologies finalizes the spinoff of two of its non-aerospace businesses, Otis Elevator and Carrier Corp.
The CEOs of both companies said the merger will create a stronger player in the defense industry with "highly complementary" product and service offerings.
"By joining forces, we will have unsurpassed technology and expanded R&D capabilities that will allow us to invest through business cycles and address our customers' highest priorities," Greg Hayes, United Technologies chairman and CEO, said in announcing the merger.
Raytheon Chairman and CEO Tom Kennedy, who will become executive chairman of the combined company, said the deal "brings with it tremendous opportunity for our future success."
"With our enhanced capabilities, we will deliver value to our customers by anticipating and addressing their most complex challenges, while delivering significant value to shareowners," Kennedy said.
LOOKING TO THE FUTURE
Industry analysts saw fewer advantages for Raytheon, but noted that it has ensured that it is not left behind in the push to grow bigger in aerospace and defense.
"The rationale seems to address (United Technologies') needs more than Raytheon's, unless this was also about simply finding the best partner in a consolidating space," said Joseph DeNardi, a defense analyst with Stifel. "A scenario whereby Raytheon would be competing longer-term against Lockheed Martin and a combined Northrop + (United Technologies) may have been an unacceptable outcome of consolidation for Raytheon."
Wall Street analysts were generally positive about the deal, but investors sent United Technologies shares down about 3% on Monday, while Raytheon shares closed fractionally higher on a day of modest overall market gains.
Following the merger, Raytheon's four current business units, including Missile Systems, would be folded into two new businesses, which along with Pratt & Whitney and Collins will form four main operating divisions of the new company.
The merged company will be based in the Boston area, but no other operational changes were announced.
Officials of Raytheon and United Technologies did not respond to requests for additional details on Monday.
An official of a labor union representing about 1,400 hourly workers at Raytheon Missile Systems said union officials have not been briefed on any changes here.
Louis Martinez, directing business representative for the International Association of Machinists and Aerospace Workers Local 933, said a new, five-year collective bargaining agreement signed with Raytheon last October remains in effect.
"The working relationship between United Technologies and the Machinists is fairly good," Martinez said. "We hope that whatever happens in Tucson with them and Raytheon, we continue that relationship and make sure we keep good-paying jobs here in Southern Arizona and Tucson."
During a conference call with analysts on Monday, the CEOs of the two companies stressed that there is very little overlap in the companies' operations and that both plan to grow.
Hayes said his company and Raytheon are each on track to hire 10,000 workers this year, while saving about $750 million annually in operating costs.
In Tucson, Missile Systems is in the process of adding nearly 2,000 jobs as part of a major expansion announced in 2016.
While the company CEOs said they do not anticipate problems winning approval for the deal from anti-monopoly regulators, President Trump said Monday he might be concerned the merger would lessen competition.
"When I hear they're merging ... does that take away more competition?" asked Trump. "It becomes one big, fat beautiful company, but I have to negotiate, meaning the United States has to buy things. Does that make it less competitive?"
In 2018 there were eight mergers in defense and aerospace exceeding $1 billion in value, including an all-stock deal between L3 Technologies and Harris, and General Dynamics' acquisition of CSRA Inc., according to PricewaterhouseCoopers.
Under the merger, Raytheon Missile Systems and Integrated Defense Systems will be combined to form a new Integrated Defense and Missile Systems unit under Raytheon Technologies.
Raytheon's Space and Airborne Systems business, its Intelligence, Information and Services unit and its Forcepoint cybersecurity business will be combined with United Technologies' Mission Systems business to form a new Intelligence, Space and Airborne Systems unit.
The companies have not announced who will lead the two new Raytheon Technologies business units.
Wes Kremer, who became president of Raytheon Missile Systems in March, previously spent nearly four years as president of Raytheon's defense radars unit, Raytheon Integrated Defense Systems in Tewksbury, Massachusetts.
Raytheon shareholders will receive 2.33 shares in the new company for each Raytheon share. Once the merger is complete, United Technologies shareholders will own approximately 57% of the company; Raytheon shareholders will own the rest.
Two years after the deal closes, Hayes will also become chairman. Until then, Raytheon's Kennedy will be the executive chairman. The company's board will have eight directors from United Technologies and seven from Raytheon.
Get local news delivered to your inbox!
Subscribe to our Daily Headlines newsletter.