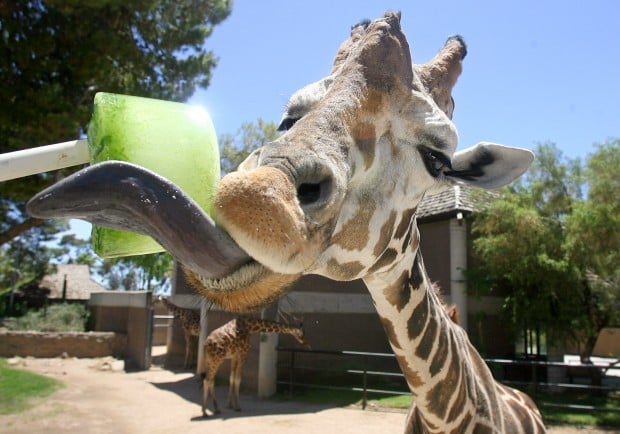 One giraffe has died and another is seriously ill after an apprentice keeper at Reid Park Zoo fed them toxic plants.
Watoto, the zoo's only male giraffe, died Tuesday night, and Denver, a 20-year-old female, remains under observation in guarded condition after a keeper put oleander cuttings in their stalls Monday night, said Jim Schnormeier, general curator at Reid Park. The zoo's two other giraffes, Elinor and Texas, were not fed the toxic plants.
"It's been a tough 24 hours, and we're not done," he said.
The poisoning was discovered Tuesday morning when the regular keeper found oleander remnants in the stalls. Emergency veterinary measures were taken, but later that day the 2,000-pound giraffe's heart stopped, according to zoo officials.
Zoo administrator Susan Basford called the incident "a horrible and unfortunate accident."
It is a common practice at the zoo to feed animals green trimmings from surrounding vegetation, said Reid Park officials, and protocols are in place to ensure trimmings are safe for the animals.
"This is an exceedingly rare occurrence," said Steve Feldman, spokesman for the Association of Zoos & Aquariums, which accredits Reid Park.
Included in a long list of standard operating procedures zoos must follow is assigning "at least one person to oversee appropriate browse material for the collection," according to the association's animal-care manual.
The manual states: "If the institution uses browse plants as part of the diet or as enrichment items for the animals in its collection, the items must be identified and reviewed for safety. It is recommended that the responsibility for approval of browse items and oversight of the program be assigned to at least one qualified individual. The program should identify what plants are safe to feed and to which species, which parts of the plant are safe, whether the browse plants have been treated with any chemicals or if they are near any point sources of pollution. If animals have access to plants in and around their exhibits, there should be a staff member responsible for ensuring that the collection is not exposed to toxic plants."
Reid Park officials are investigating to determine where the breakdown in protocol occurred.
"One unfortunate incident needs to be taken in context with the overall quality of the program," Feldman said. "Even in a great zoo, sometimes unfortunate things can happen. As tragic as this is, it needs to be taken in context."
No decision has yet been announced about the keeper's future with the zoo.
Six-year-old Watoto was born at San Diego Wild Animal Park and went on display at Reid Park in June 2007. His name means "children" in Swahili. Before this week, Yebo was the last giraffe to die at Reid Park. She was euthanized in April 2007 at age 17 after suffering from severe arthritis in multiple limbs.
Giraffe's typically live to 25, Schnormeier said.
Oleanders contain a toxin called cardenolide glycosides, according to the International Oleander Society based in Galveston, Texas. The toxin is mostly contained in the sap, which is clear to slightly milky colored, and sticky. When ingested, it can be fatal. Fumes from burning oleander are hazardous as well.