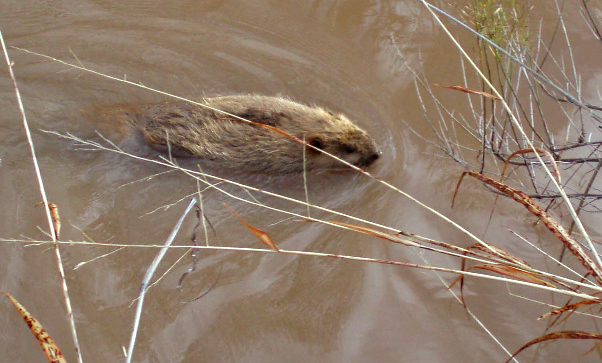 Aquatic rodents might not instantly pop to mind when you think of Southern Arizona wildlife - but they're thriving this spring along the San Pedro River near Sierra Vista.
We're talking beavers - those dam-building, tail-slapping mega-rodents more often associated with mountain streams than arid-region rivers.
"Beavers are doing really well right now on the San Pedro," said Marcia Radke, a wildlife biologist with the U.S. Bureau of Land Management. "We're estimating the beaver population at about 100."
That's a big change since just a few beavers were reintroduced into the river beginning in 1999 - about a century after trappers wiped out the last native beavers there.
Fifteen of the critters were released on the San Pedro Riparian National Conservation Area from 1999 to 2002 - and they quickly got, well, busy as beavers in expanding their population.
Beavers have built many dams along the river in recent years, Radke said.
They're not permanent structures - often being washed away by heavy monsoon flows.
"The high number so far was 46 dams in 2008," Radke said. "But that year we had a good monsoon, and it took out all the dams."
In recent years, she said, beavers have maintained about 30 dams - most of them along a stretch of the river between the Mexican border and an area south of St. David.
Radke said temporary loss of dams doesn't appear to have a negative effect on the beaver population - and might even help it expand.
"The flooding isn't something I look upon as a negative thing," she said. "It allows the sub-adults to leave their family colonies and take up their own territories and mates. It's a way of expanding the population into new areas."
Beaver dams, Radke said, play a role in maintaining the vitality of the river, and also appear to benefit some types of vegetation.
The dams cause river water to "pond" and slow down long enough to soak into the aquifer.
"That increases storage, and surface water is released over a longer period of time" - thereby prolonging seasonal stream flows, Radke said.
Among plants that might benefit from beaver dams is the endangered Huachuca water umbel.
Radke said the umbel, which requires perennial water, has been growing this year near a dam in an area where the plant hadn't been documented in the past.
Not everyone is happy with the beavers' work along the river.
"Some people don't like them chewing on the trees," Radke said. "Beavers eat the bark of cottonwoods and willows" and take down some trees for their dams.
Many beavers stay put along a stretch of the river east of Sierra Vista, but a few have felt the urge to travel.
"One, which was tracked with a collar transmitter, migrated all the way to Aravaipa Canyon about 100 miles away," Radke said.
Another reportedly made it to a point near where the San Pedro flows into the Gila River - prompting a nickname: "the surfing beaver."
Beavers are monogamous and stay mated for life.