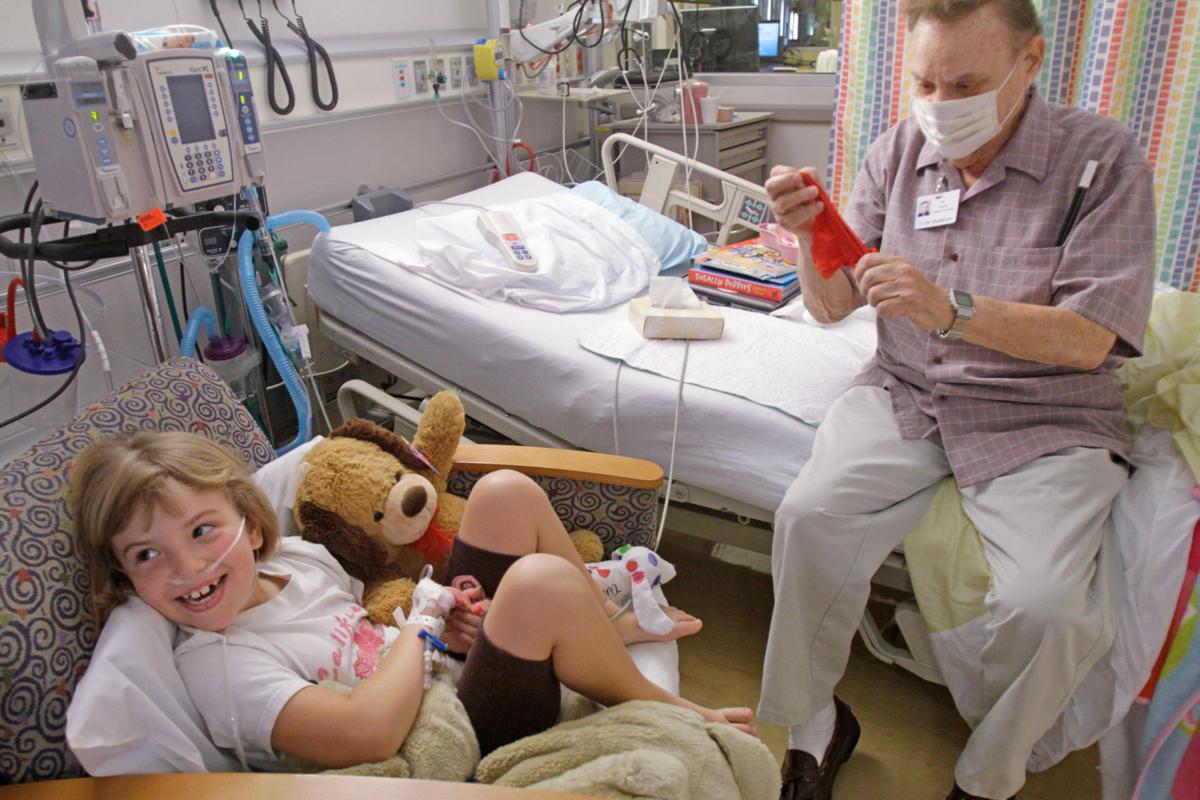 On a recent Wednesday morning, Jay Knapp walked down a hallway in the pediatric ward at Tucson Medical Center with child-life specialist Bridgette Werner, who gave Knapp the rundown on two patients.
But when Knapp walked into Cierra Marek-Lyman's room, he did not have a chart or a stethoscope. He did, however, bring a silver briefcase filled with the tricks of his trade.
Knapp is not a doctor. He's a magician.
Cierra, 9, smiled slightly when she watched Knapp set up to entertain her with a few minutes of illusions. At one point, Knapp produced a magazine photo and asked the girl's father, Michael Lyman, to tear it up. Lyman complied and gave the torn pieces back to Knapp. With a flourish of a magic wand, a la Harry Potter, he tapped the paper pieces and wadded them up in his fist. He blew into his fist, then unfolded the paper, now whole.
Cierra looked astonished. "It was cool. He put the paper back together again," she said with a big smile. Also, she said, "he gave me a dollar."
The magician is a regular at the pediatric ward. Every week he entertains sick children stuck in hospital beds or rooms.
"Jay's visits brighten the day of our patients and their parents. Special groups or people like Jay really make a difference in a child's hospitalization to ensure that it's not as traumatic," said Jolene Eggert, manager of the Child Life Department at TMC. "Kids communicate with us through play, and that (Jay's magic show) is a great way to engage them."
Knapp, 81, and his wife, Reva, 73, moved to Sun City Vistoso about 15 years ago after he retired as a real estate broker.
"I got tired of sitting around and talking about what the next meal would be," Knapp said of retirement. "Nobody was doing anything of consequence except hearing their bones creak."
A longtime fan of magic, Knapp joined The Society of American Magicians shortly after he and his wife moved to the retirement community. He taught himself the art of illusion by watching videotapes and reading books on magic. He practices three hours a day.
Knapp joined the local magic club. "It was two weeks before Halloween and an announcement was made that someone should visit some of the hospital wards," he said.
A medical emergency in Knapp's life, at the age of 5, gave him a personal reason to want to visit sick children.
"I needed an emergency appendectomy. They rushed me to the hospital and put me in a room all by myself," Knapp said. "I thought I did something bad."
Reva Knapp helps out her husband with new material. "He'll try out a new illusion and I'll say, 'That's not very good,' and he'll say, 'I didn't think it was, either,' " she said.
The next stop in the magic tour was the pediatric intensive care unit. With sanitized hands and a face mask, Knapp entered 6-year-old Jenna Ahrendt's room. The little girl, hooked up to an IV and oxygen, sat in a chair overflowing with stuffed animals and pillows. Jenna looked at Knapp with a mix of apprehension and expectation. Her mother, Becki, became a part of the show when Knapp asked for a strand of her hair to help turn two coins into one.
At the end of the performance, Jenna was all smiles. Knapp presented her with a magic coin, pre-sanitized for her protection.
"It's real magic. You'll get really strong like a polar bear," he said. Jenna clutched the coin tightly.
Knapp performs at the Arizona State Schools for the Deaf and the Blind, at a camp for terminally ill children and at homeless shelters and other venues.
"I must have seen thousands of children over the years and it still amazes me. Kids stop crying. Kids stop wrenching in pain," he said. "I feel like I'm doing a bit of God's work."