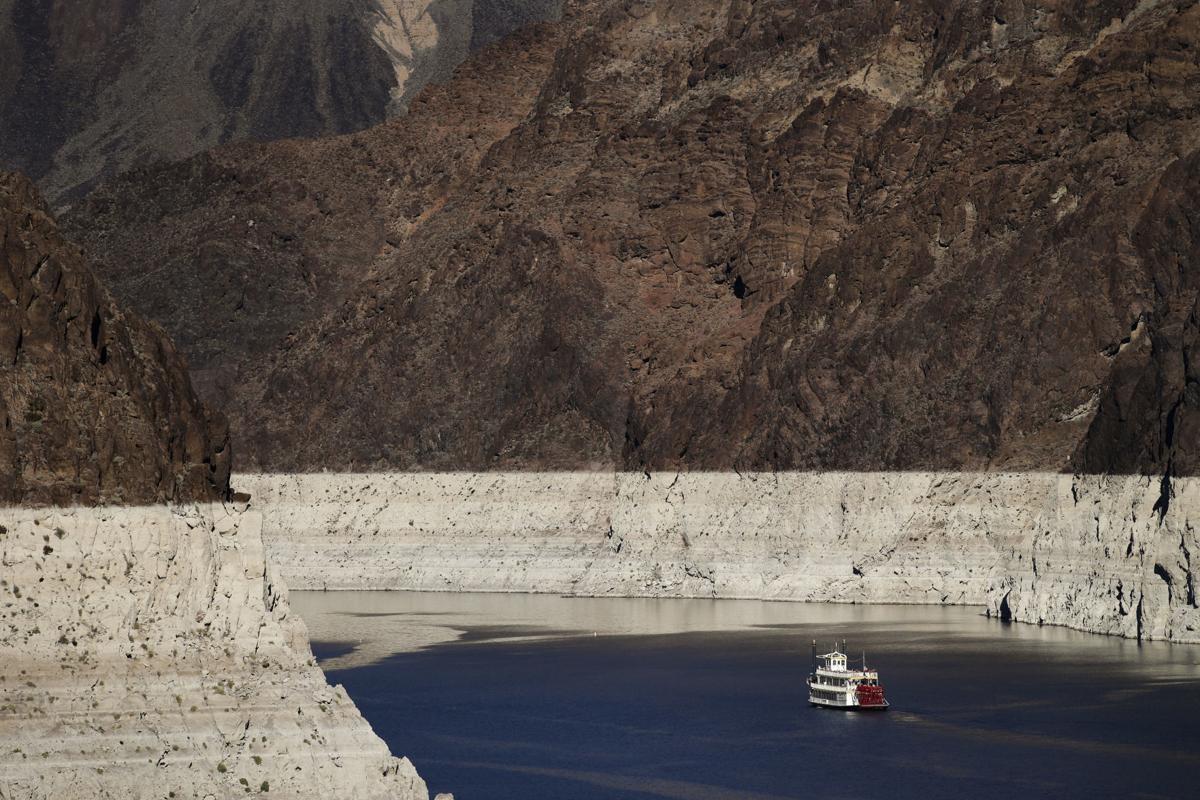 TEMPE — The risks of Lake Mead dropping to catastrophically low levels have ramped up dramatically, say federal officials who came here Thursday to push for completion of a long-stalled drought plan for the Colorado River Basin.
At a presentation before hundreds of local and state officials, Bureau of Reclamation Commissioner Brenda Burman and a top aide warned that the risks to the lake are unacceptable. They said it's urgent that Arizona officials resolve their differences over the drought plan and get on board with six other Colorado River Basin states that are moving toward adopting one.
Since the seven states approved a set of guidelines for managing the river's reservoirs in 2007, the risks of Lake Mead dropping to very low levels has increased by three to six times, the bureau officials said.
They spoke at a briefing that also found once-warring Arizona Department of Water Resources and Central Arizona Project officials moving closer together on issues that had split them apart for well over a year. Both ADWR chief Tom Buschatzke and CAP general manager Ted Cooke enthusiastically endorsed the idea of a drought plan, although Cooke warned that the resulting reduction in river water use would boost water rates the CAP charges to Tucson, Phoenix and other municipal customers over time.
"We are not here to scare you. We are just presenting the best information we have," Burman told a gathering that virtually filled a 275-person auditorium at the Arizona Historical Society Museum in Tempe.
"Keeping our fingers crossed, hoping for good hydrology" and waiting for the current and future interior secretaries to ignore the laws of the Colorado River that require protecting its reservoirs from depletion is not how to deal with this problem, she said.
"It's not how we've dealt with it in the past, and it's not how Arizona wants to deal with it in the future," said Burman, a longtime Arizonan who has worked for the Salt River Project utility and for former U.S. Sen. Jon Kyl of Arizona in the past.
The bureau's forecasts for how far and fast Lake Mead's elevations could fall were most severe when the forecasters used what they called a "stress test." It relies on computer models assuming a continuation of the last 30 years of unusually dry weather.
Less severe risks of such declines were predicted when the bureau relied on the river's entire historical record, covering 1906 to 2015, which included several much wetter spells, including the wettest period on record for the river, in the early 20th century.
Specifically, the bureau said:
 Based on the river's entire historical record, there's about a 65 percent chance of Lake Mead falling below 1,075 feet — the level at which the first shortage in river water available to the CAP would occur — by 2026. Using just the last 30 years of records as a base for forecasting, that risk grows to more than 80 to 90 percent, covering a period from 2020 to 2026.
 The risk of Mead dropping below 1,025 feet by 2026 is more than 40 percent using the bureau's "stress test" forecasts, and about 30 percent when the forecasts rely on the river's entire historical record.
 The risk of Mead being less than 1,000 feet high by 2026 is about 20 percent under the "stress test" forecast and less than 10 percent when the river's entire historical record is used.
The thought of Mead dropping below 1,025 or 1,000 feet is particularly alarming to many state water officials in Arizona and elsewhere. At those levels, U.S. interior Department intervention to manage the river's reservoirs is certain.
At that point, nobody knows what steps Interior would take to prop up the reservoirs, but it would almost certainly make drastic cuts in water deliveries to major cities such as Tucson and Phoenix that rely on the river for drinking water via the $4 billion Central Arizona Project.
On the other hand, all these risks would drop dramatically if Arizona, Nevada and California agree on a drought plan to conserve up to 1.2 million acre feet a year of river water annually over time, bureau officials predicted.
At a news conference after the three-hour briefing, bureau official Terry Fulp laid out what he considered to be a likely worst case scenario if Mead is allowed to keep dropping without a major intervention such as the drought plan.
If Lake Mead gets to a low place, about 1,020 feet, followed by two of the worst years of river flows on record, back to back, then the lake would crash and drastic cuts would be needed, he said.
"It will be very difficult for all of us to manage those cuts," said Fulp, director of the bureau's Lower Colorado regional office. "We can figure out how to deal with those (water users) with the highest priorities and the lowest priorities, but not all the stuff in the middle."
Burman called the drought plan an agreement, lasting seven years, that would "buy down" risks to the river enough to give officials time to craft longer-term solutions.