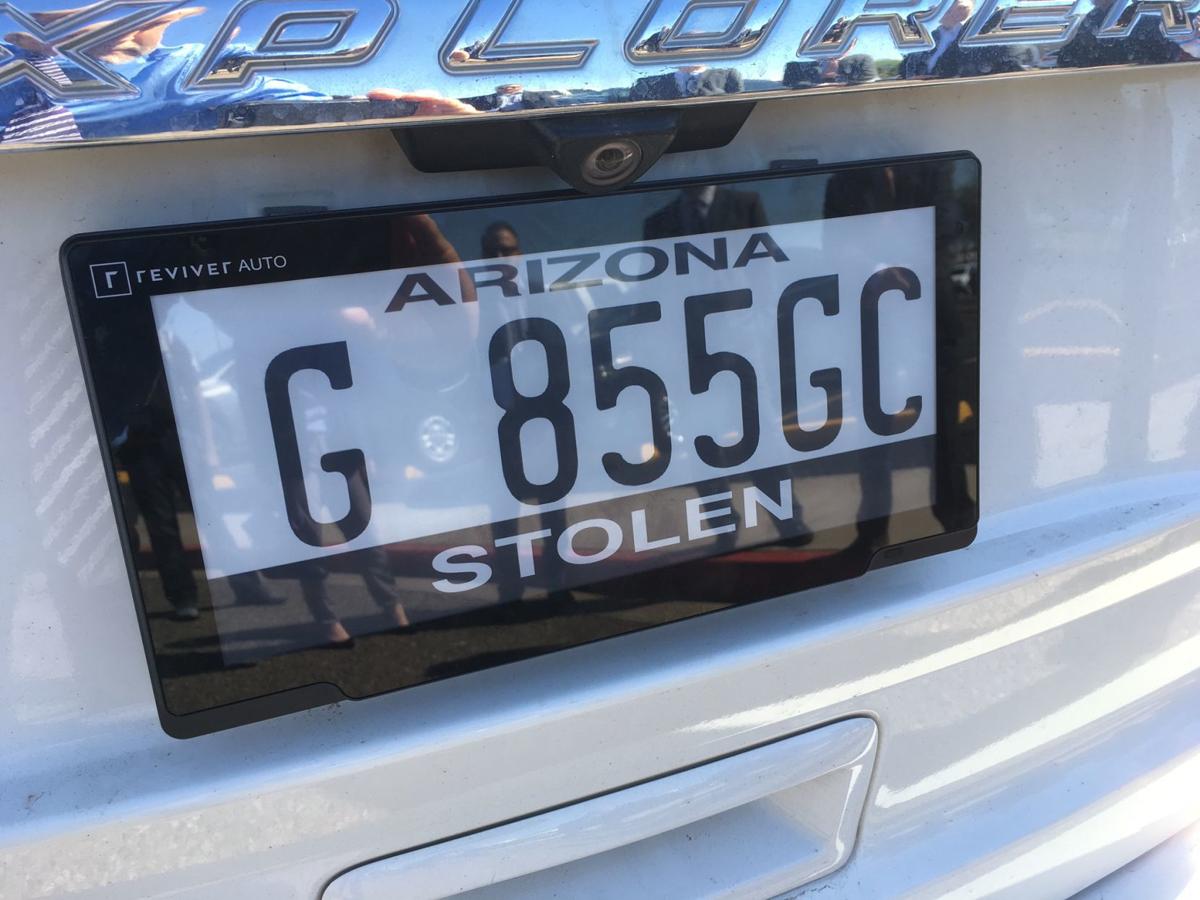 A new kind of custom license plate is coming to Arizona.
The new plates made by Reviver Auto, called Rplate, are LTE-enabled digital license plates that work similarly to a tablet.
Beyond constantly displaying the actual license plate numbers, users can also display customized messages on the digital plates, from promoting businesses and charitable causes to signaling the vehicle has been stolen.
Motorists will be able to use Reviver's connected app to complete a list of vehicle-related processes from wherever they are, such as replacing legacy stickers with digital decals and vehicle registrations.
"It's not just a way to show compliance, it's also an opportunity to be able to take care of paying for your parking and your tolling, a way to customize and specialize the plate, also as a theft deterrent; if your vehicle is stolen it's a way to track your vehicle and know where your vehicle is," said Neville Boston, Reviver Auto CEO and co-founder.
The Essential model will cost $499 and comes with a year's subscription for services through the app, plate customization and personalized messages. The Pro model comes with multiple tracking capabilities, so motorists always know where their vehicle is. It will cost $799.
The plates are available for preorder at Reviverauto.com and will ship sometime this spring, the company says.
"It's a way of communicating other things that are happening like AMBER alerts and silver alerts or even inclement weather alerts that you can now push through your plate. So, it becomes a communication portal and it's an extension of your digital personality," Boston said.
The plates are said to have "very little draw" on a vehicle's battery when completing the tasks, according to the company's website.
After more than a year testing the devices along Arizona roads and in changing weather, Rplate was authorized by the Arizona Department of Motor Vehicles Division and the Arizona Department of Public Safety.
Safety measures include tamper-proof and the anti-theft features.
"We've put the same and we're using the same protocols that you do for online banking," Boston said.
"We have end-to-end encryption that we have on all of the channels of communication; there's got to be a secure key, a digital key, and if the key is not found when messages are trying to be sent to the plate, the plate just ignores it."
Reviver Auto first launched the devices in California last June, and wants to reach the entire U.S. by 2021. The company is working with officials in Dubai to take the plates internationally.
"I saw this as an opportunity to help streamline something that I think has been broken for a long time," Boston said.
"It's exciting and humbling at the same time; it's motivating because we realize we've just begun. This is the first step, there's so much more to be done."
I-10 down to one lane near Pinal Air Park Road
Construction crews will be working on bridge rehabilitation at Pinal Air Park Road, causing a restriction on Interstate 10.
A single lane will be open in each direction.
Motorists should prepare for delays as the work is scheduled to last from 7 p.m. Tuesday to 5 a.m. Wednesday, Feb. 6.
Road at Tucson VA to be closed Monday
Beginning Monday, road crews will close Marine Corps Trail bridge over the Julian Wash due to resurfacing. The bridge is scheduled to reopen Feb. 18.
Access to services on the northeast side of the medical center will be affected. Crews will have signs directing traffic to the perimeter road of the veterans affairs center. Extra time may be needed when traveling for an appointment due to minor traffic delays.
Contact Star reporter Shaq Davis at 573-4218 or sdavis@tucson.com
On Twitter: @ShaqDavis1