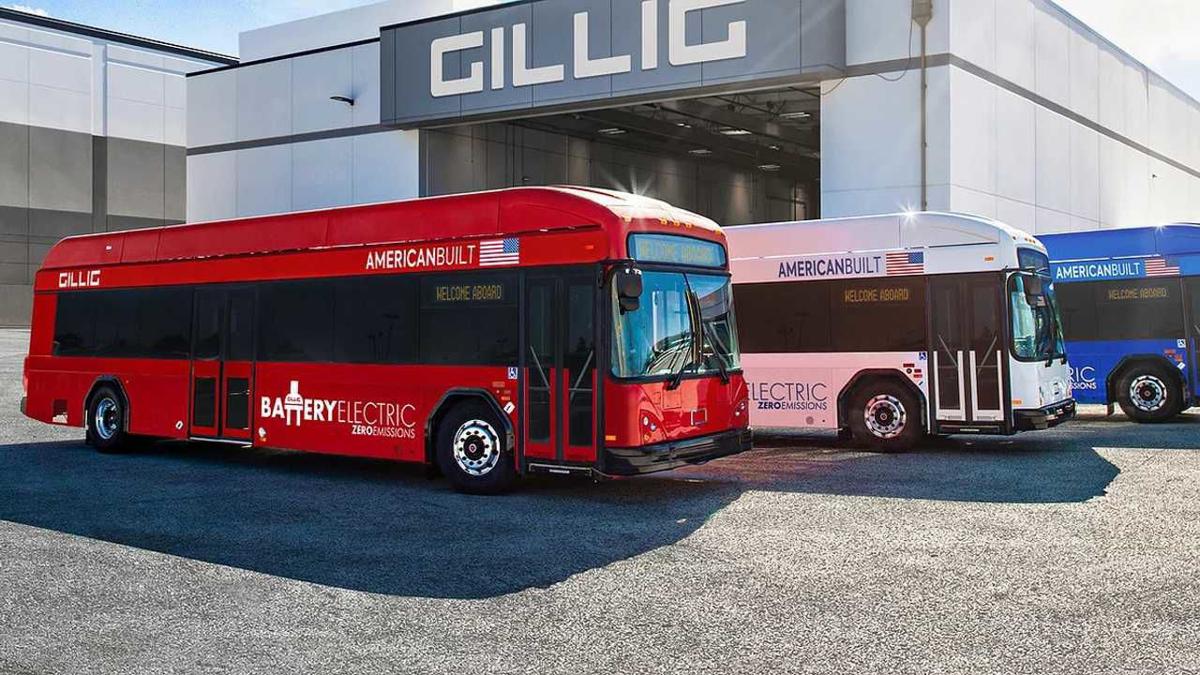 A $2.6 million federal grant for electric buses and a year-long pilot program will help determine their viability in Arizona's climate, officials say.
The year-long electric bus pilot program will begin in January 2020. Sun Tran will lease one 40-foot-long electric bus on its shortest routes, said Tucson Councilmen Paul Durham, who was among the city and state leaders advocating for the buses.
"The electric bus pilot program will initially be deployed on the express routes, so it can operate for two to three hours and then allow some charging time in between five to six hours and go out in the afternoon for the rush hour at the end of the day," Durham said.
Will the batteries in the buses provide enough range? "I'm confident they will," Durham says.
Something must be done as the transportation sector creates the most greenhouse gas emissions at 29%, Durham said, citing Environmental Protection Agency statistics.
The pilot program will help Sun Tran gauge the efficiency of the buses for everyday travel. It'll also show if they reduce emissions, said Pat Richter, a Sun Tran spokesman.
"Sun Tran has a large solar array in our north yard which will soon be significantly expanded and it's our hope that the increased solar energy production will exceed the amount of power needed to charge the batteries for the electric buses," Richter said. "In that case, the electric buses would create no harmful emissions at all."
Sun Tran will also test at least three new electric buses from manufacturer Gillig, with the $2.6 million grant from the Federal Transit Administration. The grant will provide money for dedicated charging stations, maintenance and first responder training to care for the new technology.
The buses will replace Sun Tran's oldest biodiesel buses among its overall fleet of 241. They're at least 13 years old, Richter said, adding that the average age of the buses is around 6.7 years.
He said a bonus could be that the vehicles could persuade motorists who drive every day to take a trip on the buses.
"We're hopeful that the electric buses might entice some Tucsonans to try transit, so even if it's just 1% of Tucsonans who currently drive everywhere that start to use the bus occasionally, there could be big reductions in pollutants from car exhaust here too. We think that this could be a good thing."
Sun Tran tested an electric bus back in 2015 from BYD, a Chinese company with a manufacturing headquarters in Los Angeles. That two-week trial run, however, didn't show how well the batteries will hold up here.
"One caveat about that is the test bus was tested in Tucson during November, when batteries perform better in moderate weather," Richter said. "We want to see how far these all-electric buses can go in Tucson's climate throughout the year."
Richter added that the technology within electric buses has improved since that initial test in 2015.
"The data showed the test bus had a maximum range of about 100 miles between charges," Richter said. "With the technology improvements in the last five years, the travels increase. So, we expect the new Gillig bus to perform better."
One major obstacle may get in the way of the vehicle's future role for Sun Tran: cost. The electric buses alone cost about $869,000, compared to a compressed-natural gas bus at $525,000. With an electric charging station, the cost increases to approximately $944,000, Richter said.
According to Durham, who found the federal grant, more electric bus purchases may be cost-effective in the long run. "I got figures from another manufacturer of electric buses, they said that we would save $100,000 over the life of the bus."
"They're initially more expensive, but the savings in fuel and maintenance gradually catch up and exceed that of compressed-natural gas buses," Durham said.
Whatever happens, Tucson officials say it's their goal to evaluate new fuel technologies for more efficient travel, while reducing negative impacts on the environment.
"This is a great thing for us to be able to test out, it's a great thing for our riders to be able to experience as well," Richter said.
Contact Star reporter Shaq Davis at 573-4218 or sdavis@tucson.com
On Twitter: @ShaqDavis1