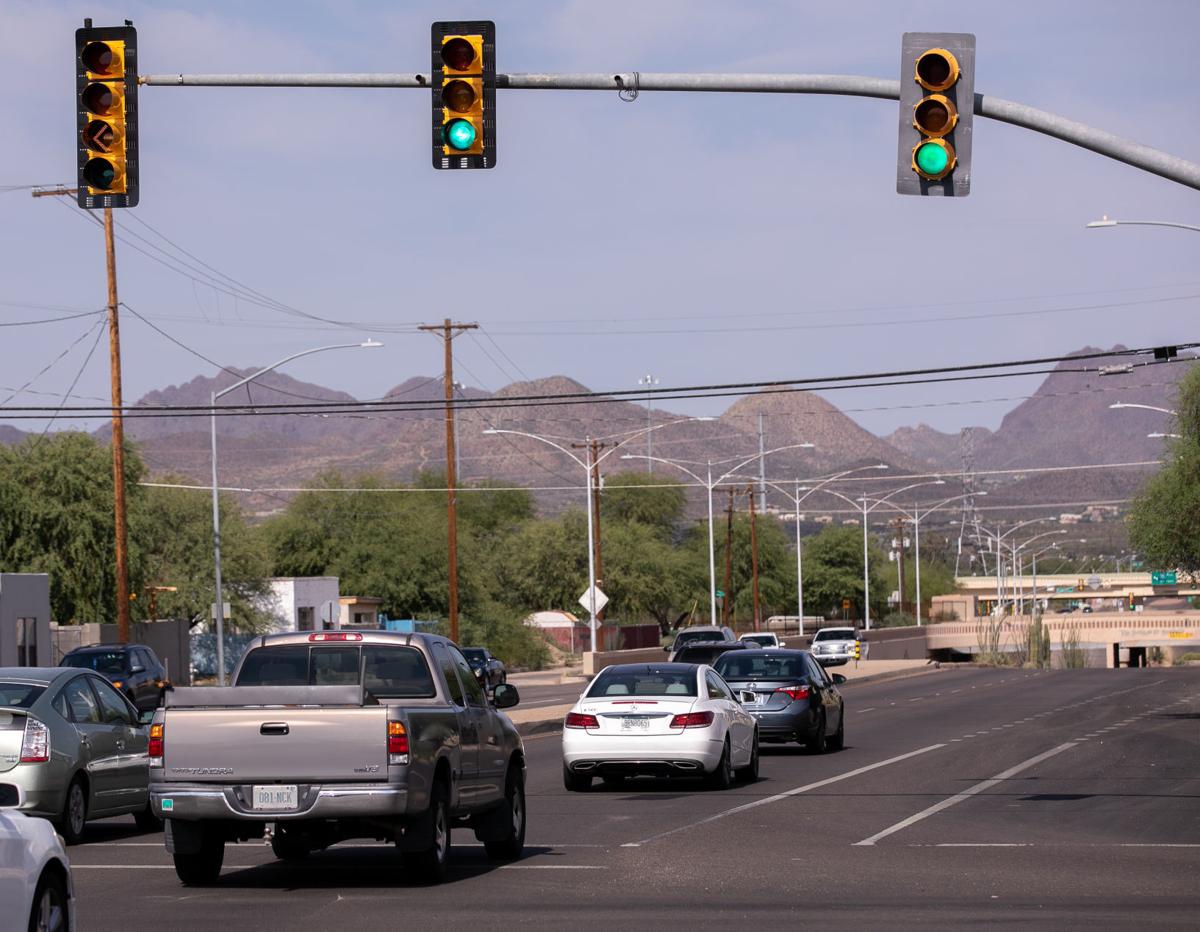 Somewhere deep inside the city of Tucson's transportation department, there must be a complicated diagram explaining a new set of left-turn lights along Speedway.
A pilot program designed to protect pedestrians has added new flashing turn arrows at major intersections between the University of Arizona campus and Interstate 10.
When the lights are flashing green and red, it's pretty self-explanatory. But the flashing yellow lights mean just a little more than proceed with caution. To coin a new phrase specific to Tucson traffic, the flashing yellow arrow means, "Proceed with extreme caution."
The flashing yellow arrow signal still indicates that drivers may enter the intersection and turn, but must yield to pedestrians and bicyclists crossing the street.
City engineers, however, have linked existing pedestrian-crossing buttons on each corner with the new turn signals, controlling them to some degree.
Here is an example of how the new signals are supposed to work: If a pedestrian on the northwest corner of Main Avenue wishes to cross to the other side of the street while the light is green, the turn arrow light would change colors.
Specifically, if the turn light is green at the time, the light would default back to a red light, temporarily prohibiting left turns while either a pedestrian or a cyclist is crossing.
A traffic engineer with the city noted that pressing the pedestrian button isn't always going to instantaneously change the light, but it does trigger a change in the turn signal.
However, the intersections will also have a dedicated green light when a sensor detects drivers waiting to turn, giving them the right of way. And city officials note that the green arrows can turn back to a yellow flashing light, indicating that there is a possibility that someone is in the intersection.
While the new lights may be a bit confusing, pedestrian safety is a huge issue across Tucson.
So far in 2018, there have been 15 pedestrians killed in traffic incidents, according to Tucson police.
I think everyone can hope the new signals can help make crossing the street safer.
Down the road
Crews with the Arizona Department of Transportation will be slowing traffic along Interstate 19 near Pima Mine Road this week as crews begin bridge deck demolition work.
The traffic shifts are scheduled between 5 a.m. and 5 p.m. each day. At times, traffic may be restricted to a single lane with traffic controlled by flaggers.