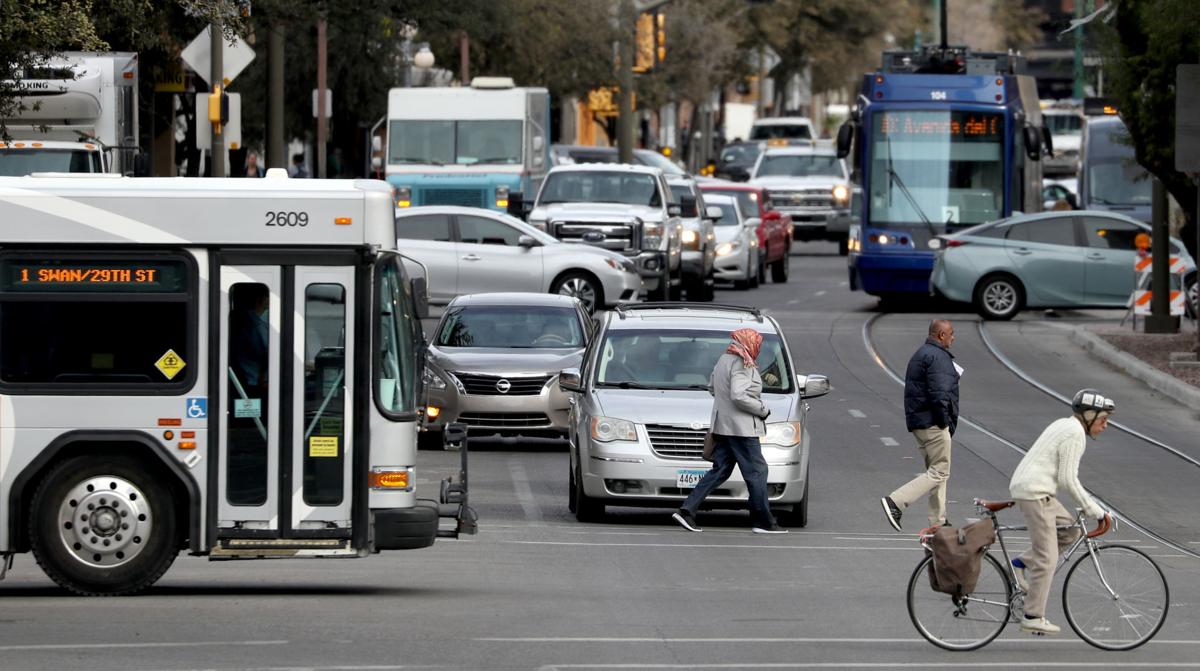 Fixing what we have and improving options for pedestrians, bicyclists and people who use public transit is what Tucson leaders need to focus on over the next two decades, according to early responses to a survey that could guide transportation and mobility planning here.
"Move Tucson," an effort to create a 20-year, citywide master plan addressing transportation and mobility projects to help people move around more safely, was launched last week by the city's Transportation Department.
The project will take about 15 months to complete. It will cost about $500,000.
"This particular plan will not be a study or piece of paper that will land on someone's desk. ... This is going to be an action map for mayor and council," Tucson Mayor Regina Romero said during Wednesday night's launch event.
"Your participation in this process is of utmost importance," Romero said. "We're setting a long-term vision of how we invest in our community and how we expand access and equity in our investments in infrastructure in our city."
By the event's end, those offering their input in a live poll overwhelmingly agreed on two choices: prioritizing maintenance of the city's existing transportation infrastructure and providing better walking, biking and public transportation options.
Erin McWilliams, one of the people who attended the launch, said she lives car-free and is generally able to accomplish her daily tasks.
But, she added, "there are definitely some improvements that could be made."
"The things that would make my daily experience feel safer and more pleasant would be protected bike lanes, transit that operated more frequently, especially on the weekends when it only runs once an hour and stops at 8 p.m. on Sunday, and having sidewalks in most central-city neighborhoods."
Transportation officials along with the firm, Alta Planning and Design, will take responses from last week and then allow Tucsonans to make more recommendations this spring with an interactive map.
So far, nearly 1,000 people have filled out an online survey, which is open until June.
Overall, 66% of respondents want transportation officials to balance needs for all travel modes.
A majority not only want safety for all road users, but extensions to services such as the Sun Link streetcar and Sun Tran buses.
"I was really impressed that the city is taking a forward-looking approach to this and realizing that if we're going to grow, we have to put these systems in place to accommodate future citizens and future development," said Steve Braun, who frequently rides his bike along with his wife.
"Were both cyclists, so we get around town a lot on bicycles. If you do that, it becomes really apparent how car-centric our city is."
During his keynote speech, Gabe Klein, co-founder of the advisory firm Cityfi, pointed out some of the efforts a city should make to eliminate traffic congestion.
"What we want to do is get the 25% of people driving these trips less than a mile in cities, or the 60% of people driving less than 3 or 4 miles, if we can get them out of their car then suddenly we don't have any congestion problem and we don't really have an emissions problem," Klein said.
This plan can surely have economic impacts as safe infrastructure will attract people to different areas, Klein added.
"When they go there, what do they do? They spend money, or they buy a condo, they say, 'Hey you know what, I can live here with my children and I would feel comfortable living here with my kids if my kids could cross the street safely,'" Klein said. "That's how we get the economic impact." Down the Road
Improvement work on Grant road this week: On Monday through Friday, crews will perform underground work within the outside lanes of eastbound and westbound Grant Road.
Work will take place from 9 p.m. to 5 a.m. each night.
Eastbound Grant Road lane closures will be from the I-10 westbound frontage road to Flowing Wells Road. Westbound Grant Road lane closures will be from Flowing Wells Road to the I-10 eastbound frontage road.
Access to businesses will be maintained.
Contact Star reporter Shaq Davis at 573-4218 or sdavis@tucson.com
On Twitter: @ShaqDavis1