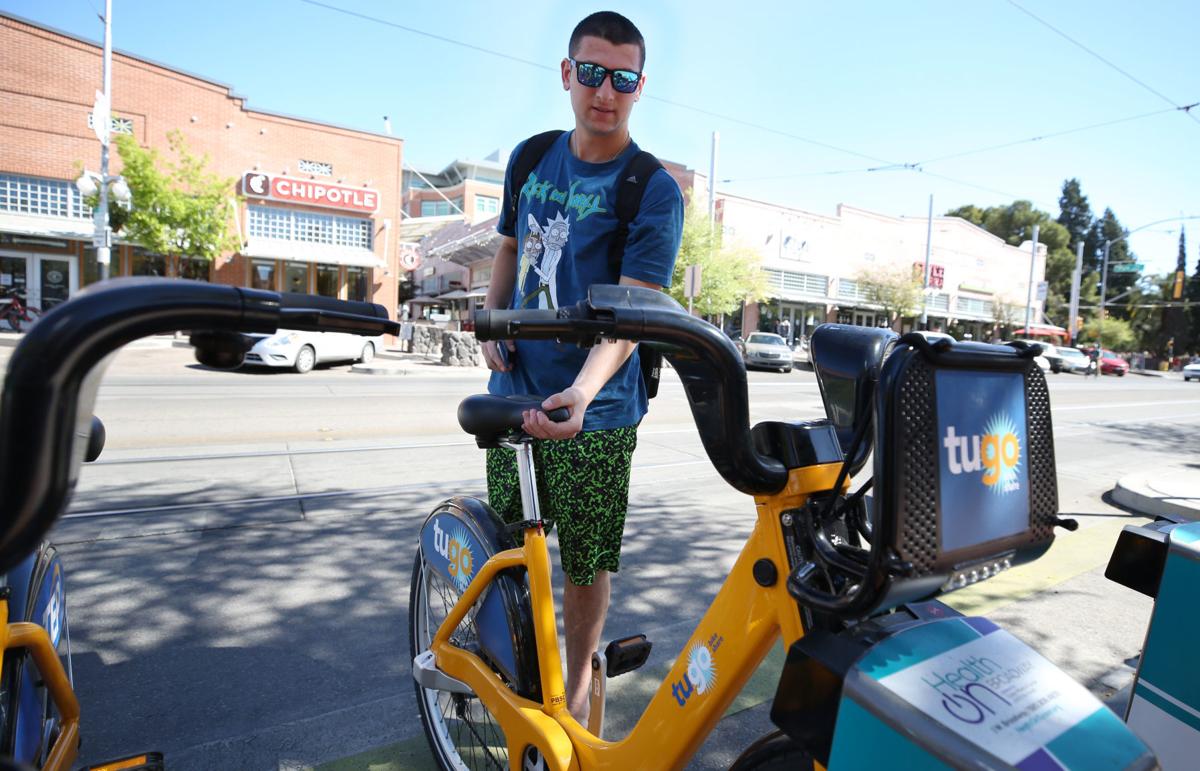 Tugo's signature yellow bicycles have been buzzing around the city's center for a little over four months now, and the miles have been adding up.
Riders have taken 11,000 trips and put in over 8,000 miles, according to the most recent bike-share report submitted by Shift Transit, the company managing the city-purchased system of 36 stations and 330 bicycles. The Road Runner obtained the report through a records request.
From the November launch through March 19, users purchased nearly 1,400 day passes, 182 monthly passes and 207 annual passes. Roughly 17 percent of those annual passes were steeply reduced Access passes for low-income riders, a level of participation Shift is pleased with.
One of the key performance metrics — average daily trips — has crept up from 86 in November to just over 100 in March. That works out to roughly 0.3 trips per bike per day, another key performance metric.
There has also been relatively little vandalism, no bikes have gone missing and riders rarely — if ever — find racks completely empty or with no spaces to return a checked-out ride.
"I think things are moving in the right direction," said Andy Bemis, the city transportation department's bicycle and pedestrian program coordinator. "March is on track to be our highest ridership so far."
But the data also reveal some areas of concern. While a number of the stations are seeing heavy usage — especially around the University of Arizona and along Fourth Avenue — there are a number of stops with very light ridership.
At the bottom of the list, the Menlo Park stop has had just 26 bicycles checked out since November. There were six others that had fewer than 100 bicycles rented since the launch.
"We don't expect every station to be a perfect picture of high rides," said Nick Grzebienik, Shift Transit's local operations manager.
That being said, there could be ways to get those numbers up. The low figures could suggest that there aren't enough nearby stations to draw ridership or, perhaps, nearby residents simply don't completely understand how the system works and how they might benefit.
If that's the case, "that's on us," Grzebienik said, adding that the company intends to do a number of outreach events in the near future. Bemis said Shift is considering bringing on another full-time marketing employee.
Bemis said some current stations may just not make sense in the long run and could eventually be moved, but there's not enough data yet to make those decisions.
In its response to the city's solicitation for a bike share, Shift forecast that it would have 0.65 trips per bike per day the first year, roughly double the current rate. A 2015 feasibility study also shows that that rate is substantially higher in some peer cities with bike-share programs. For example, Denver was at 1.02 trips per bike per day. At 0.4, San Antonio was the closest city to Tucson's rate.
Grzebienik said his company is happy with the current stats, but said it could get up to the forecast numbers "within a year."
Increasing community involvement will be a big part of that, he said.
To that end, Tugo will have a presence at this year's Cyclovia, on April 8. It's also planning what they're calling an "A" Mountain Challenge, in which racers try to get the brightly colored bikes up and around Sentinel Peak in less than 30 minutes.
"We're excited with the direction this is going, and we're looking to expand soon here," he said.
DOWN THE ROAD
The Arizona Department of Transportation is promising a three-lane Interstate 10 from Tucson all the way to Casa Grande within the next 18 months. One of the two widening projects necessary to get there is expected to start this week, and the agency is saying travel delays during the project should be minimal. The $36.6 million project will start just south of Earley Road and extend to the I-8 junction. Periodic lane closures will be in effect, but only at night. The other widening project is underway on I-10 near Eloy, where crews are adding lanes, a new traffic interchange at Arizona 87 and creating a new dust-detection zone. That project, which started in December, is to be completed in fall of 2019.
There will be lane closures at I-10's intersection with South Wilmot Road this week. Westbound I-10 will drop to one lane from 8 p.m. Monday through 5 a.m. Wednesday. The same will occur on eastbound I-10 from Tuesday evening through Thursday morning.