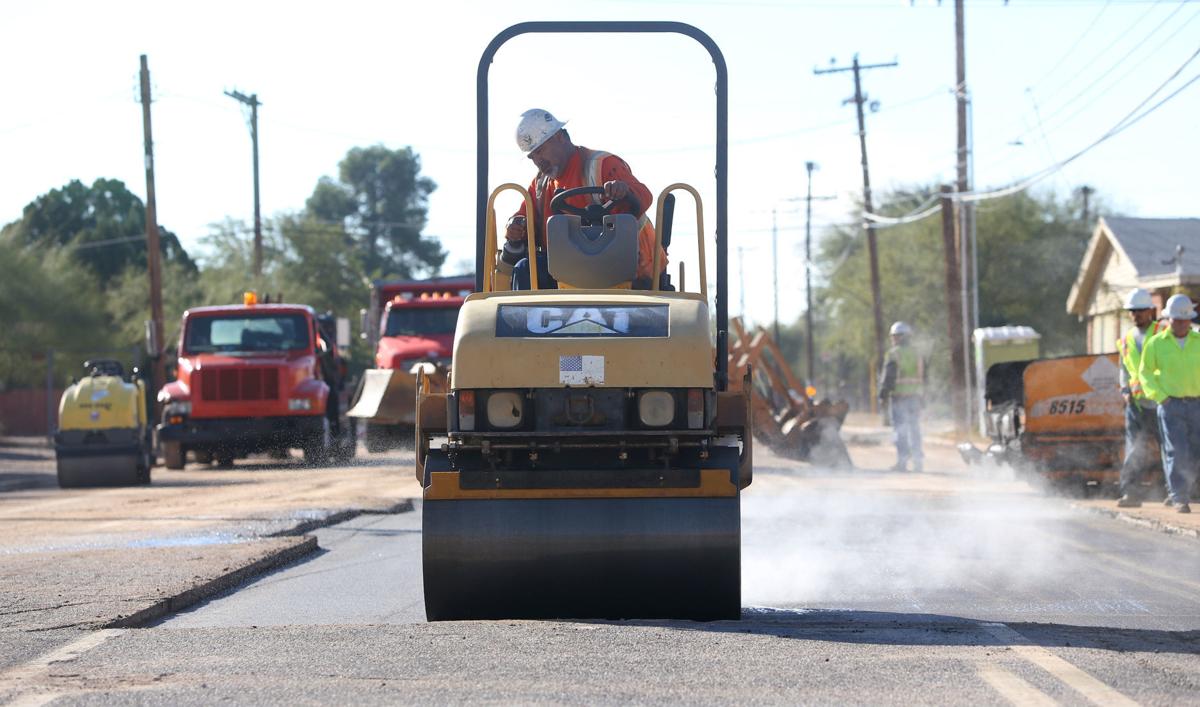 Getting all local Tucson streets back to good condition is an undertaking best measured in the hundreds of millions of dollars. Tucson's interim transportation director, Robin Raine, put the figure at $650 million at a meeting last week.
However, the pot of money available over the next five years is $40 million, and it's the unenviable charge of the city's Bond Oversight Commission to decide how best to divvy it up between the countless city streets that desperately need attention.
"There almost are no wrong answers," Raine told the commission last Tuesday. "Any neighborhoods you choose for any scenario will absolutely need a treatment."
The commission was originally set up in 2012 to oversee Proposition 409-funded roadwork, and now it's on to Proposition 101, a half-cent sales approved by a wide margin by city voters last May. $100 million of its estimated $250 million proceeds are slated to go to road repair, and $40 million of that is dedicated to local streets. The remainder goes to the police and fire departments.
There's a separate local road-repair effort funded by a 25-cent county property tax, but its renewal by the Board of Supervisors this summer is not certain.
The commission is currently considering three different distribution scenarios, which all share the goal of dividing funds roughly equally between the six City Council wards.
The first scenario takes 10 percent off the top — $4 million — and puts it toward priority bike boulevard segments in wards 1, 3, 5 and 6. Bike boulevards are low-traffic, low-speed local streets with improvements that make them safer for cyclists. The Prop. 101 funds would improve the entire street, not just elements for cyclists, according to previous commission meeting minutes.
The rest is divided evenly between wards and focused on areas with roads in the worst condition, a road-repair philosophy known as "worst first." The same criteria was used for Prop. 409 funds.
Scenario 2 doesn't take any funds off the top for bike boulevards, but does prioritize areas for "worst-first" repair that do have priority bike boulevards.
The third scenario takes some money off the top — like Scenario 1 — but puts only 5.5 percent toward the priority bike boulevard segments. Another 6.5 percent goes toward preservation of roads in better condition, less-costly interventions that can substantially lengthen the life of a roadway.
A final decision on the scenarios is expected at the commission's next meeting, on May 15. A PDF describing each of the scenarios is included in the online version of this story, as is a poll to weigh in on which makes the most sense to you.
But what's wrong with all of them, at least according to Councilwoman Regina Romero, is that they don't address the unequal way that Prop. 409 funds were distributed among wards.
Her office requested a ward-level breakdown of where local road projects were done and found that her ward — Ward 1 — had just over 7 percent of the total lane miles, the lowest figure among the six wards. At the top was Ward 6, which got nearly 38 percent of the lane miles.
"Ward 1 has 20% of the city of Tucson's population along with some of the oldest neighborhoods that experience the same or worse road conditions of arterial and residential streets," Romero wrote in a recent memo. "Concentrating the allocation of past funds in midtown, suggests the city's bias to concentrate improvements in the areas of town deemed most desirable for urban redevelopment."
Raine told the Road Runner there was no such bias at play in Prop. 409, and that ward differences there were due to the fact that the commission asked that the transportation department prioritize only "worst-first" roads and bike boulevards. Ward 6 Councilman Steve Kozachik also disputed Romero's account of the disparities.
"We did not look at ward boundaries," Raine said, adding later that total expenditures on local roads during Prop. 409 was just $15 million. In a follow-up email, the department also noted the number of local road miles in each ward varies.
During last week's commission meeting, Romero appointee Dan Castro proposed developing a fourth Prop. 101 scenario that would address the past Prop. 409 equity concerns so — at the end of the combined 10 years of the two programs — "We would have a more level outcome."
The idea got some pushback from other members.
"Chasing equity is a very complex issue," city manager appointee Dale Calvert said, adding later that there wasn't even a Prop. 409 spending breakdown by ward.
"I don't think there's any magic number (where) we can say, 'Oh, we've achieved equity,'" he said.
"The more we try to remedy past injustices or inequities, the more complicated it gets," said Bruce Burke, another city manager appointee.
Others questioned whether residents even think of the city as divided into wards, suggesting that ward disparities might not really register as an issue.
"People only know their neighborhoods," Ward 3 appointee Ian Johnson noted.
DOWN THE ROAD
On Monday, county crews will be repairing pavement along West Valencia Road's westbound lane between South Mission Road and South Camino de la Tierra.
Concrete repair work will also be done at the intersection of Valencia and South Cardinal Avenue. Work will take place between 9 a.m. and 2 p.m., during which the median lane will be closed.