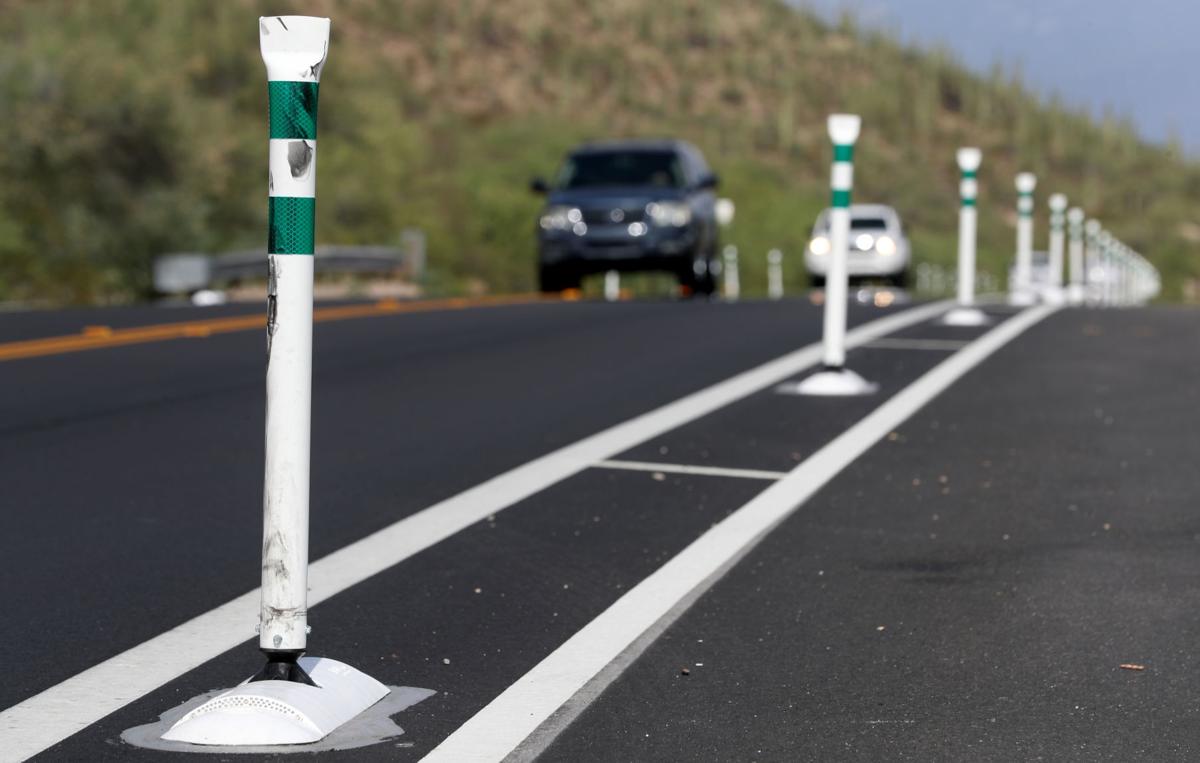 Flexible, barrier-like posts are being used more by Tucson transportation officials to help create safer paths for bicyclists and pedestrians.
You'll see hundreds of these posts, called flexible delineators, lining both sides of the resurfaced West Starr Pass Boulevard west of Interstate 10.
Officials say the flexible plastic posts are an improvement over the standard striped bike lanes Tucson's drivers are used to seeing.
"The idea is to provide some vertical elements, some physical separation between high-speed traffic and people biking and walking, to try to make it safer for people on a bike and attractive to people who are less comfortable riding," said Andy Bemis, Tucson's Bicycle and Pedestrian program coordinator.
Bemis said he hopes this path provides more riders with a "low-stress bicycle connection" to trails near the Starr Pass Resort area and The Loop on the Santa Cruz River.
"There's only a very small segment of the population that feels comfortable riding in a standard bike lane next to high-speed traffic and there's a lot of people who express interest and desire in riding a bicycle," Bemis said.
"But they don't feel comfortable doing so without better separation from high-speed cars."
The posts have been used for at least the past couple of years on St. Mary's Road, getting beat up in the process.
But the surrounding community was appreciative of the city's actions.
"The great thing about these is that they can be hit by a vehicle without endangering the people driving," Bemis said.
"They're flexible, so they can be hit and pop back into place. They might get a little scuffed up, eventually if it comes entirely out or they're severely damaged, they'll need to be replaced," he added.
On Starr Pass, 262 flexible delineators were spread 50 feet apart along the road at a cost of $28,558, or $109 each, according to Bemis.
The flexible posts are tools to safely separate cyclists from vehicles, according to the Living Streets Alliance, an organization that advocates for safer roadways.
"As a person that rides their bicycle every day for transportation and often rides with my 4-year-old son on my bike or with me, they add to the feeling of safety and comfort for people on bikes," said Kylie Walzak, the organization's program manager.
The flexible delineators should cause drivers to pay more attention to the roads.
They also have reflective material to make them useful at night.
Walzak also said the posts look like they've done their jobs after seeing the aftermath of their use on St. Mary's Road.
"Those flexible delineators have taken a beating. Many of them are missing. They're blackened from how many times they've been hit by drivers," Walzak said.
More of the posts went up last week along West Speedway west of North Greasewood Road, a route likely to be used by students at Pima Community College's nearby west campus.
Should Tucson drivers expect more flexible delineators? It depends.
The Transportation Department is monitoring how often the posts need to be replaced as well as how much money is available in the maintenance budget to fix them, Bemis says.
It'll be worth it if a post brings a distracted driver's gaze back to the road, according to Walzak.
"If that causes somebody to look up off their phone or snap out of whatever they're doing because they hit this thing, then that could be somebody's life their saving," she said.
Down the Road
Pavement repair planned for Sabino Canyon Road: Lane restrictions will be in place Monday night on North Sabino Canyon Road from the Tucson city limits to East Cloud Road.
The pavement rehabilitation work is scheduled from 7 p.m. to 5 a.m. each night through Thursday, July 25. Motorists should expect minor delays in the area.
Overnight lane closures set for I-10 near Sacaton: Motorists should expect overnight lane closures on Interstate 10 near Sacaton beginning Sunday night as crews work on improving the road.
Crews will reduce I-10 to one lane from 8 p.m. to 5 a.m. between Arizona 387 and Casa Blanca Road, Mileposts 176 to 186, each day through Friday, July 26.
All ramps will remain open. Motorists should use caution and watch for personnel in the surrounding area.
Contact Star reporter Shaq Davis at 573-4218 or sdavis@tucson.com
On Twitter: @ShaqDavis1
Get local news delivered to your inbox!
Subscribe to our Daily Headlines newsletter.