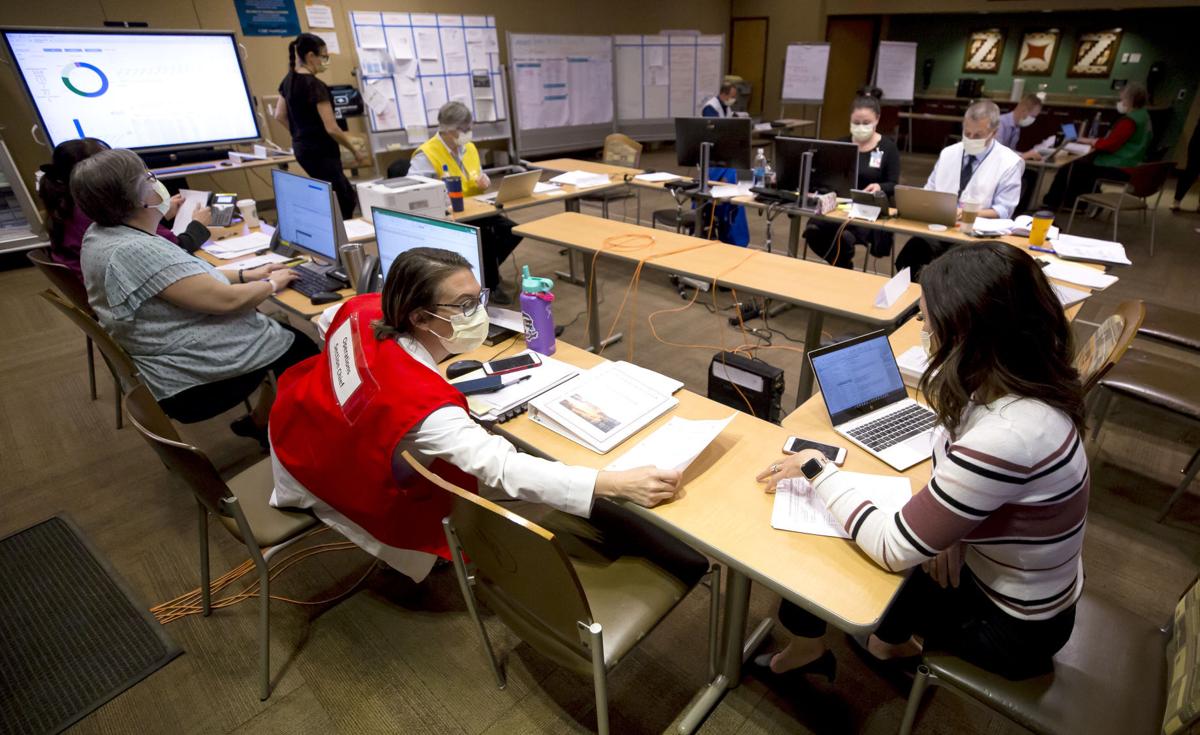 On a day the number of known COVID-19 deaths in Pima County reached four, Tucson Mayor Regina Romero bucked the recommendations of Gov. Doug Ducey, ordering the shutdown of "non-essential" services within the city limits.
Romero's move is not a full "stay-at-home" order but does order the closure of the services — except those defined earlier this week as "essential" in a Ducey order — to close at 8 a.m. Saturday through at least April 17. That includes businesses previously ordered closed by Romero last week, as well as retail and call centers that don't provide essential business.
Romero's proclamation also recommends, but does not order, some businesses that were included by Ducey as essential to close during the same period. This includes hair and nail salons, spas, barbershops and other "hygiene services."
The order further advises, but does not mandate, that Tucsonans stay indoors "except as may be needed to address essential needs (like getting food and prescriptions, traveling to work if employed in an Essential Function, and getting some exercise and fresh air)," according to the proclamation.
"In the absence of clear statewide direction, we are taking swift action at the local level to protect the health and well-being of Tucsonans," Romero said in a statement.
"We cannot afford to wait any longer; COVID-19 is not waiting and neither can we. If Governor Ducey is unwilling to take decisive action at the state level, then he needs to untie the hands of local jurisdictions and allow us to make decisions that are best for our individual communities.
"This is particularly critical with respect to the operations of 'personal hygiene' and other services that conflict with CDC social distancing guidelines and could jeopardize public health."
It would be up to business owners to check Ducey's proclamation to see if they are defined as essential or non-essential, said City Attorney Mike Rankin. (Ducey's list can be found at tucson.com.)
The city's actions come as both the Tucson City Council and the Pima County Board of Supervisors voted to urge Ducey to issue a shelter-in-place order across the state.
Ducey said earlier Friday that he thinks the state is already all but shut down and that he would keep the shelter-in-place in the arsenal and "use it in a heartbeat" if he needs to do so.
Ducey issued the emergency proclamation earlier this week. The list of what he considers essential — and off-limits to local restrictions — is broad, ranging not just from traditional health and public services but to payday lenders and pawnbrokers to golf courses and the sale of firearms and ammunition.
And to drive home the point, it says any order by a local government restricting people from leaving their home during the emergency "shall be consistent with advice from the Arizona Department of Health Services." It also says any order must be "coordinated with the state prior to issuance."
The mayor of Flagstaff had already opted to go beyond Ducey's recommendations, shuttering hair salons, beauty parlors and "similar businesses" due to the threat of COVID-19.
After the Flagstaff mayor's move, Sen. Vince Leach, R-Tucson, threatened to file a complaint with Attorney General Mark Brnovich accusing Flagstaff of disobeying state law. And if Brnovich were to side with Leach, the mayor would have to rescind the order or face possible loss of state aid.
Leach said if other cities follow suit, including Tucson, he will file similar complaints against them.
Earlier this week, Ducey also brushed aside questions, many raised by mayors who had written to him, about why he considers golf courses, playgrounds and personal-care facilities like spas and massage parlors to be "essential" — and beyond their ability to close.
"Our directives have been in guidance with the CDC, the NIH (National Institutes of Health) and the Arizona Department of Health Services," he said.
"They're not going to be political decisions. And they're not going to be guesses."
The number of confirmed coronavirus cases in Arizona is up to 665 as of Friday morning, with 102 identified cases in Pima County.
The Arizona Department of Health Sciences has identified 13 coronavirus-related deaths throughout the state.
The Pima County Health Department released a statement Friday indicating the latest deaths involved a man and a woman, both in their 80s.
"Both individuals had medical conditions that may have put them at higher risk for severe illness," the statement said. "People who are older and those with other medical conditions should take extra precautions to protect themselves.
No additional information was provided about the deceased, including whether the cases were related or what their medical conditions were.
Pima County's first fatal COVID-19 case was a 54-year-old Tucson woman who died at Tucson Medical Center on Monday. The women had diabetes, which put her at higher risk for developing more serious coronavirus symptoms. She died within hours of finding out she was positive.
The second death, which was announced Thursday, was a man in his 70s with "other health conditions that may have put him at higher risk."
The Pima County Health Department's website said the local cases include one patient between the ages of zero and 17, 36 patients between the ages of 18 and 40, 35 patients between ages 41 and 65, and 25 patients ages 66 and older.
The ages of five patients are unknown.
In a Pima County Board of Supervisors meeting on Thursday, Health Department Director Dr. Bob England said that as testing becomes more available, cases would continue to rise, but the state doesn't have the capacity to do the amount of testing necessary to get the full picture.
"We should assume that this infection is all over the community," he said during the meeting. "The numbers we have more reflect the availability of testing, or the lack thereof, than they do the reality of what's going on out there.
"We are seeing influenza-like illness pick back up during a time when influenza test results have declined. That means that what is actually going on is that this virus is causing an awful lot of respiratory illness that we just don't have at this point the capacity to test for."
Dr. Francisco Garcia, Pima County's chief medical officer, said Thursday that the lack of necessary supplies to collect samples for testing "remains our single biggest hurdle."
According to Garcia and England, the lack of supplies is the biggest reason why testing is limited and only reserved for those who are really sick, health-care workers who are symptomatic and others with symptoms who were likely exposed to COVID-19.
Health Department officials said they are working with suppliers and doing what they can to get more testing kits and other medical equipment, but explained that people are fighting to access these resources all over the country.
"Jurisdictions are competing against jurisdictions and we're competing against the federal and state government," Garcia said.
As the virus continues to spread and cases rise, the Health Department is advising community members to social-distance as much as possible, especially those who could be at higher risk for developing more severe symptoms. This includes the elderly, people with serious heart or lung conditions, asthma, diabetes or anyone who is immunocompromised.
As part of its health emergency measures, Pima County Natural Resources, Parks and Recreation announced Friday it would close all ramadas at public parks starting March 30.
The department will no longer accept reservations for ramadas at county parks through the duration of the pandemic. Refunds will be issued to anyone who has already made a reservation.
The town of Oro Valley also announced that it would close playgrounds, basketball courts, volleyball courts, fenced dog parks and ramadas at town parks to the public effective at 8 p.m. Friday.