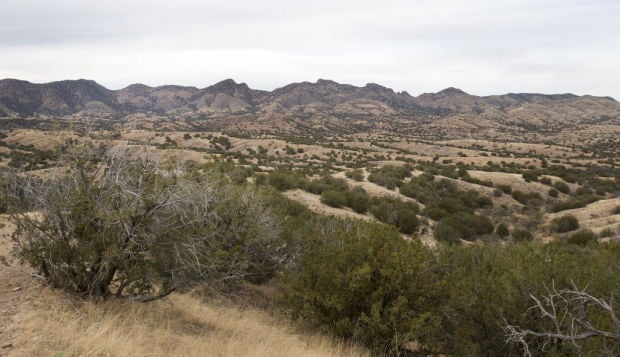 With copper prices their highest since 2014, the Toronto firm proposing to build the Rosemont Mine is telling investors it will be ready to start construction next year if its final permit comes through.
Hudbay Minerals Inc. is also telling investors it expects to start mining there in 2022.
Under that scenario, Rosemont's copper production would represent about half of Hudbay's total copper production in the Western Hemisphere in the mid-2020s, its slide presentation shows.
Rosemont would be the third largest copper mine in the United States, employing about 400 people.
The comments came in Hudbay's presentations at investor conferences this month in Toronto and in Whistler, British Columbia.
"Copper prices are now in the range we have said is necessary to build the project. We anticipate being able to fund construction of the project" from Hudbay's internal cash flow and other revenue sources, Hudbay told the Star in a statement Thursday.
The company and its predecessor Augusta Resource Corp. have long said they're confident of obtaining financing for construction and equipment purchases when and if permits are obtained. Augusta raised about $400 million to $500 million of the $1.9 billion needed to build the mine and accompanying facilities, but no announcements of additional financing have been made for some time.
In its statement, Hudbay said additional financing "is confidently expected, but we have nothing further to announce at this time."
A U.S. Army Corps of Engineers Clean Water Act permit remains the biggest obstacle standing in the way of the project.
Hudbay and Augusta Resource Corp. have secured numerous other state and federal permits for the project in the Santa Rita Mountains southeast of Tucson, including from the U.S. Forest Service and the Arizona Department of Environmental Quality.
But the Corps permit remains a bone of contention, pitting the mining company against the U.S. Environmental Protection Agency and lower-level Corps officials. The Corps has no timetable for a final decision, agency spokesman Edward Coffey said recently.
Hudbay's timeline represents a change of position for the company from two years ago, when copper prices had dropped from $4 a pound in 2011 to the $2-$2.25 range in early- to mid-2016.
At the time, Hudbay was declining to predict when construction could start, even if permits to build the mine were granted promptly, which they weren't. It was warning that copper prices might stay that low or go only a little higher by 2018. Company officials had said they wanted a $3-per-pound price to justify starting construction of any new copper mine, not just Rosemont.
But with the global economy finally pulling out of a decadelong rut, copper prices have rebounded faster than many experts expected. This month, they've bounced around in the $3- to $3.20-a-pound range and peaked at $3.27.
Hudbay gave the investor presentation at conferences sponsored by TD Securities in Toronto and CIBC World Markets in British Columbia. The sponsoring companies are investment banking firms.
In the mine's first 10 years of operation, annual copper production would average 280 million pounds. That estimate tops earlier estimates of 224 million to 240 million.
Investors in the mine should gain about a 15.5 percent rate of return after taxes, compared to 17.7 percent when invested in Hudbay as a whole, the company said.
The company pegged the mine life at 19 years, slightly lower than past estimates of as high as 25 years.
Hudbay expects to spend $144 million in its first year of construction, $861 million in year two and $768 million in year three. The remaining $127 million or so would be spent when the company ramps the mine into production.
While the copper market is historically volatile, the Hudbay slide presentation said the mineral has "strong, long-term fundamentals." One is that it takes long lead times to bring new mines into production.
Depletion of copper reserves and other factors mean global copper production will fall after 2020, Hudbay said. A tight metal market should exist early in the 2020s, and "further potential demand upside" is likely from increased use of electric vehicles and renewable energy.
But the obstacles to the final Rosemont permit from the Corps remain. The Corps' Los Angeles District recommended denial of the permit in July 2016. The final decision will be made by the agency's San Francisco-based South Pacific Division. The lower-level officials said the company's plan to compensate for mine impacts to creeks and washes was inadequate.
Hudbay has since updated its mitigation plan, but its 859-page document got a strongly negative review in November from the EPA.
At the same time, the mine continues to get strong support from Gov. Doug Ducey, the mining industry in general and the Tucson-area business community.
Environmental groups, however, have said they'll sue to overturn a favorable Corps decision, while Hudbay is certain to challenge an unfavorable decision.