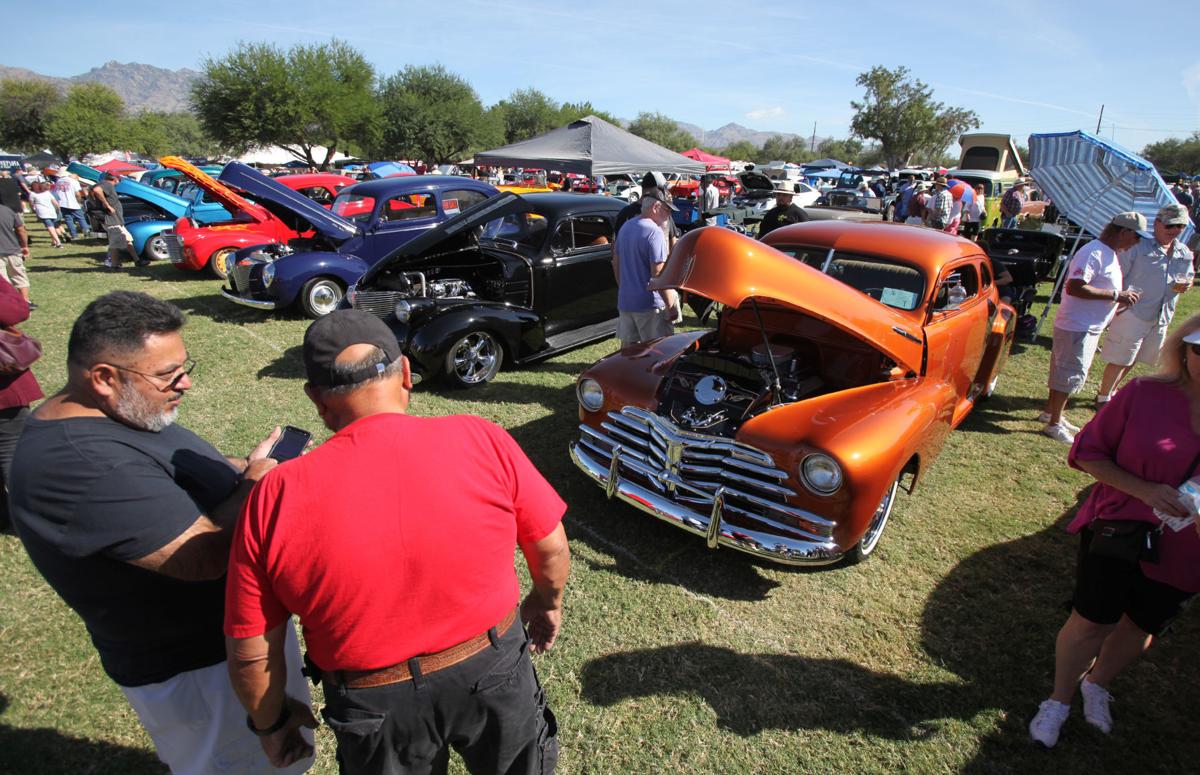 On Saturday, Oct. 19, the Rotary Club of Tucson plans to take "Lucky 13" from folklore to reality with the 13th Annual Tucson Classics Car Show.
"We are expecting to have another great show this year. We think it will be lucky for the public that comes out to enjoy another beautiful day and see more than 400 cool cars, and it will be lucky if we raise a lot of money to give to our three charities: Make Way for Books, Interfaith Community Services and the Reid Park Zoo," said Jason Grabosch, chair of the fundraiser that has become synonymous with fall in Tucson.
The event has also become a vehicle for charitable giving: Since its inception, it has funneled $1.45 million into Southern Arizona charities. In the past three years, more than $228,000 has been gifted to Make Way for Books, which will remain the primary beneficiary until 2021.
The early literacy nonprofit utilizes a multi-generation approach in its mission to ensure that all children have the opportunity to read and succeed. The organization provides programs, services and resources to 30,000 children, parents and educators each year.
"The Tucson Classics Car Show was founded to support literacy. Everyone knows how important early literacy programs are for children who want to succeed in school and for educators, and eventually for employers and businesses who need to hire qualified employees. Make Way for Books benefits the entire community in the long run," said Grabosch, who joined the service organization 14 years ago.
Contributions from the Rotary Club of Tucson are changing the literary landscape of Tucson, according to Jenny Volpe, CEO of Make Way for Books.
The grants fund the Make Way for Books Family Education and Literacy Strategy, which provides high-quality literacy and language experiences for children from birth to age 5 and their families.
These experiences include "Story School" at neighborhood elementary schools and other locations in the community for low-income families who have no access to preschool.
"The parents and children come and get free books and learn together and we know that they go on to become good readers," Volpe said. "Based on a sample of children who participated in the program in prekindergarten years, 75 percent went on to score at or above the benchmark in reading assessments in kindergarten, first, second and third grades. It all begins with love of reading and exposure to great books."
Many Rotarians also help increase children's access to books at home through the Make Way for Books Blue Book House Project, which gifts new and gently used books to children in waiting rooms of almost 70 local social service agencies, medical clinics and other facilities throughout the region.
Volpe credits the Rotary Club of Tucson for its foresight in molding the next generation of readers while gifting the community with a fun and unique event that showcases a "big slice of Americana" for an affordable price.
"Rotarians take hard work, steadfast dedication and service to a new level," Volpe said. "Their incredible generosity translates into opportunity for our youngest children."
Young children will also benefit from the Rotary Club of Tucson's grant to the Reid Park Zoo, which will help develop a biologically diverse World of Play that will allow children to "travel" through Antartica, the South American "rainforest," the California "redwoods" and other geographic areas.
The interactive playground, which is scheduled to break ground in summer 2020, will include opportunities for climbing, jumping, nature play and an "animal ambassador" education area.
"Nature play that brings kids outdoors is one of the highlights of our educational programs, and that is something that we want to emphasize in this playground,'" said Nancy Kluge, president of the Reid Park Zoo. "It will have water features and misters for kids to run through and cool down, and is just going to be a fun playground perfect for Tucson. We are especially proud of the fact that it is ADA accessible and are so grateful to the Rotarians and all the partners who are making it possible. The Rotarians truly exemplify 'service above self.'"
That service is evident in the mammoth Tucson Classics effort made possible by nearly 700 volunteers and 400-plus cars, which results in what Grabosch described as one of the two largest car shows in Southern Arizona.
"It is just a blast every year," he said.