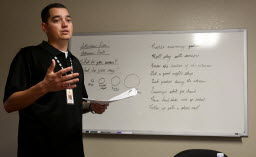 An Arizona inmate asked more than 30 elected officials to give a talk on prisoner re-entry. Just one said yes: Tucson Mayor Jonathan Rothschild.
Rothschild said he considered Monday's visit to Arizona's prison complex in Florence a chance to help prevent recidivism. He shared with about 140 male inmates what Tucson has been doing through its Second Chance Coalition, which Rothschild started with federal magistrate Judge Charles Pyle in 2012.
The coalition's goals include creating job opportunities for reintegrating inmates and helping them find resources. It has held two job fairs and two symposiums so far, and more are planned for 2016.
But Rothschild emphasized Monday that it's the inmates themselves who must start planning for their futures, and long before they leave the prison walls behind.
"Your best chance for success occurs while you are still here," Rothschild told the attentive group in a medium-security unit. He urged them to focus on finding a job, housing and counseling.
"Avoid people and places that are associated with your old lifestyle," he said. "When you get out of here, you may need to find a whole new set of folks."
He also encouraged inmates being released to probation services to immediately connect with that officer, and to "treat him as someone who is there to help you, not bust you."
Lastly, Rothschild urged them to read.
"Many people who end up in prison aren't good readers," he said. Reading, he said, expands the mind and helps people "stay out of trouble."
"It's important for our community as a whole that what happened before doesn't happen again," he said.
Arizona Department of Corrections' records show 1,617 inmates were released in October, including 1,409 males and 207 females. Of those, 223 returned to Pima County.
About 95 percent of people housed in state prisons will eventually return home, an American Friends Service Committee report shows. And a 2011 PEW Research Center study on recidivism found more than four in 10 people returned to state prison within three years of release.
Rothschild's visit this week was unusual.
"Public officials frequently tour ADC facilities," said an Arizona Department of Corrections spokesman, Andrew Wilder.
"While it's common for them to speak with inmates during a visit, it isn't very common that they come with the requested purpose of formally addressing a group of inmates, as did Mayor Rothschild."
After Rothschild's talk, an inmate sang Sam Cooke's, "A Change is Going to Come Someday" with piano accompaniment from a fellow inmate. Several then asked questions about voting rights, college admission requirements, employment and homelessness.
Rothschild encouraged their questions and, afterward, said talking to the inmates was "not that different from going into a classroom."
"If I can reach two out of three kids or, today, two out of three people, then it was well worth my time," he said.