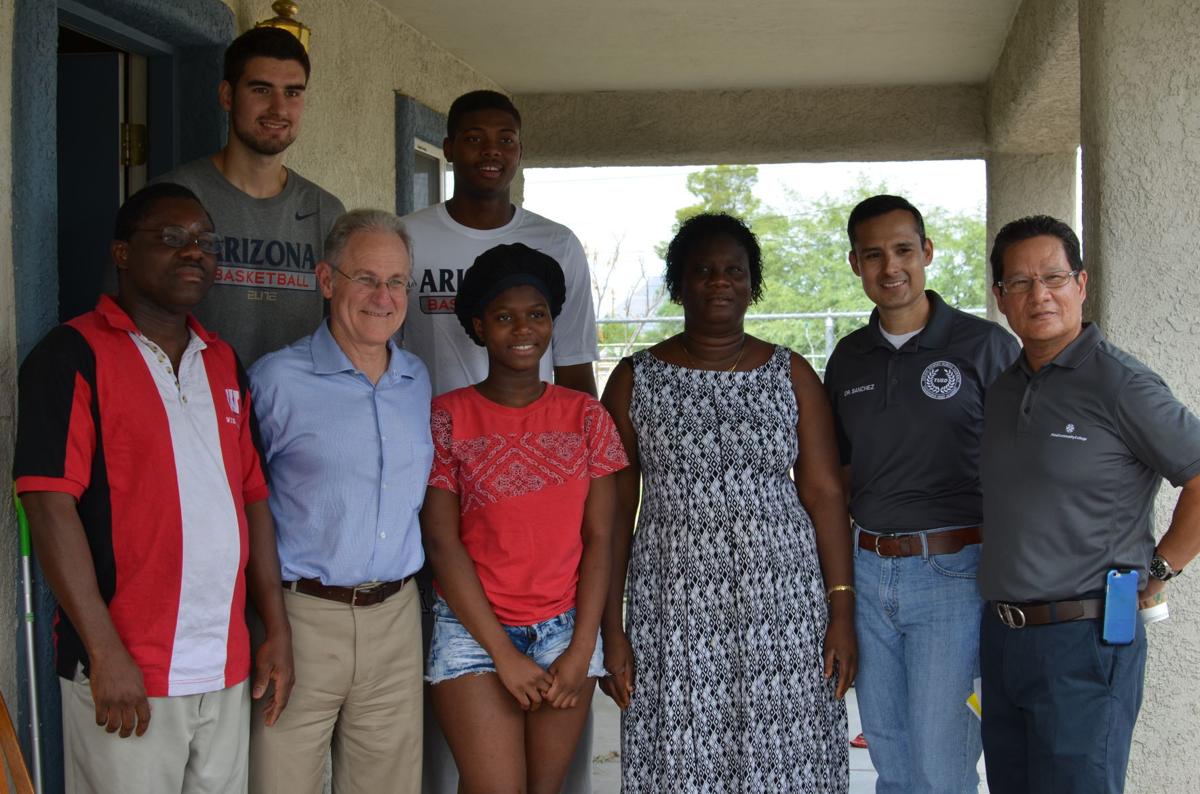 Saying he's accomplished what he set out to do, Mayor Jonathan Rothschild has decided not to seek a third term.
Rothschild says the city is in a better place than seven years ago when he took office, and he wants to explore other ways to improve the community, which are all reasons why he won't be running in 2019.
"It's a personal decision," Rothschild says. "It's a difficult decision. And I'm honored to have served the city that I was born and grew up in."
There are little details from his tenure that Rothschild is sure will always come back to him, like the time he and a University of Arizona basketball player knocked on the door of a refugee family to persuade their teenage daughter to finish high school.
They were participating in the Steps to Success initiative, a partnership with Tucson Unified School District and one of the many social initiatives Rothschild spearheaded. He and other local public figures went door-to-door speaking with families whose teens were not in school, asking what they could do to help them return.
Although the mother and father desperately wanted their daughter to return to school, she had been bullied and was terrified to return.
Rothschild and his partner, former UA basketball player Ray Smith, finally persuaded the girl to give it another try.
Rothschild laughs, remembering the girl grabbing her phone to take a selfie, then realizing she wanted to pose with Smith, not the mayor.
Along with economic growth, social programs like this one have been Rothschild's focus during his two terms. He's also headed initiatives to end homelessness, support and mentor vulnerable students, help the environment, support the arts, assist eligible immigrants obtain citizenship and more.
Meeting people across the community has been one of his favorite things about the job, he says.
"People tell you their stories," Rothschild said. "And in hearing their stories, you learn an incredible amount, and you hear their concerns."
When Rothschild took office, he had to work to fix Rio Nuevo, the 1999 voter-approved district meant to revitalize downtown Tucson that had suffered years of mismanagement. Rothschild says it took a while to rectify, but it eventually opened the way for a downtown renaissance.
His goal was to restore confidence in city government and bring in needed dollars for roads, police and parks.
"The one thing I hope I brought to the city is that as a community we have more confidence in ourselves," Rothschild said. "We are a big city, which means we have big-city opportunities. And we also have those kind of problems. But if we continue to work together, we can capitalize on our opportunities and overcome our problems."
He oversaw the passage of three voter-approved financial packages: the 2012 $100 million street bonds, last year's temporary half-cent sales-tax increase to raise $250 million for road repairs and public safety equipment and facilities, and a $225 million bond package to improve parks, which passed in November.
Rothschild oversaw the passage of zoning changes in the city's core to encourage responsible development. And he led an overt push for new business, resulting in the addition and expansion in Tucson of companies like Caterpillar, Hexagon Mining, Geico, Comcast, Raytheon and Amazon.
"I hope I have set the stage for continued growth and stability," Rothschild said. "I believe the council understands the need to grow the business space, and I'm confident that they will remain socially responsible."
Rothschild says he only accomplished what he did through the hard work of the City Council and staff as well as regional collaboration.
Tucson has a budget surplus for the first time since before Rothschild took office. The council decided to put the money into reserves. It also invested in new technology infrastructure and gave pay raises to city employees.
Rothschild still has another year in office and says he's not going to get lazy. He intends to keep working on making the infill corridors development-friendly, like on Oracle Road, South 12th Avenue and Broadway .
He's engaged in launching an urban innovation district, with a focus on renovating underused buildings and land to create a more livable, workable, walkable urban center and attract more young people.
He'll also continue to seek new annexation opportunities, like in the lower Foothills, to increase Tucson's portion of state-shared revenue for roads and public safety.
Rothschild also wants to work with the city housing department and others to help ease the high number of evictions.
Rothschild said his greatest disappointment is the Legislature's "continual limiting of cities' autonomy and revenue."
"If you look around the country, states thrive if they allow their cities autonomy," he said.
He'll probably take a month off when he leaves office, or more if his wife persuades him to take a long road trip, Rothschild says, half-joking. He's definitely going to spend more time with his wife and grandchildren — both 1½, born eight days apart.
He says running for another elected position isn't on his horizon. He might return to his old law firm, where both his sons practice.
Rothschild says he's confident in the city leadership that's in place. He says his replacement needs to be someone with patience, a good sense of humor and the ability to listen and collaborate.
He hopes Tucson's next mayor is in it for the right reason — to make lives here better. He also said he hopes the next mayor will embrace accountability for both triumphs and shortcomings and be smart enough to admit when they don't know something.
"You're the mayor of all the people, not just those on the left or the right," Rothschild said.
"That can be difficult because you want to stand for your principles, but you've got to govern from the middle. I think you're most effective governing from the middle.
"You have to build bridges. You can't burn 'em."