Two Tucson high schools are taking the stage to address tough social issues.
Salpointe Catholic High School examines gun violence with the play "Bang Bang You're Dead," and Tucson Magnet High School presents "Our Border Town," an original piece about immigration.
School shootings and immigration are issues many high school students grapple with daily. Theater can be a healthy way to deal with these complex social problems, said Noshene Ranjbar, assistant professor of psychiatry at the University of Arizona.
"Children have even less control over their lives than adults, so when they see injustices around them, their nervous system can react even more strongly," Ranjbar said.
Outlets such as art and advocacy are some of the best ways to cope with stressful situations and emotions, she added.
"Practicing speaking up, advocating and taking action is a learned behavior," she said. "When early in their lives they don't have the opportunity to speak up, be heard, or express emotions in healthy ways, it is harder to learn to do so as adults."
By tackling the issue of gun violence with "Bang Bang You're Dead," Salpointe theater teacher Ericka Quintero hopes to be able to provide support for her students.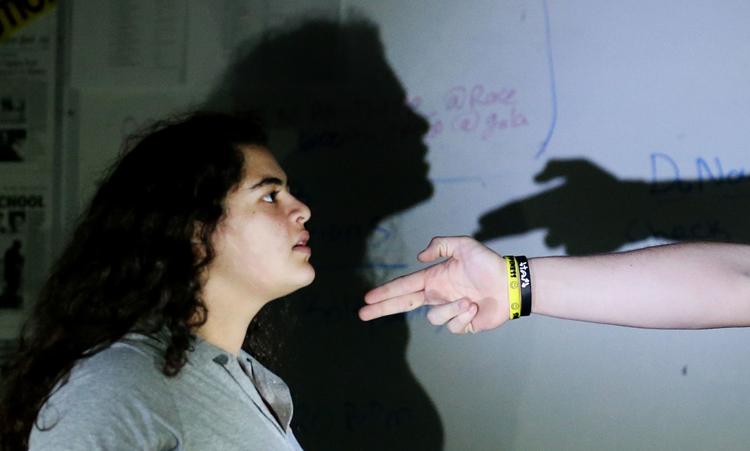 "I really felt that reaching out and using education to help support my school was important, and the best way I know how to do that is to contribute through theater," said Quintero. "And the kids were so excited to be a part of creating this awareness."
The play, by William Mastrosimone, addresses gun violence in schools as well as mental-health issues. It premiered in 1999 and is based on a school shooting that occurred in May 1998 at Thurston High School in Springfield, Oregon, where a student shot and killed his parents, two students and wounded 25 others. Along with Mastrosimone, the play was written by survivors of the shooting and performed for the first time at Thurston High School.
Salpointe is also participating in a nationwide campaign called "See/Hear Something, Say Something," featuring open conversations about gun violence and encouraging students to speak up when they see or hear something suspicious or questionable. According to Quintero, the shooters say a lot in the majority of school shootings, but nothing is ever reported.
"The school is working hard to raise awareness that we need to become vocal advocates for one another. We want to help our students see that they have power," said Dana Milne, Salpointe's artistic director.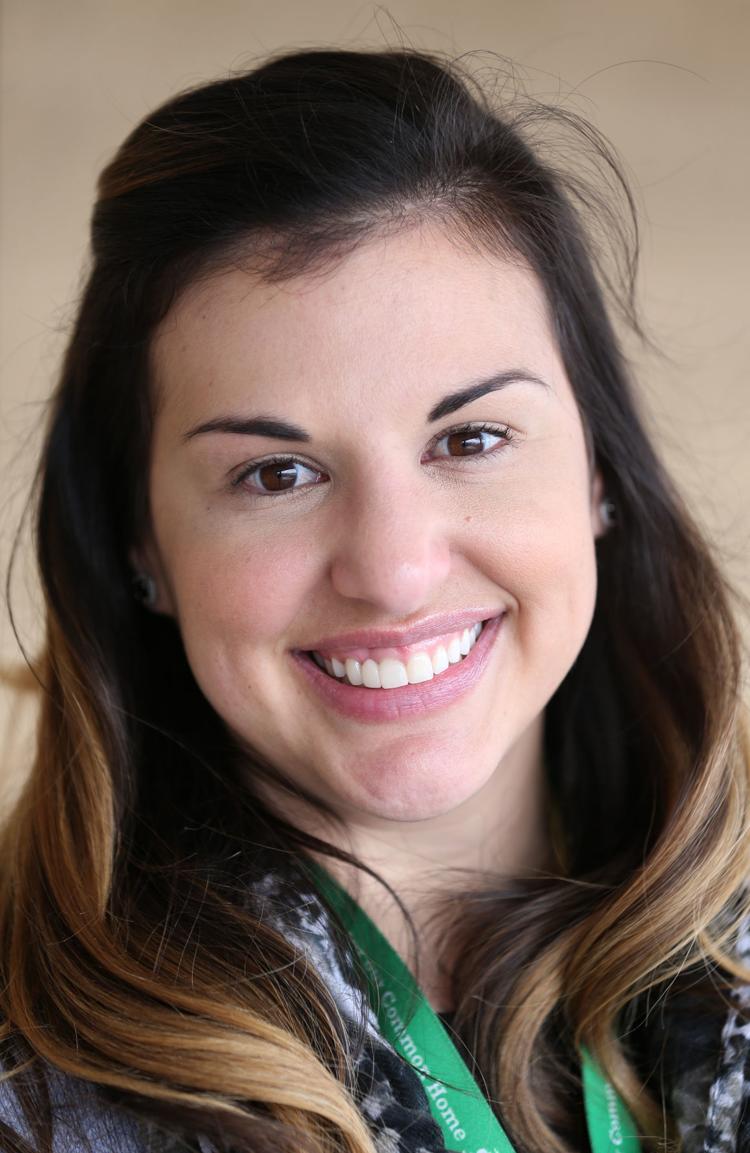 The students involved in the production of "Bang Bang You're Dead" say they are thankful for the opportunity to speak up about this issue and hope they can make an impact on their school and community.
"I feel like a lot of things in this show hit home because some of these things are preventable," said Sophie Smith, a senior who plays the shooter's mother.
"The concept of mental illness is also a big factor in this, and it gets a discussion going about reaching out to people who are mentally ill so they don't get to that dangerous place."
Tommie Irish, a sophomore who plays the shooter, discussed the emotional toll that this type of production can have on young actors and how he prepares for his performance.
"I have to imagine myself as someone with a mental illness and I have to really think about hearing voices in my head and take into consideration what really goes into somebody doing such a drastic, violent thing," he said. "Because it's not as simple as just bringing a gun to school one day. It's kind of a buildup of things. So I have to have that understanding."
By using theater to open a conversation about gun violence in the community, Salpointe students said they hope to help create nationwide change.
"I definitely have a fear that this could happen to me, especially after the Parkland (Florida) shooting happened, because it was very publicized and there were actual videos from the shooting. It felt like this could really happen to us," Smith said.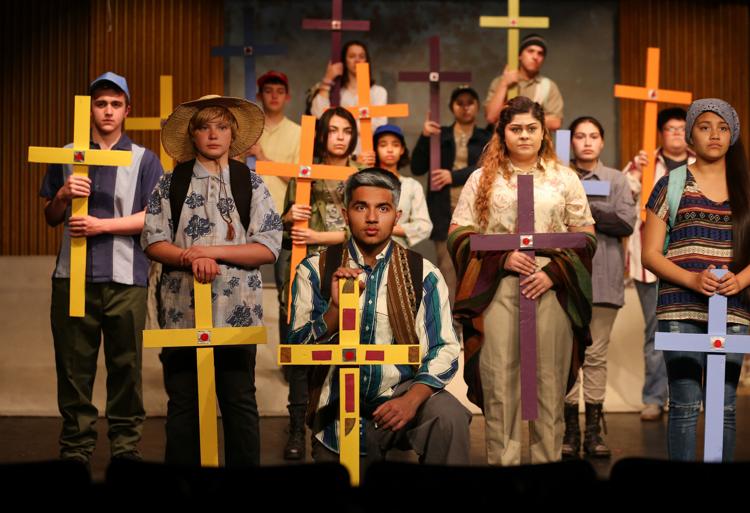 "Our Border town"
Students at Tucson High are tackling another relevant social issue with the premiere of "Our Border Town," an original play by Amy Almquist.
With 45 cast and crew members, the documentary-style play is based on interviews with members of the Tucson community, including migrants, Border Patrol agents, humanitarians, undocumented students and militia leaders, all with different perspectives on the border issue.
"I want people to see that everyone has a story and everyone has a perspective that is born out of their own personal experience," Almquist said. "And when we can see other people's stories, whether we agree with them or not, we can develop a level of compassion."
Her husband, Art Almquist, and Julian Martinez, both drama teachers at Tucson High, said the project attempts to humanize the border issue and dive beyond political affiliation.
"One of the goals of this play is to get the human perspective back on this border crisis and to create empathy for the humans that are involved, as opposed to how much strife and stress and conflict that the politics behind it cause," Martinez said.
Art Almquist said students were immediately engaged with the idea of taking on such a controversial topic and felt strongly about telling the stories .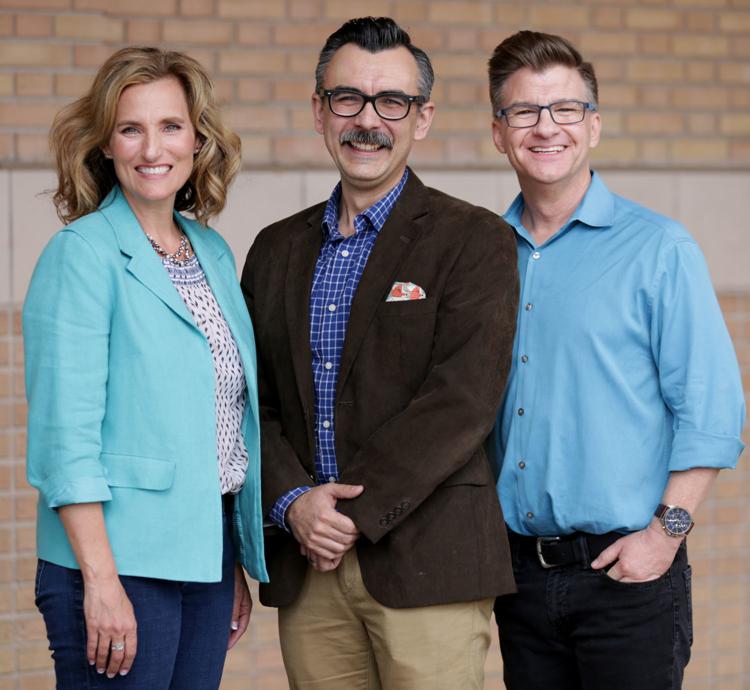 "One of my favorite moments was in my advanced drama class in December, and Amy wanted to hear the play read out loud right after she had finished it," he said.
"We read it out loud and by the end of it, everyone was in tears. It was just extraordinary to be a part of that and see how excited they were to do this."
For sophomore Sharlyn Zavala, who plays a 42-year-old Bolivian immigrant, students should be at the forefront of these difficult conversations.
"As the prodigies of many immigrants, it makes us feel like we have a voice and like we are doing something to help these stories be heard," Zavala said.
Because the play doesn't focus on a single perspective, the students said they also had to open their minds and be vulnerable on stage and that the border issue is not simply black and white.
"I think the play is really powerful," said freshman Ella Bracale, who plays 78-year-old Rev. John Fife, a retired minister, founder of the Tucson Samaritans and co-founder of the Sanctuary Movement.
"It's important that we as a school get to talk about this big issue, and it's so beautifully written in the fact that it does not lean to one side, it's not bashing the viewer, it's not saying 'your view is wrong and you have to feel guilty,'" she said
"It's so important for students to be aware of what's going on, and I think using art and theatre makes it really approachable," said Tucson High sophomore Rosie Nuccio.
"People who are making decisions need to know that students care about this and that this is important to us."