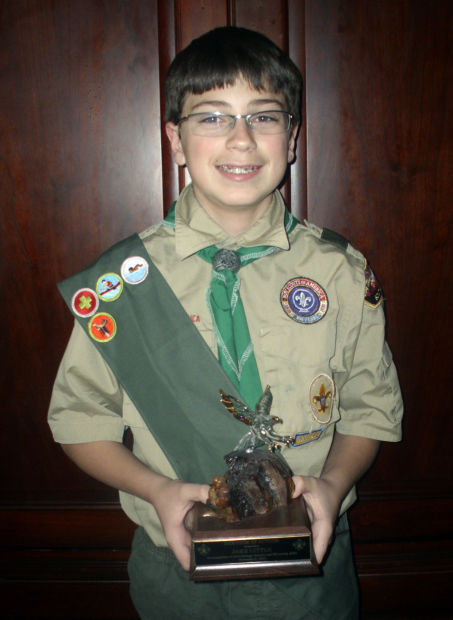 Jake Little, a seventh-grade student at Esperero Canyon Middle School, earned his first-aid merit badge shortly before his life-saving skills were put to the test, and Friday evening his efforts were recognized.
Last fall, his Spanish teacher, Maria Pastorini-Bellows, stopped breathing while standing in front of her class of 30 students.
"I just couldn't talk. I couldn't swallow. I couldn't pass air. The whole airway in my throat was closed, so I couldn't breathe from my nose or my mouth," she said.
The kids thought the wild gestures she was making were part of a lesson. Jake, 12, was the only one who sprung into action. He learned first-aid skills a couple of months before the incident.
"I touched my throat and my mouth, and I was showing them I couldn't breathe. He realized it and jumped like he had springs on his feet and started to do the Heimlich maneuver on me," Pastorini-Bellows said.
Jake then wrapped his arms around her and moved her around to help open her airway.
"And that moment I was able to breathe, so he really, literally saved my life," Pastorini-Bellows said of the seventh-grade hero.
She later determined that she was not choking, but said it might have been some sort of allergic reaction.
When he went through first-aid training, Jake didn't know if he would ever have to use those skills, but he said he paid very close attention just in case When Pastorini-Bellows started choking, his adrenaline kicked in as he recalled what he learned.
"I was definitely nervous. I was thinking, 'How many times am I going to have to go through the procedure to stop her from choking?' " Jake said Thursday. "I ended up having to do it two times before she stopped choking."
Pastorini-Bellows was so grateful that she put up posters around the school, at 5801 N. Sabino Canyon Road, praising Jake's efforts and nominated him for student of the month.
Friday, Jake, who is part of Troop 141, was honored on a grander scale when he was presented with the Heroism Award by the Boy Scouts of America at the Catalina Council's annual recognition dinner.
Jake was nominated by his troop, and the nomination goes through a review process at the national level to determine if his actions qualify for the award, said Ken Tucker, Scout executive for the Catalina Council.
"They're pretty selective, and I think I've been here about four years and I can only remember just a couple, two or three, that have been awarded in our council," he said. "It's pretty uncommon."
Boy Scouts of America celebrated its 103rd anniversary Friday, and Jake was invited to the Legislature by state Rep. David Gowan to be recognized for his efforts in honor of the organization's anniversary month, said Doug Little, the boy's father.
The incident has also given the normally quiet Jake a confidence boost.
"He has an older sister. She's one year older, and the funny thing is, she's very outgoing and Jake keeps to himself," said Sara Little, Jake's mom. "They're completely opposite, and this incident has really helped him come out of his shell."