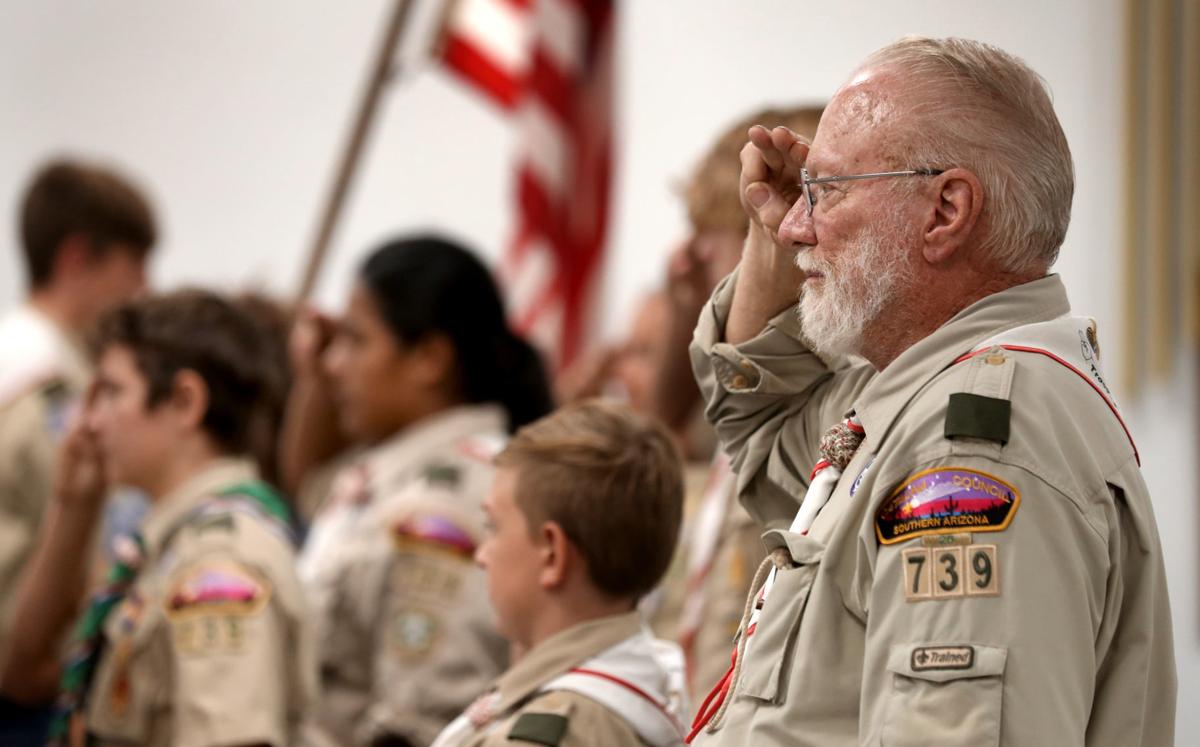 For more than 40 years, Jack Erickson Jr. has worked with hundreds of youths, teaching them about the outdoors, leadership and ethical values instilled by the Boy Scouts of America.
The 73-year-old retired IBM engineer smiled and explained the joy he felt when taking a "kid from the city camping for the first time and his reaction when he hears a coyote howl." An exuberant "wow" comes out of their mouth — a "wow" that he says is all about the feeling of happiness to be experiencing the wilderness.
The giddy reactions from the scouts are among the reasons Erickson has volunteered with the Boy Scouts for decades, impacting generations of families as a scoutmaster for 37 years for Troop 739, which meets weekly on Tucson's east side.
Erickson gave much of his life to the youth organization, missing family birthdays and wedding anniversaries for weekly meetings, a camping trip each month and up to two weeks of camps each summer. He did it with support from Michalyn, his wife of nearly 55 years.
Erickson, who began his service as the troop's assistant scoutmaster for several years, stayed on with the organization — even after his son earned his Eagle Scout badge and turned 18 in 1989, aging out of organization. He stayed on for another 30 years because he said he believes in the organization.
But Erickson said it was time to turn over the scoutmaster role for Troop 739 to a new leader, passing on his scoutmaster patch last week to Brent Sigafus — an emotional gesture for the two.
Last week's meeting of the troop was Erickson's final one as leader in 37 years, and the first as Troop 739 scoutmaster for Sigafus, 43, who was mentored by Erickson. It also was Erickson's final time to congratulate troop members recognized during an awards ceremony for their accomplishments.
His final days as scoutmaster brought more than 100 former scouts, many now living across the country, back together to honor their former scout leader, known as "Mr. E," at a retirement weekend celebration at the house of his son, Jack Erickson III.
"It's time to let the younger guys step up and have the same kind of experiences with their sons and daughters in the troop," Erickson said. "They have the enthusiasm and are ready to lead. It is their turn."
Among Erickson's former scouts are scientists, health care professionals, engineers, teachers, businessmen and career military personnel.
Even though he will no longer be scoutmaster for Troop 739, Erickson will remain as a scout volunteer.
Family ties to Troop 739
Erickson was born in San Diego but grew up in Morenci where his father worked as a miner. His love of the outdoors grew as a Cub Scout in the mining town. The family moved to Tucson in 1959 but he did not continue in scouting programs.
Erickson graduated from Rincon High School in 1963, marrying Michalyn Landreth, his high school sweetheart. He attended the University of Arizona and studied engineering for two years. He worked in the mining industry and as a draftsman for firms, eventually receiving on-the-job training, becoming an engineer.
When his son joined cub scouts in elementary school, Erickson volunteered as an adult leader and then ended up becoming the scoutmaster of his son's Troop 739 in the early 1980s. The younger Erickson is now a physics and astronomy teacher at Cienega High School.
The troop is now home to granddaughter Caroline Erickson, 13, one of five girls in the troop. Grandson Landon Grant, 19, was also among those Erickson taught scout values such as trustworthiness, obedience, good citizenship and outdoor activities, including fishing, hiking and spotting constellations on clear nights.
Erickson III described his father as a "hard-working guy" who taught him to do his best, to serve his community and be self-reliant.
"One of my fondest memories is when he and I took a group of scouts to the Philmont Scout Ranch for a 10-day backpacking trek," said the son, 47, of the outing in the Sangre de Cristo Mountains near Cimarron, New Mexico. The working ranch is operated by the Boy Scouts of America organization and covers more than 140,000 acres of wilderness.
"Scouts must carry their own gear and trek about 50 miles to get to the camp. Our tradition was to hike up this big rock — the Tooth of Time," recalled the younger Erickson of the protruding granite monolith. The ridge sits at 9,000 feet. "We watched the sunrise while eating Oreo cookies."
The elder Erickson "has given many young people the right start in life," said former scout Air Force Lt. Col. Sean Neylon, 44, who is stationed near Sacramento, California. "My scouting experiences formed the backbone of my formative years in Tucson. Mr. E poured his heart and soul into providing a strong and active scout troop that allowed many of us opportunities to camp, lead other scouts, serve our community and travel."
Some great memories were when Neylon and friend Damien Pavlik would hop into Mr. E's old, white Ford pickup and head out to camping spots in Redington Pass, Mount Lemmon or the Huachuca Mountains. The two boys didn't care that the truck had no CD player like the newer vehicles other parents drove.
"We would unpack our sack meals of bologna sandwiches, chips and soda, and then fill these long drives with lots of good conversations about our lives. We would talk to Mr. E about girls we liked, or our teachers or how we were doing in our classes.
"Mr. E would make simple observations and really helped provide perspective during our awkward teenage years," recalled Neylon.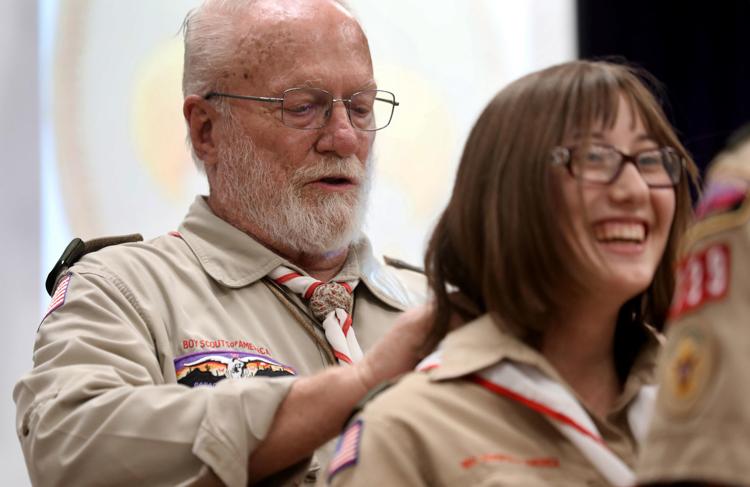 Troop 739's new leader, Sigafus, a wildlife biologist with the U.S. Geological Survey, started in the troop at age 11 and became an assistant scoutmaster when he turned 18. His teen son, Clayton, is a member of the troop, as are children of the other assistant leaders. "Creating leaders is something I will continue doing and I look forward to it. It is one of the greatest strengths in the program," Sigafus said.
Taking over as scoutmaster in the troop is "part of the natural order of things," Sigafus said. "Mr. E has been preparing me and the others (assistant scoutmasters) for a long time. He made a lot of boys into men by teaching us not to give up, not to sweat the small stuff, learning to be leaders and helping those in need."
Supports changes, troubled by abuse reports
Girls were allowed into Scouts BSA earlier this year — a welcome that was long overdue, the elder Erickson said.
"There are a lot of girls out there that would make good scouts and they are proving me right," said Erickson of those who wanted a chance to learn about survival skills and expanding their knowledge of the outdoors. The girls in Troop 739 are led by scoutmaster Angela Crandell, 36, who was presented a scout whistle by Erickson at his last meeting, a special tradition in the troop.
Erickson said he has supported welcoming girls into scouting for years, pointing out that the "USA organization was the only country that didn't allow girls since the inception of the organization in 1910, while European countries had co-ed scouting programs."
He explained that Cub Scouts is already co-ed and girls have been participating in senior scouts programs, including venture and exploring. STEM scouting, which focuses on science, technology, engineering and math for children to teens, is also co-ed.
Recent news reports of lawsuits about sexual abuse allegations against hundreds of former scouts accusing Boy Scouts of America leaders of molestation covering eight decades causes Erickson to become angry at the culprits. "You could not print what I feel," said Erickson. "It greatly upsets me. Boy Scouts of America is doing a lot to combat abuse," Erickson said of policies, guidelines and mandatory requirements for reporting.
"Every scout leader has to take youth protection training every year or you can't be a leader. The training teaches you how to spot potential problems and how to deal with the problems. It teaches you about reporting requirements to law enforcement and Child Protective Services (now Arizona Department of Child Safety)," said Erickson. He said security measures also include criminal records check and fingerprint background checks for staff, adult leaders and volunteers.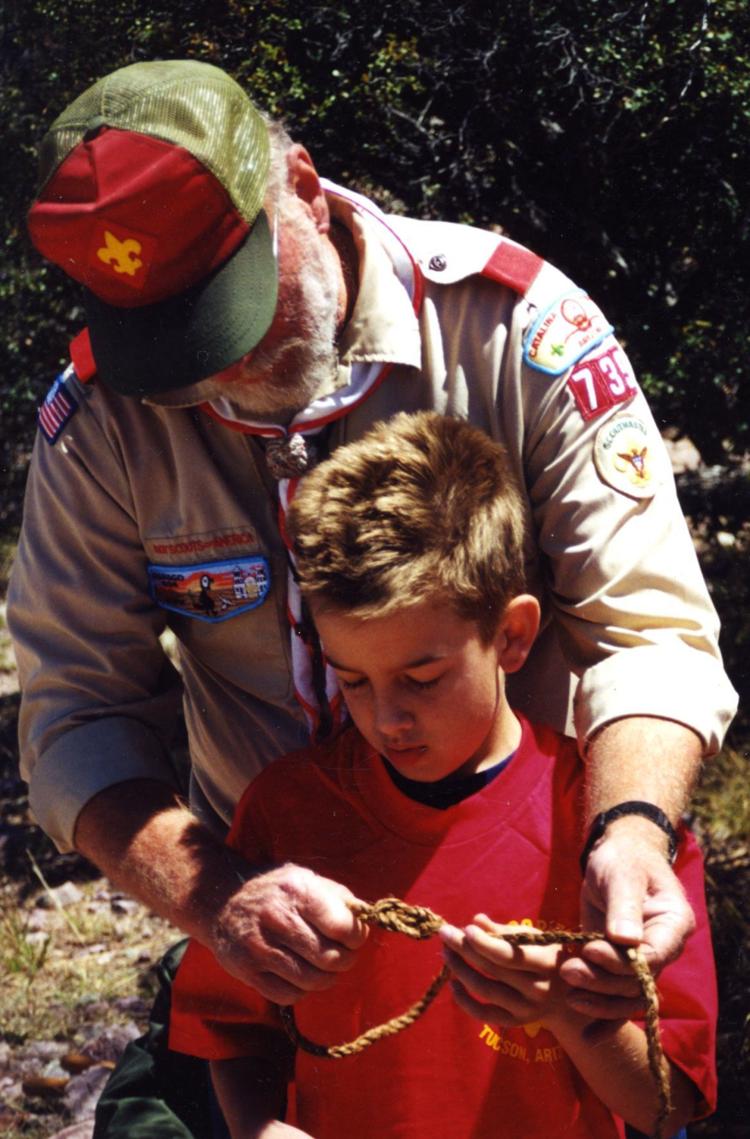 "Leaders are not allowed to spend any time alone with a kid. There always has to be another adult present. We constantly have to monitor ourselves to make sure these kids are safe," said Erickson, who agrees with the new rules and strictly enforced them among his troop leaders.
Supportive family
Erickson said he could not have done all he did with scouting without the support of his wife and family. "I've watched those twinkling eyes. He is having as much fun as the boys. He has grown as a human being by helping the boys grow," said Michalyn, acknowledging that her husband's work with the organization was essential.
She mentioned Erickson was selected in the early 1990s among the top scoutmasters in the country to travel to Baltimore where he worked as a technical editor on revisions made in the scouting programs.
For 12 years, Erickson also was program director for Pimaree, a weeklong camp for the Asociación de Scouts de México and the Boy Scouts of America. The groups met in Mexico or Arizona and created long-lasting friendships.
Over the decades, the young men he guided still look up to him, said Michalyn, recalling that many scouts while in high school would introduce their girlfriends to Erickson before taking the girls to meet their parents.
Former scouts call him on Father's Day, a retired Air Force pilot gave him a U.S. flag that he carried in the cockpit of his B-1 bomber while it flew over Afghanistan, and others have brought their newborns to meet him during troop meetings.
"They are my boys," said a smiling Erickson.
Contact reporter Carmen Duarte at cduarte@tucson.com or 573-4104. On Twitter: @cduartestar