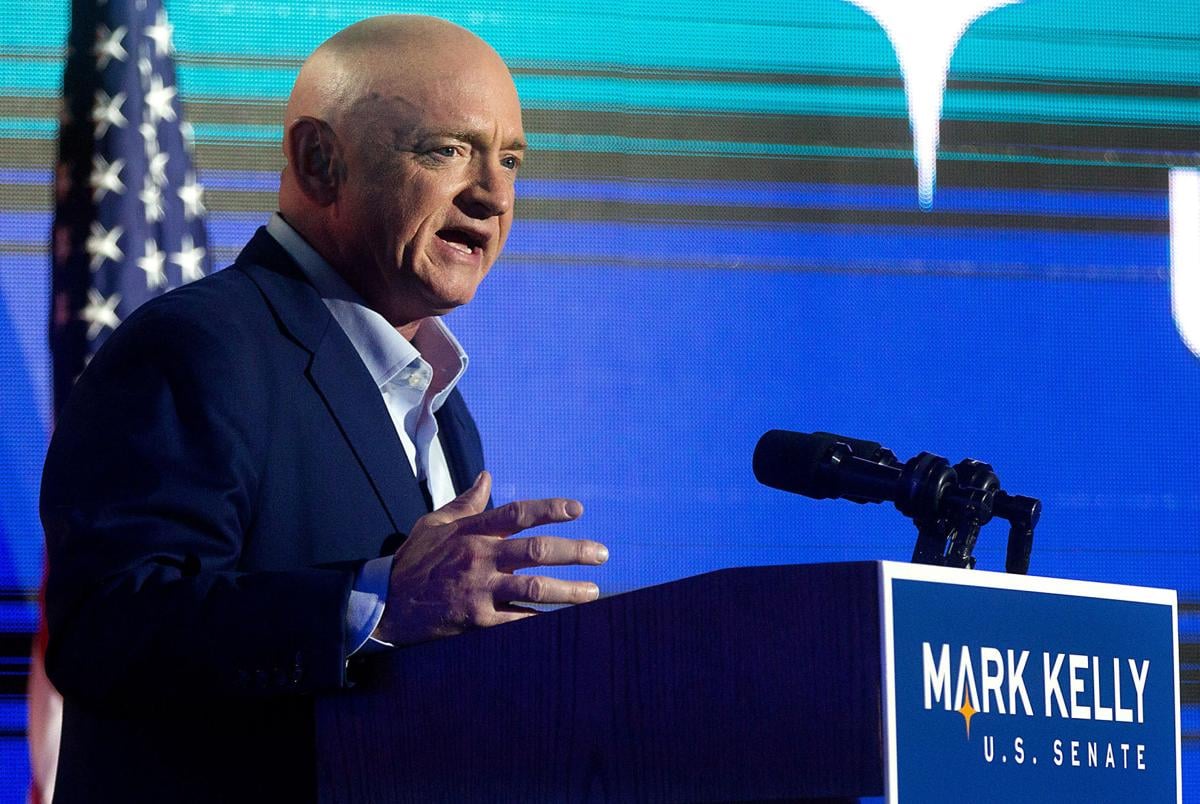 As coronavirus cases mount across Arizona, U.S. Senator-elect Mark Kelly held a virtual briefing with advisors on Thursday to discuss actions he might take to combat the pandemic once he is sworn into office.
The panel of medical, business and local government leaders urged Kelly to support a sweeping new economic relief package and find ways to help medical workers with everything from critical staffing and supply problems to price gouging.
Kelly said he expects to be seated in the Senate during the first week of December, as soon as Arizona's election results have been certified, and he pledged to get to work right away on bipartisan solutions to the surging public health and economic crisis.
"Unfortunately, I don't have any good news," said Dr. Joe Gerald, a member of Kelly's transition team and an associate professor and program director of Public Health Policy and Management at the University of Arizona. "Conditions continue to deteriorate in Arizona."
Gerald said the state is seeing about 2,500 new COVID-19 cases a day, the highest level since June, and that number is expected to rise in the coming weeks as people travel and gather for the holidays.
The state's front-line medical workers are struggling with fatigue, staffing shortages and a dwindling supply of personal protective equipment, said Arizona Hospital and Healthcare Association President & CEO Ann-Marie Alameddin.
She said hospitals are also being hit with sharp increases in the cost of traveling, temporary health-care workers and she asked Kelly to help push federal legislation to combat what she called "price gouging."
"In the middle of a crisis, that's not acceptable," Kelly agreed.
"Not in the middle of a public-health emergency," Alameddin said.
Arizona educators are similarly stressed, torn between wanting to be there in person for their students and worrying about the unchecked spread of the virus, said Luis Heredia, executive director of the Arizona Education Association and another of Kelly's transition advisors.
Heredia said that's why the state teachers union has been asking for, among other things, a statewide mask mandate — something Kelly supports but that Gov. Doug Ducey has thus far declined to impose.
Flagstaff Mayor Coral Evans, also a member of Kelly's transition team, said local governments and the people they serve are desperate for a wide range of federal help, including reimbursements for COVID-related expenses, expanded unemployment benefits, job training, broadband internet access and housing assistance for renters facing eviction and property owners facing foreclosure.
Neil Giuliano is president and CEO of Greater Phoenix Leadership, an association of business executives and civic leaders.
He said the Paycheck Protection Program provided a "lifeboat" to business owners when it was passed in late March, but additional help is now needed. "The air is going out of that lifeboat, and a lot of these small businesses won't be able to keep going."
For his part, Kelly repeated some familiar campaign talking points during the briefing, calling the federal response to the pandemic a failure of leadership rooted in systemic "dysfunction and often indifference" in Washington, D.C.
He has promised to do his part to change that as he serves out the final two years of the late Sen. John McCain's final term.
In the meantime, Kelly urged Arizonans to wear masks, wash their hands and keep their distance from one another to "flatten the curve" and ease the pressure on hospitals around the state.
"We know this works. We did it in July," he said.
Not all the news was bad on Thursday. Gerald said he is encouraged by recent reports of two promising vaccines now in the works, though he cautioned against using such announcements as an excuse to relax.
"We need to be more vigilant than ever," he said, "because any deaths that occur between now and when the vaccine is available could be entirely avoidable."
Kelly acknowledged the hard work that lies ahead.
"This is not just going to end as soon as we start to employ a vaccine," he said. "Some of these issues are going to linger."
Contact reporter Henry Brean at hbrean@tucson.com or 520-573 4283. On Twitter: @RefriedBrean.